Maharashtra AG Shrihari Aney quits after advocating separate Marathwada state
Maharashtra Advocate General Shrihari Aney today resigned amid a row over his remarks about a separate Marathwada state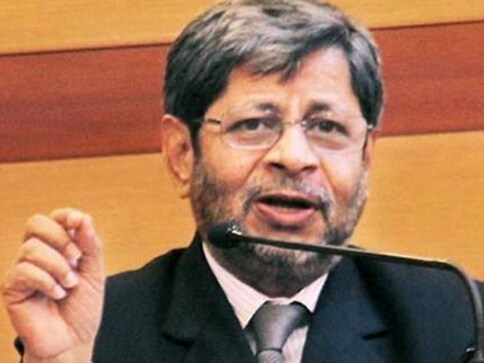 Mumbai: Maharashtra Advocate General Shrihari Aney today resigned amid a row over his remarks about a separate Marathwada state.
Aney drove to Raj Bhavan this morning and handed over his resignation to Governor C Vidyasagar Rao, an official said.
"Shrihari Aney has submitted his resignation to the Governor. Whether to accept it or not, is his (Governor's) prerogative," an official from the Governor's office said.
Maharashtra Chief Minister Devendra Fadnavis is expected to make a statement on the issue in the state Legislature today. Fadnavis had asked Aney to put in his papers, a senior minister said.
The move comes after the AG stoked a controversy by advocating separate statehood for the Marathwada region. He had earlier sparked a similar row by calling for a referendum on a separate Vidarabha state.
Fadnavis spoke with Aney yesterday and asked him to tender his resignation. Aney met the CM at his official residence 'Varsha' last evening.
With even BJP's ally Shiv Sena joining the strident protests against Aney in both Houses of Legislature, the CM was left with little choice, the minister said.
As principal law adviser, AG's responsibility is to represent the state government before the judiciary.
At an event in Jalna district of Marathwada on Sunday, Aney had said, "Marathwada bore more injustice than Vidarbha and should therefore be independent. Pressure has to be put at the Delhi level to form a separate state as the demand does not come under the purview of Mumbai."
The Opposition parties and Shiv Sena yesterday moved separate motions in the Assembly seeking Aney's dismissal. Sena has refused to participate in Cabinet meetings until Aney is sacked.
"Aney had earlier asked for a separate Vidarbha," Sena leader Ramdas Kadam said, adding the party also wants Aney booked for sedition. Enraged over the Maharashtra Advocate General's remarks favouring a separate Marathwada state, ruling ally Shiv Sena said Chief Minister Fadnavis has no right to continue heading the state if he does not care about its prestige.
An editorial in Sena mouthpiece 'Saamna' said, "When Congress leader Digvijay Singh accused the Chief Minister of nepotism (over SRA's directive to developers to open an account in a bank where the CM's wife works), Fadnavis sent a legal notice to him. If the CM is so emotional and sensitive about his image, why is action not being taken against Aney who is insulting Maharashtra".
"Amruta is his wife, but Maharashtra is his mother. If Devendra Fadnavis does not care about the unity and prestige of Maharashtra like he cares about his wife's insult, he has no right to be the Chief Minister," it said.
"Chief Minister, Maharashtra is your mother, take its prestige seriously," the Sena said. Taunting the BJP for backing Aney when he called for a separate statehood for Vidarbha, the Sena said that while those committing "treason" are criminals, those who back such people and remain soft towards them are bigger criminals.
Aney was appointed as AG by the BJP-led government in October last year.
PTI
Explainers
Rahul Gandhi in his ongoing visit to the United Kingdom spoke about the attack on democracy in India at Cambridge University. The Congress leader's comment is just one of the many times he has targeted the country and the government while being on foreign soil
Opinion
India under Prime Minister Modi has fully endorsed the United Nations in its "Think equal, build smart, innovate for change', motto, with regard to women's empowerment
Opinion
The BJP's reaction to Rahul was equally predictable, invoking patriotism and nationalism to insulate itself from criticism