Madhya Pradesh Congress in-charge Deepak Babaria suggests leaders aged 60 and above should make way for younger generation
Congress general secretary and the party's Madhya Pradesh in-charge, Deepak Babaria, has created a flutter within the party by suggesting an age ceiling and application fee for candidates be put in place ahead of Assembly elections in the state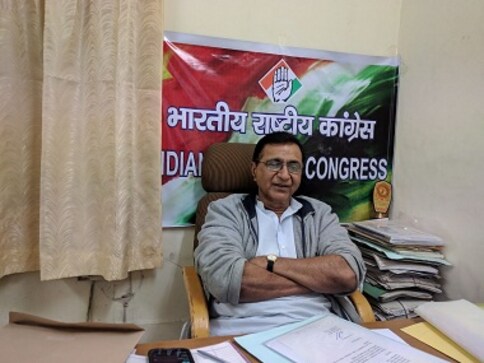 Congress general secretary and the party's Madhya Pradesh in-charge, Deepak Babaria, has created a flutter within the party by suggesting an age ceiling and application fee for candidates be put in place ahead of Assembly elections in the state, scheduled for later this year.
Addressing a recent meeting in Jabalpur, the Congress MP urged party leaders aged over 60 to stay away from contesting Assembly elections in Madhya Pradesh. He also said contestants seeking a ticket pay an application fee, a non-refundable amount that will get deposited in the party fund to be utilised for election campaigning.
However, over two dozen Congress MLAs have registered their protests before the party. Alarmed at Babaria's suggestions, a group of MLAs and MPs have decided to meet Congress president Rahul Gandhi and seek redressal.
"It's a very serious matter. If there's a cap on contesting Assembly election for candidates above 60, a large number of winnable candidates, many of whom are sitting MLAs and senior leaders, will be rendered ineligible. Many of them have been winning continuously for over three terms. If they aren't allowed to contest, it will work in BJP's favour. It's after a long time that the Congress is gaining a foothold in the state, and such pre-conditions would only prove detrimental," a senior Congress MLA told Firstpost on condition of anonymity.
"If the situation isn't sorted at the state level, we'll meet Rahulji in Delhi," the MLA added.
If the suggestion is implemented, it will render a large number of party leaders, including sitting and former MLAs, redundant. It will also affect senior leaders from the Madhya Pradesh Congress, including former chief minister Digvijaya Singh, former Union minister Kamal Nath, and leader of Opposition Ajay Singh.
Apart from them, tribal leaders who have a firm stronghold over their respective constituencies — like Kantilal Bhuria, Nanhe Singh Dhurve, Mangilal Maravi – and some prominent faces like Vidhan Sabha deputy speaker Rajendra Singh, ex-minister Dr Govind Singh, Mukesh Nayak, Arif Aqueel, Raja Pateria, Hazarilal Raghuvanshi, Sajjan Verma, etc, would all find themselves unable to contest the upcoming polls.
However, Babaria has justified his proposal, saying a cap on the age of a contestant would give an opportunity to younger and fresher faces.
On 17 February, the highest decision-making body of the Congress, the Steering Committee, which replaced the previous Congress Working Committee till the formation of a new one, held a meeting where both Sonia and Rahul Gandhi had emphasised on getting fresh faces into the committee as well as to different organisations of the party.
Right from the beginning, when Rahul took over as Congress president, the thrust has been on getting fresh faces into the party. The party has even begun appointing new candidates in states as panellists to appear on news channels, as spokespersons, as social media coordinators, etc.
"It was only a suggestion. I requested those above 60 and those who have contested three Assembly elections or more to vacate their seat for a younger generation. Let newer faces get an opportunity. There are many workers who have been serving the party for a long time, but can never get the opportunity to contest an election. If the older generation can make way for them, it will energise the party and aspire others to aim higher," Babaria, considered a confidant of Rahul Gandhi, told Firstpost. "I have even told senior members that if they are confident of their ability, they should contest the Lok Sabha elections and become MPs."
"However," he added, "It's not a sacrosanct rule that those above 60 or those who have won three terms will absolutely not be allowed to contest. Taking a final decision is up to the party's central election committee and its top leadership."
One may recall that the incumbent BJP government of Shivraj Singh Chouhan had also imposed a age ceiling of 75, something that led to the ouster of former chief minister Babulal Gaur, the then minister of home department, and also Cabinet minister Sartaj Singh. However, the clause was cancelled when BJP president Amit Shah visited Bhopal in August last year.
Babaria's second suggestion was that any candidate seeking to contest the Assembly polls should deposit Rs 50,000 as an application fee. This would be deposited in the party fund and will be used for campaigning. A Congress office-bearer said the party receives between 5,000 and 7,000 applications for the 320 seats in Madhya Pradesh, most of them from urban and premium seats.
Going by Babaria's formula, which exempts poor but winnable candidates, if Rs 50,000 is collected from 4,900 candidates (100 are exempted), the party would receive Rs 24.50 crore. But will it become a reality?
"It's only a suggestion. An application fee would mean only candidates serious about contesting will pay up. It's like an elimination process. Irresponsible candidates fill up forms and apply just to try their luck or to act as spoilers for others. This fee would help avoid such behaviour and also help with election preparedness," Babaria added.
"It's the right idea. If a candidate is serious, he'll contribute by paying fees. There are many candidates who aren't serious. They fill up their forms just to create a sensation or to create hurdles for genuine candidates. We don't need such candidates," said Madhya Pradesh Congress spokesperson KK Mishra.
This advice too has drawn severe criticism, while some quarters even spread the rumour that Congress party is demanding money to give tickets to interested candidates. A section of Congress leaders, already agitated over the proposed age limit, has dubbed this suggestion as "anti-democratic" and said it would be the end of Congress in Madhya Pradesh.
Given rising anti-incumbency against the Shivraj Singh Chouhan government and farmer distress in the state, the Congress is hopeful of a good showing in the Assembly elections.
The top leadership is likely to take a final decision on these two suggestions, depending on the results of Kolaras and Mungaoli bypolls, the campaigning for which was spearheaded by youth leader Jyotiraditya Scindia. The results will be declared on Wednesday, and the Congress has pinned high hopes on these bypolls.
Politics
Congress tried to firefight as its media and communication incharge Jairam Ramesh brushed aside the video as 'doctored'
Politics
In his first election rally in poll-bound Gujarat, Gandhi while addressing a gathering of tribals at Mahuva in Surat district said they are the first owners of the country and claimed the BJP was working to take away their rights
Politics
The political carpet bombing in the state is going to take place on 18 November 18, a day after the withdrawal of nominations closes for the first phase of the elections