Loyalty affidavits: Bengal Congress MLAs swear by Gandhis first, Constitution later
MLAs in West Bengal were made to sign an undertaking to 'solemnly affirm' and 'swear' their 'unqualified allegiance' to INC, Sonia Gandhi and Rahul Gandhi
Picture a scene right out of a Bollywood movie. Different characters walking up to the witness box in a court room, swearing in the name of the holy Bhagavad-Gita to speak the truth and nothing but the truth. What happens later on in the plot is known to any Indian movie buff.
But the Congress party leadership seems to have taken a leaf out of that common plot and forced its newly elected MLAs in West Bengal to sign an undertaking to "solemnly affirm" and "swear" their "unqualified allegiance to Indian National Congress led by Hon'ble Congress president Smt Sonia Gandhi Ji and Hon'ble Congress vice-president Rahul Gandhi Ji."
What needs to be highlighted here is the fact that they swore their allegiance to the Gandhis on a Rs 100 stamp paper. Any undertaking or affidavit given on a stamp paper can have legal implications also; if the terms of the undertaking are violated by the signatory, then he or she may have to face legal consequences, civil or penal. It can't be a harmless signature for it is on a legally admissible stamp paper, at least that's the way an ordinary citizen would perceive it.
The 44 Congress MLAs—who got elected vouching free speech and internal party democracy—have one too many reasons to worry. The Congress leadership, at some time in the future, can decide to push for legal action against them for willful or inadvertent violation of any of the items listed in their undertaking. The terms of solemn affirmation are so broad that a vindictive person (if it turns so) can punish them for anything it defines, and not just for what is in consonance with unqualified allegiance to the Indian National Congress, led by Sonia and Rahul Gandhi.
These MLAs have sworn that they will not indulge in anything along the lines of what some of their colleagues recently did in Arunachal Pradesh and Uttarakhand, or defect to TMC or BJP in the future, or not utter anything against Rahul Gandhi's leadership – the way that so many Congress leaders across the country have done.
In short, stop them from listening and believing to what erstwhile insiders like Himanta Biswa Sarma have said about Rahul, Sonia and the Congress leadership structure – first resign from the seat and Congress party and then voice your dissent against party or against leadership, state or central.
The undertaking the Congress legislators undertook read:
"I, as a member of the legislative assembly, will not get involved in any anti-party activity. Even if I do not agree with any party policy and/or party decision, I will not make any negative comment thereon and/or I shall not take any negative action to the detriment of the party. In such a scenario, I shall resign from my post of MLA before making such comment and/or taking such action....abide by the party guidelines...follow guidelines framed by the CLP leader and the chief whip in the floor of the assembly."
In this election, the Congress in alliance with the Left Front contested 92 seats and won 44 – up by two seats, an increase of about 3.21 percent in the vote share. The Congress, as a pillion rider immensely benefited from the alliance with the Left Front but the same was not true vice versa.
The Left Front's vote share went down by 14.31 percent and the number of seats went down by 30, to score a paltry 32 out of 199 seats it contested. In the last Assembly polls in 2011, the Congress had contested in alliance with the Trinamool Congress and has doubled its numbers in Assembly, from 21 to 42.
That the Congress leaders have some reasons to anticipate problems in the West Bengal Legislature party is also true. In two successive elections, it has aligned with both the mainstream parties in the state, the TMC and the Left Front, electorally benefited from them and then ditched. Who do they go with now in the next elections? Would they face a rout if they contest on their own?
It's no secret in political circles that while each MLA or MP relishes his present, he or she keeps weighing future prospects. In their own wisdom, the Congress leadership would think of this undertaking as a masterstroke to contain dissidence and anti-party activity, while also placing the demigod status of Rahul and Sonia Gandhi on record, on stamp papers. That's typical of Congress – sycophancy at its peak. Rewards, if any, could be foreseeable by those who masterminded this sycophantic oath of affirmation.
There is another interpretation of it. Since the Congress fought these elections in alliance with the Left Front, it had hoped to form a government and take an oath for office as minister of the state – "I XYZ do swear, in the name of God that I will bear true faith solemnly affirm and allegiance to the Constitution of India as by law established, that I will uphold the sovereignty and integrity of India, that I will faithfully and conscientiously discharge my duties as a Minister...."
Having been completely denied that chance by the people, the best they could manage was to swear their "unqualified allegiance to the Indian National Congress led by Hon'ble Congress President Smt Sonia Gandhi Ji and Hon'ble Congress vice-president Rahul Gandhi Ji". That way it could be taken as a consolation prize, both for the legislator concerned and the so called party High Command.
Yes, as the newly elected Congress MLAs along with others will have to take another oath, as established by the law. But if you are a Congress man or woman then you will have to swear by your loyalties with the 'First Family' first, affirmation of the oath to the constitution can follow later.
India
The relationship between the Congress and TMC hit an all-time low last year, after the latter slammed the grand old party as "incapable and incompetent" which had gone into a "deep freezer"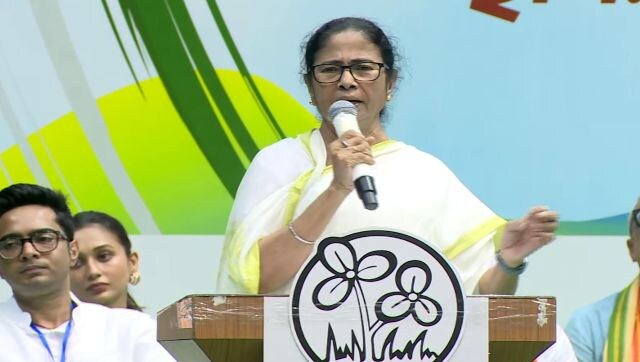 Politics
This time around Mamata Banerjee has to play on a larger arena — balancing between protecting her home turf while moving the chess pieces on the national board
Explainers
What is in store for the INC in the upcoming party president polls? Tune in to find out