Loose cannons boom in Madhya Pradesh, target Digvijaya
Digvijaya's supporters suggested Sajjan Singh Verma might desert the party and could find takers in the BJP.
Bhopal: Booming loose cannons greeted former chief minister Digvijaya Singh's nomination for Rajya Sabha elections. AICC secretary and member of Lok Sabha from Dewas, Sajjan Singh Verma, who has a long record of controversial statements, burst out against the nomination of old leaders like Motilal Vohra, Madhusudan Mistry and Digvijaya Singh who have 'sunk' the party in their respective states and have ensconced themselves in Parliament.
Verma decided to stick his neck out just a couple of days after the Madhya Pradesh Congress committee president Arun Yadav suspended party MLA Jagdish Yadav for his outburst against Digvijaya Singh. Verma, who had served Singh's ministry, blamed him for the party's recent election debacle in the state.
Why is the party not acting against Verma who has stood his ground without showing any signs of remorse?
Being a member of the AICC Verma is beyond the state unit's jurisdiction. The MPCC has briefed the central leadership of the developments. Though state vice president Rameshwar Neekhra, general secretary in charge of the state, Mohan Prakash and CLP leader Satyadev Katare have said Verma should have raised the issue only on party forum no one has sought any action against him. Verma who has a strong support base among Scheduled Castes said he had no personal grudge against Digvijaya Singh. He had mentioned other leaders also as he felt strongly against the party squandering opportunities to infuse young blood in the parliamentary and legislative wings.
Verma also took a swipe at the party leadership for picking frail old persons to be the governors. When reminded about the Governor's post being constitutional he said, "Everyone knows that. But how does it benefit the party if such people who can't even walk without support are elevated to such posts?"
Verma often speaks out of turn and at wrong forum. This time, however, he is echoing the frustration and impatience of a larger section of the party. Even Rahul Gandhi has suggested a quota of 50 percent for young candidates for the coming Lok Sabha elections considering over 31 percent of the country's population falls in the 18-35 age-group. The party might see an anachronism in punishing a member for airing a similar view.
Digvijaya's supporters suggested Verma might desert the party and could find takers in the BJP. Verma asked his critics to check Digvjaya Singh's phone call details and find out who took his son to seek the blessings of ruling party leaders like Babulal Gaur, Sunderlal Patwa, Shivraj Singh Chouhan and Kailash Vijayvargiya. The target was obviously Digvijaya Singh who introduced his son Jayavardhan to the BJP bigwigs. Verma said he had no plans to leave the party as its ideology was in his bloodstream. Neekhra also ruled out Verma taking the drastic step. But by not upbraiding the erring MP the party would be suggesting it has encouraged voices against the former state chief minister. Digvijaya's adversaries are obviously laughing up their sleeves.
Some political observers believe Verma might get away with his act of indiscipline. The party lost a Lok Sabha member Uday Pratap Singh, shortly before the assembly elections. While quitting the party Uday Pratap had accused some leaders of sabotaging the party candidates' prospects. Some other members had complained of corruption in the distribution of party tickets.
Digvijaya Singh who had politely asked the PCC chief not to act against Jagdish Yadav, decided to let Verma's remarks pass too. "He is a senior member of the party and I respect his views," Digvijaya said.
At 62, Verma is just over four years younger than Digvijaya Singh. He also referred to Motilal Vohra, who at 86 manages the party's purse strings and has nearly sacrificed the party's interest in home state Chhattisgarh to secure the career of his son Arun. Party colleagues didn't miss the dichotomy in Verma's observations. He wanted young members like Arun Yadav (40) or the Mahila Congress chief Shobha Ojha (43) to be nominated to the House of elders. But he felt Digvijaya should have contested the General election instead of seeking easy entry into Parliament. He even praised BJP veteran LK Advani for offering to contest the Lok Sabha elections instead of being eased into the Upper House.
Find latest and upcoming tech gadgets online on Tech2 Gadgets. Get technology news, gadgets reviews & ratings. Popular gadgets including laptop, tablet and mobile specifications, features, prices, comparison.
India
After the first meeting of the apex-court appointed panel, Ghanwat, said the first round of talks with the protesting farmers and other stakeholders is scheduled for Thursday 21 January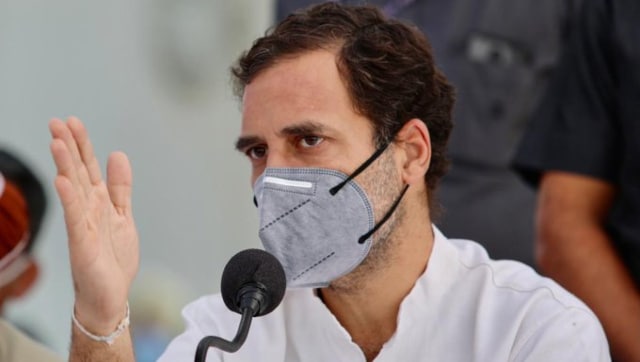 India
The former Congress chief also released a booklet highlighting the 'plight' of farmers in the wake of the Centre's three farm laws at a press conference in New Delhi
India
Rahul said the Centre is is under the impression that they can 'destroy the cultures of this country', but he came to Madurai to send a message that nobody can suppress Tamil spirit