Looking forward to 2016? Don't bother, it's going to be more on trolls, cows and secular debate
2016 will be exciting because we know the same constants will reappear with minor mutations. So lets go through the list quickly without any determination to change them through a pledge-like intervention.
New Year pledges, like all pledges, are supposed to be solemn statements of intent. So let's not get into that frivolous no smoking, no drinking, no ogling the neighbour's spouse, no porn, no late night ritual once again. What's the point of a pledge if you don't mean to honour it?
Evolutionary scientists say – cannot name one offhand though - the male of the species are programmed to self-destruct, morally, financially and physically (last three words are my brilliant addition to the theory); now if something is built into your genetic code what's the point fighting it? There's enough evidence around that it does not work. So let's drop the idea of discussing pledges. With or without these one knows 2016 is going to be exactly like 2015, just as 2015 was like 2014 and so on.
2015 was interesting, not because of the changes that we witnessed through the year, but because of the constants, the carry-overs of earlier years. The coming year will be exciting because we know the same constants will reappear with minor mutations. So lets go through the list quickly without any determination to change them through a pledge-like intervention.
What will never change:
· Trolls will remain trolls. Given what they do, a superior life in either next year or the next birth is impossible. One must say though they have an enviable life. All of us have had this difficult-to-resist impulse, at some point in our lives, to cover our faces and punch the hell out of someone we hate. Cowardice fine, but that feel of sweet revenge always more than makes up for the sense of guilt.
· Despite its celebrity status, the humble cow, the most photographed animal of 2015, will be found on streets, munching on plastic bags and leftover food. As owners of old and infirm cattle continue dumping them in distant places discreetly, the animal would still be wondering what the big fuss around it is all about. Be sure it will stay big in public imagination and hog the news space again.
· The intolerance topic will be around. It is not because we are serious about intolerance per se; it's because it's a trendy offensive word and with a lot of flexibility. The intellectuals, polite people as they are, didn't have too many gaalis for each other. The new word has to be used to the maximum till the impact tapers off.
· The 'secular' debate is not going anywhere, simply because of its evergreen quality. Like all great intellectual debates in the country, it goes nowhere. Each side keeps making the same arguments, produces the same load of drivel in printed or spoken words and finally everything remains exactly where it started. But it's great fun while the argument is on.
· Media pundits will keep wowing us with their ignorance. This know-it-all crowd will be embarrassingly off the mark in their analysis of the world around, particularly elections, yet we would lap every word they utter. We have great fascination for Jurassic animals, fossilized ideas and balding former editors.
Politics as usual:
· Rahul Gandhi will continue with his 'suit-boot' jibe at Prime Minister Narendra Modi. This is for the sole reason that his vocabulary is severely limited. Now that he has started winning elections here and there, he has no need to go for another similarly intellectually stimulating expression. And yes, he will pretend to be angry, very angry. The angrier he gets the more his vocabulary will be affected. Our advice: don't overreach.
· Narendra Modi will remain inscrutable as ever, at least when in Indian territory. Hassled by the indiscreet action of his own people at home, he will seek glory in foreign land. His 28 visits abroad so far should explain to us why former prime minister Manmohan Singh found his voice only when he was on the flight away from the Indian shores. Modi will continue to be some kind of a non-resident prime minister and he won't be explicit about the reason.
· The Congress will re-invent itself yet again, and they will call it rejuvenation If you have lost track of the number of times the party has done so in recent years, don't blame yourself. Rahul Gandhi is still discovering India. With each discovery the old one is bound to flee with the escape velocity of Jupiter.
· The BJP and its Parivar will remain caught between many loves - the love for Hindutva, the love for the cow, the love for mythological characters, the love for ancient science, the love for anti-rationalists and so on – and pet hate objects including Hindu liberals, the Left, Muslims, Christians, secularists and creative people and so on. This never changes, the nature of the conflict might change though.
· The world may go upside down in 2016, but one person who you would not expect to change a bit is Arvind Kejriwal. The enfant terrible of Indian politics will remain what he is, a pain in everybody's neck. He loves this game of giving people, particularly the political biggies, the jitters, doesn't he? He gets the media attention and he does not try hard enough for it. There's absolutely no reason why he would be the good politician we idolise.
Caught in the reel:
· Shah Rukh will try to re-re-define the cool and the menacing with that thick stubble and the low-pitch dialoguebaazi but he will keep looking as tired, as drained out as he did last year. From hyper-energetic to super thaanda, he has come a long way. The same goes for Rohit Shetty. He will make films and let cars fly and fall at impossible angles but leave us pondering why must we fall for it every time.
· Salman Khan will continue to be the lovable neighbourhood uncle with a rascally side to him. He will be treated indulgently by fans come what may – be it court cases or be it the announcement that he flunked the pre-degree exam for the 12th time again. He won't stop behaving like an overgrown kid. We all love kids, even if he is an uncle.
· Aamir Khan will be on the overkill once again through some overthinking and over-the-top acting. PK was messed up big time; however, since it made money there's no reason why he would stop getting into the alien act again. Thinking actor is a good tag to have; it helps a lot of your nonsense get overlooked.
· Pahlaj Nihalini, the censor board chief, let the guard drop while clearing sex comedies Kya Kool Hai Hum 3 and Mastizaade. But that should be treated as exception. Someone who can turn the great James Bond total sanskari should not be taken lightly. Expect him to be back with the scissors with a vengeance. Sunny Leone and the likes, watch out.
So, 2016 is upon us. Get ready for more of the same.
Entertainment
The media event which was attended by SRK along with his co-actresses Anushka Sharma and Katrina Kaif became all fun, leaving everyone in splits following the actor's reaction.
Entertainment
Priyanka further also went on to say that her "ego is not bigger than her job" and that she is very professional and takes pride in it.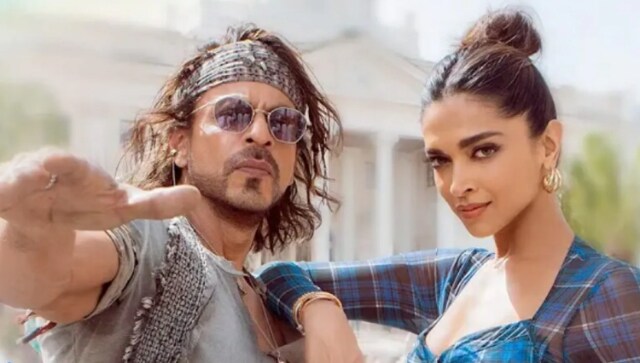 Entertainment
Featuring Shah Rukh, Deepika Padukone, and John Abraham, Pathaan has become a major hit of 2023.