Monsoon Session as it happened: All languages are equally important, says Kiren Rijiju in Rajya Sabha
LIVE NEWS and UPDATES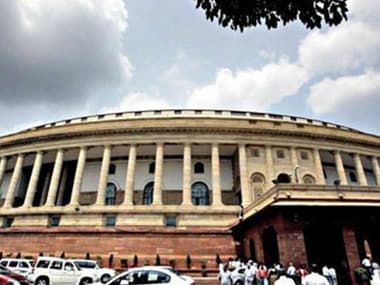 16:29 (IST)

Lok Sabha passes Right of Children to Free and Compulsory Education (Amendment) Bill, 2017

16:29 (IST)

आरटीई संशोधन विधेयक पर हुई चर्चा में भाग लेने वाले 16 सदस्यों का धन्यवादः प्रकाश जावड़ेकर, मानव संसाधन विकास मंत्री pic.twitter.com/fgsyQgZjFP

— Lok Sabha TV (@loksabhatv) July 21, 2017

16:15 (IST)

All languages are equally important: Kiren Rijiju

"Dialect and languages, it is very difficult to differentiate between the two. Language is a socio-cultural geographical construct which takes it shape after taking a long journey. Now I would like to appeal, it is not easy to define the criteria for objective how to make provision to make language qualify to be recognised by Constitution," Kiren Rijiju says.

The Union minister adds, "When we assume the position of this government, we are very clear that there is no question of imposition of Hindi or any other regional language. Hindi has been made official language considering the spirit of members of Parliament."

Rijiju also emphasised on the need to promote all Indian languages. "All Indian languages are equally important. It was just a procedure to have 22 languages in the Constitution. It is under the active consideration of home affairs ministry to see justice is done. The subject matter is very sensitive," he says.

15:12 (IST)

BJD slams Centre for failing to recognise language issue

Rajya Sabha is considering amendment of the Eight Schedule in The Constitution (Amendment) Bill, 2016.

BJD Prasanna Acharya says the government is failing to recognise language, feeling, and tradition. "Why is this mentality of division growing? I think government has seriously failed in it. Union govt should very seriously consider the amendment. Unless we do it, we are leading to a disastrous situation," he says.

"By recognising languages, we can satisfy the emotion of the people," he says, adding, "We can't say India is united unless we attempt to bring all people in the fold of India."

14:58 (IST)

Right of Children to Free and Compulsory Education (Amendment) Bill, 2017 is being considered

Shiv Sena leader Arvind Ganpat Sawant seeks global education standard across the country. "Why should a tribal student be deprived of right to quality education? If you see, candidates from rural areas excel in UPSC, because they can't go for courses like engineering. Baccha padhega, toh baccha bachega (If the child studies, he will be saved)," he says.

13:42 (IST)

If anything has been expunged, no one can print it or file FIR against remarks

Terming the issue raised by the Opposition as a serious matter, Kurien said if anything has been expunged, no one can print it and nobody has the authority to file an FIR on the basis of the expunged remarks. The issue was raised by Agrawal himself saying certain remarks made by him in the House were expunged by the Chair which had also ordered against publication or telecast of those remarks.


Agrawal had also alleged that members of BJP's youth wing BJYM had attacked and vandalised his house in Delhi while a ruling party worker filed an FIR against him in Meerut in connection with these remarks. The SP leader said if a member is threatened for speaking in the House, it is a disrespect of the MPs as well as that of the House.


Kurien asked the government to enquire into the incident and take action. "If the MP's home has been vandalised or attacked, the government should enquire, come back (to the House) and take action".

13:37 (IST)

Opposition seeks privilege motion against media for publishing expunged remarks

The Rajya Sabha today witnessed an uproar with Opposition members, including those from the Congress, seeking initiation of privilege proceedings against certain media houses for disseminating the expunged remarks of an SP leader, leading to a brief adjournment of the proceedings.

They alleged that due to the publication and broadcast of the expunged remarks of SP leader Naresh Agrawal, his house was attacked by BJP youth activists.

Deputy Chairman P J Kurien assured that he would look into the demand of the agitating members but asked them to first give notice along with material evidence. "Give notice with evidence and I will take action," he said, as some members including Sukhendu Shekhar Roy (TMC) and Anand Sharma (Congress) sought immediate initiation of privilege proceedings against those newspapers and TV channels which had disseminated these remarks made in the House and expunged by the Chair on Wednesday.

"I cannot act like an instant coffee. Notice has to be examined. (Give notice) I will come back today itself," Kurien said.
With the proceedings of the Parliament getting turbulent in the Parliament, the government is hard-pressed to push its agenda. The Houses have not been transacting much legislative business amid repeated disruptions and Opposition's demand to debate key issue.
On Thursday, the Lok Sabha was adjourned sine die after repeated disruptions by the Opposition over farm crisis and cow vigilantism. The Rajya Sabha, however, say a heated debate over cow vigilantism. Sparks flew in the Upper House on during the discussion on cow vigilantism and atrocities on Dalits, with the opposition trying to corner the government and a minister raking up the 1984 anti-Sikh riots and the 2002 Godhra incident.
As the opposition accused the government of creating an atmosphere of fear in the country, the government in its reply said there was nothing anti-Muslim or anti-Dalit about the incidents, but cow vigilantism should not be "eulogised".
Speaking on the issue, senior Congress leader Kapil Sibal accused Prime Minister Narendra Modi of "doublespeak" and giving "gau rakshaks" (cow vigilantes) a free hand.
"It (mob violence) has nothing to do with cow vigilantes ... It has something to do with Narendra Modi. It is the Prime Minister who is creating the kind of environment in which this is happening," Sibal said in a bitter attack on the government.
"It is better for the Prime Minister to come clean over this rather than indulge in doublespeak," he said, adding that those killing innocent people in the name of cows were not "real Hindus".
He also quoted from old speeches of Modi where he spoke of "pink revolution" and called for stopping cow slaughter.
"We need to ask ourselves as to why this is happening now. We have not seen such violence in the last 40-50 years. The cow represents 'ahimsa' (non-violence). When you kill in the name of cow, you kill the cow, you kill ahimsa and you kill humanity," Sibal said.
Union HRD Minister Prakash Javadekar said that mob violence must be condemned but it should not be done "selectively".
"When I condemn mob lynching, I do not suffer from selective amnesia like some of our opposition colleagues," Javadekar said as he mentioned the 1984 anti-Sikh riots and the killing of "karsevaks" in Godhra in Gujarat in 2002.
"In 1984, Sikhs were lynched or burnt alive, at least 3,000 of them. In 2002, Ram 'bhakts' (devotees) returning from Ayodhya were lynched in Godhra. We condemn all such incidents," the HRD Minister said.
He said there were 16 mob lynchings in 2012 and 14 in 2013.
A visibly angry Leader of Opposition Ghulam Nabi Azad hit back by saying that notwithstanding who was in power, the "parivaar" (a reference to the Sangh family or Hindutva groups) people were found involved in every communal riot in the country.
"Where are the culprits involved in the lynchings in 2012 and 2013? Where are the culprits involved in anti-Sikh riots of 1984?... Very few of them are in jail, rest are roaming free," Javadekar said.
Azad retorted: "Let me say that in all the communal riots that occurred in India, people from your 'parivaar' were found involved."
He said it was the Congress that fought for the country's freedom and "not you people" before the opposition members walked out of the House.
Minister of State for Home Affairs Hansraj Ahir said the Modi government was neither anti-Dalit nor anti-Muslim.
In his reply to the discussion, Union Finance Minister Arun Jaitley said the government would show no sympathy to those lynching people in the name of cow protection.
"Nobody has the right to take law in his hands. And if somebody does, he should be condemned, arrested and prosecuted. The government's stand is very clear -- nobody is allowed to do that," Jaitley said in the Rajya Sabha.
"...there is no rationalisation, no argument about hurting of sentiments can be an explanation for the crime," he said, adding that the central government was absolutely committed on the issue and had already sent an advisory to the states.
"The law will certainly take its course in these cases. No amount of sympathy will be shown to these people. The Prime Minister has spoken thrice on the issue," Jaitley said.
On the atrocities on Dalits, Jaitley said oppression in the name of caste would not be tolerated and that stringent laws were in place to protect the Dalits.
"The way we have historically treated one section of our brethren is a black spot in our history. We owe it to ourselves, if not to them, to reverse that process of history," the minister said.
However, the senior Bharatiya Janata Party leader said, it was also not proper to "eulogise" cow slaughter in states where there was no prohibition on cow slaughter.
BSP leader Satish Chandra Mishra said that his party was not satisfied with the minister's reply and staged a walkout.
With inputs from agencies
Updated Date: Jul 21, 2017 17:22:07 IST
Find latest and upcoming tech gadgets online on Tech2 Gadgets. Get technology news, gadgets reviews & ratings. Popular gadgets including laptop, tablet and mobile specifications, features, prices, comparison.