Lok Sabha Election 2019: Pinarayi Vijayan loses cool at journalists when asked about Kerala's high voter turnout
Kerala witnessed a heavy polling of 77.68 percent, the highest in 30 years, in the 20 Lok Sabha constituencies in the state, where the ruling LDF and the opposition UDF put up a fierce fight to garner maximum seats
The Kerala chief minister's reaction came this morning when he was stepping out of the Government Guest House

Kerala witnessed a heavy polling of 77.68 percent, the highest in 30 years, in the 20 Lok Sabha constituencies in the state

The strength of the electorate in Kerala is 2.61 crore
Kochi: Kerala Chief Minister Pinarayi Vijayan on Wednesday lost his composure and asked media persons to "keep away" as they approached him seeking his version on the higher voter turnout in the Lok Sabha polls held in the state.
The Chief Minister's 'rude' reaction came this morning when he was stepping out of the Government Guest House.
"Maari nilkku angottu" (Keep away), the chief minister, in an agitated mood, shouted at the media persons when they approached him for his version of record polling in the last three decades in the general elections.
Kerala witnessed a heavy polling of 77.68 percent, the highest in 30 years, in the 20 Lok Sabha constituencies in the state, where the ruling LDF and the opposition UDF put up a fierce fight to garner maximum seats. The strength of the electorate is 2.61 crore.
Politics
The student organisation protested alleging that Gandhi failed to intervene in the issue of creating buffer zones around forests in the hilly areas of Kerala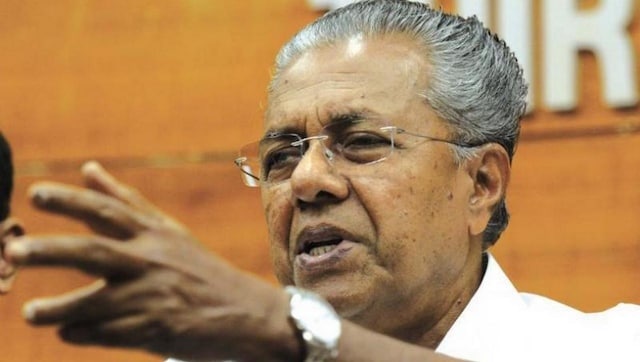 India
The gold smuggling case came to light after 30 kg of gold concealed in diplomatic baggage was seized at the Thiruvananthapuram international airport here by the Customs Department on 5 July 2020
Politics
A protest march of the SFI against Gandhi, alleging his inaction in the issue of buffer zones around forests, on Friday turned violent as a group of protestors allegedly barged into his office and trashed it