Lok Sabha Election 2019: Pinarayi Vijayan loses cool at journalists when asked about Kerala's high voter turnout
Kerala witnessed a heavy polling of 77.68 percent, the highest in 30 years, in the 20 Lok Sabha constituencies in the state, where the ruling LDF and the opposition UDF put up a fierce fight to garner maximum seats
The Kerala chief minister's reaction came this morning when he was stepping out of the Government Guest House

Kerala witnessed a heavy polling of 77.68 percent, the highest in 30 years, in the 20 Lok Sabha constituencies in the state

The strength of the electorate in Kerala is 2.61 crore
Kochi: Kerala Chief Minister Pinarayi Vijayan on Wednesday lost his composure and asked media persons to "keep away" as they approached him seeking his version on the higher voter turnout in the Lok Sabha polls held in the state.
The Chief Minister's 'rude' reaction came this morning when he was stepping out of the Government Guest House.
"Maari nilkku angottu" (Keep away), the chief minister, in an agitated mood, shouted at the media persons when they approached him for his version of record polling in the last three decades in the general elections.
Kerala witnessed a heavy polling of 77.68 percent, the highest in 30 years, in the 20 Lok Sabha constituencies in the state, where the ruling LDF and the opposition UDF put up a fierce fight to garner maximum seats. The strength of the electorate is 2.61 crore.
Find latest and upcoming tech gadgets online on Tech2 Gadgets. Get technology news, gadgets reviews & ratings. Popular gadgets including laptop, tablet and mobile specifications, features, prices, comparison.
Politics
CPM politburo member Pinarayi Vijayan will possibly be the new Chief Minister of Kerala, party sources claimed on Friday.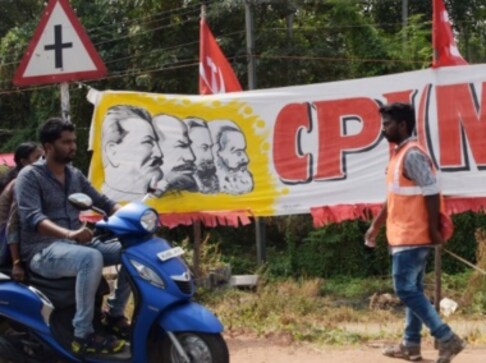 India
Soon after the Model Code of Conduct came into force, Kerala's Chief Electoral Officer ruffled the feathers of politicians by warning them against using names of gods during campaigning, setting norms for a green protocol and asking candidates with criminal cases pending against them to let voters know details of the cases.
India
Kerala Chief Minister Pinarayi Vijayan has failed to contain the "increasing" political violence in the state,, BJP president Amit Shah said on Saturday.