West Bengal election results live: Didn't expect a politics of slander, says Mamata after the win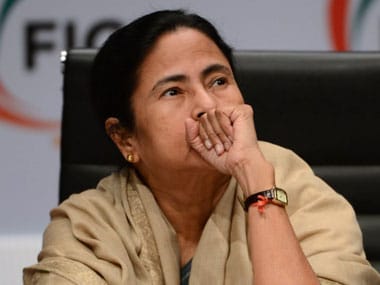 08:14 (IST)

TMC - 215 | BJP - 7 | Left + 71 | CNN News 18

14:14 (IST)

Left needs serious introspection on W Bengal strategy: D Raja, CPI chief

Front's impressive performance in Kerala was on "expected" lines, but underscored that communist parties need to do "serious introspection" about their strategy in West Bengal where TMC is set to retain power."

"The results in Kerala were expected. We had conducted campaign on given issues.

"In Bengal, we were hoping to improve out tally. But that did not seem to have happened. So, we have to do some serious introspection about our strategy, tactics," CPI national secretary D Raja said.

Raja said the PWF received "good response" to its campaigning aimed at "offering alternative" to people, but that idea, he added, will take some time "to grip minds" of people as results have shown.

"The idea of political alternative, change will take time to grip the minds of people. (But) This use of money power is a matter of serious concern...Two assembly segment polls have been postponed for the first time in Tamil Nadu's history. So, it shows how the money power played a dirty role," Raja said without naming any party.

14:08 (IST)

Baichung Bhutia accepts defeat

Accept people's verdict, will look into where we went wrong: Baichung Bhutia on losing to Ashok Bhattacharya pic.twitter.com/3S0qMntY07

— ANI (@ANI_news) May 19, 2016

14:02 (IST)

Arvind Kejriwal congratulates Mamata Banerjee

Congratulations Didi for stupendous victory...

— Arvind Kejriwal (@ArvindKejriwal) May 19, 2016

13:42 (IST)

Jairam Ramesh expresses disappointment

Senior Congress leader Jairam Ramesh said though the outcome in Kerala and Assam was not surprising, that in West Bengal had come as a disappointment for the party as it expected to do much better.

"Results in West Bengal are disappointing. I am surprised by our less than anticipated showing in Bengal. We certainly expected to do much better. We were confident that the alliance will do very well. We need to look at it in some detail," Ramesh said.

12:43 (IST)

When a party loses its ideology, it loses everything, says Trinamool chief Mamata Banerjee after sweeping West Bengal polls

If a party loses its ideology, it loses everything. CPI(M)-Cong have lost everything: Mamata Banerjee #Election2016 pic.twitter.com/7WDSSKXRED

— ANI (@ANI_news) May 19, 2016

12:14 (IST)

Mamata to take oath on 27 May

A session of Assembly will be called before May 29, says Mamata Banerjee

"Aap dekhte jaiye aage kya hota hai," says Mamata Banerjee on whether she would be a part of a non-BJP and non-Congress alliance in future.

Mamata has called for a an all party meeting on 20 May.

It is a "corruption-less" state, says Mamata.

We will take oath on May 27. A session of Assembly will be called before May 29: CM Mamata Banerjee #Election2016 pic.twitter.com/uWpRnoscwX

— ANI (@ANI_news) May 19, 2016

11:59 (IST)

Mamata Banerjee addresses media, expresses gratitude to people

We were victorious with two-thirds majority. Despite the Congress and Left alliance, we won. Families have come together and helped us win.

Everything went peacefully. People stood in the queue for hours and in the heat to vote. Didn't expect a politics of slander and low lies.

We fought alone this time. Last elections, Trinamool had won 184 seats in alliance. This time, Opp was united against us.

Have ideological differences with BJP and Congress demolished itself by aligning itself with the Left.

Want to thank the people of Bengal for giving us a huge victory: CM Mamata Banerjee #Election2016 pic.twitter.com/3fM8yvOnGX

— ANI (@ANI_news) May 19, 2016

Kolkata: CM Mamata Banerjee addressing media after trends show her winning #Election2016 pic.twitter.com/YBHAhUnzCy

— ANI (@ANI_news) May 19, 2016

11:53 (IST)

Trinamool Congress wins first seat

The first results of the West Bengal assembly polls on Thursday went in favour of the Trinamool Congress as the ruling party steadily marched towards a brute majority, leading in as many as 212 of the total 294 seats.



Trinamool nominee Nayna Bandyopadhyay retained Chowrangee constituency, defeating her nearest rival Somen Mitra of the Congress by over 13,000 votes.



The other winner declared so far is also from Trinamool, as Shashi Panja successfully defended Shyampukur constituency, defeating Piyali Pal of the All India Forward Bloc by over 13,000 votes.


11:35 (IST)

​Mamata: A firebrand

An excellent orator, she had coined a catchy slogan "Ma, Mati o Manush" (Mother, Land and People) before the 2014 Lok Sabha polls and played on the anti-incumbency factor after more than three decades of Left rule and the creeping disillusionment among several sections, like Muslims, to decimate the Left in partnership with the Congress.

Known for her humble lifestyle, the seven-time MP successfully sold a vision of development, cashing in on the deep resentment among the middle classes and unemployed youths, promising jobs and development.

Her nondescript residence — a tiled single-storey house in a dingy lane close to the Kalighat temple — and equally simple attire comprising cotton saris, jhola bags and cheap hawai chappals, endeared her to the masses. It has not been an easy journey though for Mamata who turned her call for `Parivartan` (change) into a reality with Congress, her ally then, throwing its full weight behind her.

Her energy, charisma and political astutenes made Banerjee one of the few mass leaders in the country.

PTI

11:33 (IST)

Mamata remains 'Queen of Bengal'

Mamata Banerjee, the stormy petrel of West Bengal politics, once again proved a master strategist decimating the new Left-Congress combination and the BJP all of whom sought to checkmate her return to power.

The 61-year-old feisty leader, who had single-handedly wrecked the red bastion in West Bengal in 2011 ousting Left Front's uninterrupted 34-year-old rule, was unfazed by the coming together of Left parties and their once bitter rival Congress ahead of the Assembly polls.

She also faced an all out attack by BJP which fielded top party stalwarts led by Prime Minister Narendra Modi, Amit Shah, a battery of Union Ministers and state leaders for campaigning but they finally found that there was no way to stop her Trinamool Congress from romping home to victory.

Founder and chairperson of the Trinamool Congress which she set up in 1998 after falling out with the Congress Party in West Bengal, Banerjee, fondly called 'Didi' (sister) by her supporters, has been the nemesis of the ruling CPI(M)-led Left Front and has earned the reputation of being a tough street fighter.

PTI

11:28 (IST)

Mamata Banerjee leads by 1499 votes

West Bengal Chief Minister and Trinamool Congress supremo Mamata Banerjee is leading by 1,499 votes in Bhawanipur Assembly constituency over her
nearest rival Congress candidate Deepa Dasmunshi.

11:21 (IST)

PM Modi congratulates Didi

Prime Minister Narendra Modi tweeted that he called Mamata Banerjee and congratulated her on her win.

Spoken to @MamataOfficial ji & congratulated her on the impressive victory. My best wishes to her as she begins her 2nd term.

— Narendra Modi (@narendramodi) May 19, 2016

11:16 (IST)

Enclave dwellers voted in these elections for the first time

The sixth phase of the West Bengal Assembly Elections was an important one. Over 9000 voters living in 51 enclaves in Cooch Behar district exercised their franchise since India's Independence

The enclaves were formally declared Indian territory after the exchange of enclaves with Bangladesh on 1 August last year

There are about 15,000 people living in the enclaves who got their Indian citizenship. Of them 9,776 were eligible to vote

While Mamata Banerjee wants to grant citizenship to Bangladeshis living in India for more than five years, Home Minister Rajnath Singh blamed the TMC for failing to keep infiltration in check

Naturally, each political party took credit for resolving the 68-year-old border dispute

Mamata's TMC said that their governments resolved this enclave problem, something that none of the previous governments addressed.

BJP for its part said that they had been with the people from the beginning.

The CPM struck a different note claiming that both the parties stalled the process during the UPA rule.

It would be interesting to see the vote share in the enclaves — if they too have their faith set strong in Mamata Banerjee.

11:04 (IST)

The Left comes in second, but it's not a close call at all

Trinamool Congress secures 40.39 lakh votes, CPM gets 16.57 lakh votes.

10:58 (IST)

Trinamool Tsunami in West Bengal

The ruling Trinamool Congress appeared set to retain power with a two-third majority in West Bengal on Thursday, as its candidates led in 208 of the 294 constituencies.



The Left-Congress nominees were ahead in 74 constituencies.



Candidates of the BJP and its allies were leading in 10 places. The Gorkha Janmukti Morcha, one of the BJP's allies, was ahead in Darjeeling, Kalimpong and Kurseong.



The Trinamool wave appeared to be crushing all the opposition in the southern parts of the state while the Left-Congress challenge was most visible in northern Bengal.



Among the prominent Trinamool leaders on the road to victory was Finance Minister Amit Mitra from Khardaha.



Communist Party of India-Marxist (CPI-M) state secretary Surjya Kanta Mishra led from his constituency Narayangarh while Congress' Manas Bhunia was ahead in Sabang.



Among celebrity candidates, Trinamool's Laxmi Ratan Shukla (Howrah North) and Baishali Dalmiya (Bally) were in the lead.



Around 82.80 percent of the 6.55 crore electorate voted in the elections held from April 4 to May 5 to elect a 294-member assembly.

10:33 (IST)

Celebrations for Didi

Celebrations outside Mamata Banerjee's residence after early trends show her leading by over 3000 votes.

Kolkata: Celebrations outside Mamata Banerjee's residence after early trends show her leading by over 3000 votes pic.twitter.com/302uF0Y5cu

— ANI (@ANI_news) May 19, 2016

10:16 (IST)

The latest numbers, according to the Election Commission of India

All India Trinamool Congress: 183

BJP: 5

Gorkha Janmukti Morcha: 3

Left: 23

10:10 (IST)

Mamata Banerjee leads by 158 votes

BJP's Chandra Bose closes gap in Bhabanipur constituency, Mamata Banerjee now leads by 158 votes.

09:57 (IST)

There are a few wins for BJP

Former state BJP president and national secretary Rahul Sinha is leading from Jorasakho constituency by 1,839 votes where the collapse of a flyover on March 31 had killed several people.

09:56 (IST)

TMC Candidate Laxmi Ratan Shukla ahead in Howrah

State Women and Child Development Minister Shashi Panja is leading in Shyampukur seat by 4,667 seats, TMC candidate and former cricketer Laxmi Ratan Shukla is ahead in Howrah Uttar seat by a margin of 1,266 votes, state food supplies minister Jyotipriyo Mullick is leading by 3,164 votes from Habra seat.

09:55 (IST)

GJM is leading in Darjeeling and Kalimpong seats

Prominent candidates of TMC who are ahead are Assembly Speaker Biman Banerjee from Baruipur Paschim Assembly segment by 4,378 votes, whereas state Finance Minister Amit Mitra is ahead in Khardaha seat by 589 votes.

09:42 (IST)

Mamata Banerjee to win with massive margin

Mamata Banerjee-led TMC has surged ahead of the Left-Congress alliance in West Bengal, BJP was ahead in Assam while AIADMK and LDF were leading their rivals in Tamil Nadu and Kerala, according to early trends as the counting of votes began for the four state Assembly polls.

09:30 (IST)

Bhutia right behind CPM candidate Ashok Bhattacharya

Trinamool's candidate from Siliguri, Bhaichung Bhutia trails CPM candidate Ashok Bhattacharya by 1373 votes

#Elections2016 West Bengal: TMC's candidate from Siliguri Bhaichung Bhutia trails CPIM candidate Ashok Bhattacharya by 1373 votes

— ANI (@ANI_news) May 19, 2016

09:15 (IST)

Trinamool Congress takes an early lead

West Bengal's ruling Trinamool

Congress took early lead as officials counted the millions of votes cast in staggered assembly elections, officials sa

id.


Of the 44 of the 294 constituencies where initial trends were available, the Trinamool had forged ahead in 25 while the Left-Congress alliance led in 17 places.


The Bharatiya Janata Party was in the lead in one constituency.

09:03 (IST)

Election Commission data so far

According to latest EC data after first round of counting TMC leads in 13 seats, Left alliance in 9, BJP in 1

#Elections2016 West Bengal: According to latest EC data after first round of counting TMC leads in 13 seats, Left alliance in 9, BJP in 1

— ANI (@ANI_news) May 19, 2016

08:47 (IST)

Latest EC data from postal ballots

According to ANI, The West Bengal latest EC data from postal ballots shows TMC leading on 11 seats, Left leading on 8 seats, BJP leading on 1

#Election2016 West Bengal latest EC data from postal ballots: TMC leading on 11 seats, Left leading on 8 seats, BJP leading on 1

— ANI (@ANI_news) May 19, 2016

08:24 (IST)

Counting day: 20,000 personnel deployed to count votes in 394 halls; 3 tier tight security, Sec 144 imposed on 100 metre radius of counting venues

A team of 20,000 personnel from the state and central government has been deployed to count votes in 394 counting halls which are being guarded by 78 companies of central forces.

Elections in the state were held in six-phases beginning from April 4 with 1961 candidates including 198 women in the fray. The alliance of Left parties and Congress are throwing a major challenge to the ruling Trinamool Congress government.

Despite being on the backfoot because of the Saradha chit fund scam and the Narada sting operation, several exit polls have predicted that Mamata Banerjee will return to power.

A tight three-tier security layer has been laid out during the counting process with Sec 144 being imposed on a 100 metre radius of counting venues.

The innermost security layer is being manned by central forces and state police personnel is not allowed to enter the counting hall.

Only authorised personnel are allowed to enter the venue while only the observers have been given the liberty to carry mobile phones with them.

Each of the 294 constituencies has one counting observer to monitor the entire process.

Additionally, a videographer is also documenting the counting in all centres.

08:09 (IST)

Violence in the West Bengal polls has been an issue

Days ahead of the last phase of West Bengal Assembly polls, four persons were killed in Malda, including a TMC worker, while making a crude bomb.

On the same day, two CBI officials were killed while diffusing a bomb.

West Bengal politics has been violence-ridden for years. It can all be rooted to one incident in the 70s, when a police complaint was registered alleging that CPM goons set a house on fire.

In 33 years of Left Front's rule, the local residents were exposed to so much violence that when TMC had its historic victory in 2011, there were apprehensions about a bloodbath.

Though the Election Commission has been emphasizing that it takes incidents of poll violence seriously, renewed clashes ruled the headlines as soon as polling began this year.

In each case that was reported, rival parties consistently played the blame game and denied their involvement.

Despite heavy security deployment, poll violence has been a topic of concern that has continually brought down the faith of the voters.

08:02 (IST)

Counting of votes begins

Authorities on Thursday began counting the millions of votes cast in the West Bengal assembly elections. The process started at 90 counting centres across the state at 8 a.m.

The fate of 1,961 candidates, including 198 women, stored in 77,413 electronic voting machines would be known during the day.

Around 82.80 percent of the 6.55 crore electorate voted in the elections held from April 4 to May 5 to elect a 294-member assembly.

A total of 294 counting observers have been deployed along with 78 companies of central forces.

The ruling Trinamool Congress led by Chief Minister Mamata Banerjee and the Left Front-Congress alliance are the main contenders for power. The BJP is contesting in 291 seats.

IANS

#Elections2016: Counting begins in West Bengal,Assam,Tamil Nadu,Kerala and Puducherry. Postal ballots to be opened first

— ANI (@ANI_news) May 19, 2016

07:57 (IST)

Politics does make for strange bedfellows: The unlikely alliance of CPM and Congress

The unlikely alliance of the Left with Congress has its roots in the 2004 UPA government. But it was short lived, as the Left chose to withdraw their support after their opposition to a nuclear deal was ignored by the then Prime Minister Manmohan Singh

In West Bengal, the Left and Congress alliance was first formed in the civic polls in Siliguri in 2009.

With neither party gaining enough seats, they saw a common purpose in ousting Trinamool. However, the Left and Congress rivalry in the state has had a long and bloody history.


Buddhadeb Bhattacharjee considers the alliance important for the "party's survival." The CPM resolution made it clear that there was an urgent need to forge Left and democratic front as a fighting alliance of forces.

07:48 (IST)

C-Voter poll predictions

TimesNow-CVoter predicted a similar picture, giving Mamata a 2/3rd majority and 167 seats. It pegged the number of seats for the Left-Congress alliance at 120. The BJP was projected to win 4 with others at 3.

News Nation made the contest closer, forecasting TMC win in 152 seats, Left+Congress in 136, BJP 0 and others 3.

NewsX-Today's Chanakya was the most favourable for BJP, giving it 14 seats (+/-5) while predicting a whopping 210 (+/-14) for the ruling TMC. The Left-Congress alliance in the state has been predicted to win 70 (+/- 9) seats in the state while others may not win any, it said.

NDTV Poll of Polls gave BJP 3, TMC 196, Left 92, Others 5.

The India Today-Axis My India poll predicted a landslide for Mamata Banerjee, projecting TMC a winner in 233-253 seats, Left+Cong 38-51, BJP 2-6 while others 2-5.

It is important to remember that these are seat projections. When it comes to vote share though, ABP Ananda-Nielsenpegs TMC's at 44% and the Left-Congress combine at 42%. TimesNow-CVoter predicts 41.2% for the ruling party and 40.8% (Left 31.2 + Cong 9.6) for the alliance. ABP Ananda also predicts a very close contest in at least 25 seats where results may go either way.

Sreemoy Talukdar, Senior Editor, Firstpost

07:40 (IST)

First transgender presiding officer in West Bengal polls

In the fifth phase of West Bengal assembly polls was a watershed for the third gender community, for the first time one of them was made a presiding officer for a booth in South Kolkata.

Out of the 6.5 crore voters in West Bengal the number of voters from the third gender is a nominal 758.

07:33 (IST)

Two major scams that could destabilise TMC's hold in West Bengal

The Narada scam where TMC leaders were caught on camera taking huge sums of money as bribe and the other is the Saradha scam — a major ponzi scheme that implicated Mamata's close aide, Madan Mitra.

07:21 (IST)

Exit Poll predictions for West Bengal

07:06 (IST)

Mamata Banerjee was the most spoken about on Facebook this election season

During Assembly elections in West Bengal, Tamil Nadu, Assam, Kerala and Puducherry, BJP was the most discussed political party while West Bengal Chief Minister Mamata Banerjee the most talked about political
leader on Facebook.

An analysis of conversations on Facebook regarding the Assembly polls across all states done by the social media giant shows that BJP featured in 61 per cent of them, while Trinamool Congress chief Mamata Banerjee was the top leader, figuring in 22 per cent of the conversations.

07:02 (IST)

Parties adapted to include social media strategy in their campaigns

Political parties in the state extended their fight into the cyber space swearing by the revolutionary impact of the social media.

Topping the chart is the Trinamool Congress supremo and West Bengal Chief Minister Mamata Banerjee who is not only a regular user of Facebook and Twitter, but is also the most popular face there. Several songs sung by renowned singers lauding the achievements of the TMC regime were also made online in days to come.

The CPM, which was against the introduction of computers in India on the grounds that it would mean loss of jobs, also used social media platforms like Twitter and Facebook to reach out to younger voters.

Surya Kanta Mishra, state secretary of CPM, regularly used Twitter to express his views and opinions. His handle, @SurjyaKMishra, have over 3,000 followers. Mishra does not shy away from expressing his intolerance towards TMC's rule in the state. Four out of the nine tweets put out by Mishra in April are regarding the ouster of TMC in West Bengal. His campaigning strategy is simple - slam the opponent (and the election commission).

BJP's twitter campaign in West Bengal however, focussed more on Narendra Modi's achievements than of the local candidates.

06:55 (IST)

West Bengal Assembly Election 2016: Six phases, lots of action

The Eastern state has been split into 294 constituencies by the Election Commission. The polls were conducted in six phases (the first was split in two).

For a state, where it seemed like the Opposition (CPM, Congress and BJP) were totally vanquished and the ruling Trinamool was almost invincible, there now seems to be a change in the winds. As senior editor of Firstpost Gouri Chatterjee argues in this piece: "Even though opinion polls are still predicting a victory for the TMC, albeit with a reduced number of seats, there is a sense of urgency in the air, a sense of expectation and possibility. Anything, it seems, could happen."
Counting of votes for the high stakes Assembly elections in West Bengal, Tamil Nadu, Assam, Kerala and Puducherry will be held on Thursday morning with trends expected to be available by 11 am. By 12 noon, a final picture could emerge on who would be the major players in the five states.
Election Commission officials said counting of votes will commence at 8 am, and will be over by 3 pm. According to Election Commission guidelines, half an hour after the postal ballots are counted, the process of counting votes from the EVMs begins. The 'ballot unit' is switched on in the presence of senior poll officials and counting agents of candidates, and the result command keyed in to get results per machine.
Trinamool Congress leader Mamata Banerjee had created electoral history in 2011 when she ended the 34-year-long Communist rule in West Bengal. However, after a series of corruption scandals and allegations of political violence, her popularity is now under serious question. However, the exit polls have predicted a TMC sweep in the state. Interestingly, all exit polls predicted an anti-incumbent mood in all states except West Bengal.
West Bengal's ruling Trinamool Congress on Monday expressed happiness at being given a clear majority in the state Assembly elections by most of the exit polls.
Most of the exit poll surveys by regional and national channels have given TMC a clear majority in the 294-member Assembly. Most exit poll surveys conducted by regional and national channels have given TMC a clear majority in the 294-member Assembly.
"We will wait for 19 May and the actual results. The people of Bengal will bless Trinamool abundantly. The Mamata Banerejee government's peace and communal harmony will win the hearts and minds of the people of Bengal," TMC spokesperson Derek O'Brien said.
On the other hand, the opposition combine of the Left Front and Congress is hopeful of the formation of an alliance government.
CPM MP Ritabrata Banerjee and Congress leader Abdul Mannan said that whatever might be the exit poll prediction, the formation of the alliance government was "imminent."
Mannan claimed people had voted in favour of the alliance.
Of all the four states, one heard the loudest noise about corruption in West Bengal, where Chief Minister Mamata Banerjee's Trinamool Congress (TMC) had to contend with two major corruption scandals — the Saradha scam and Narada sting operation.
With inputs from agencies
Updated Date: May 19, 2016 12:28 PM