11.20 am: Here is how all the states will vote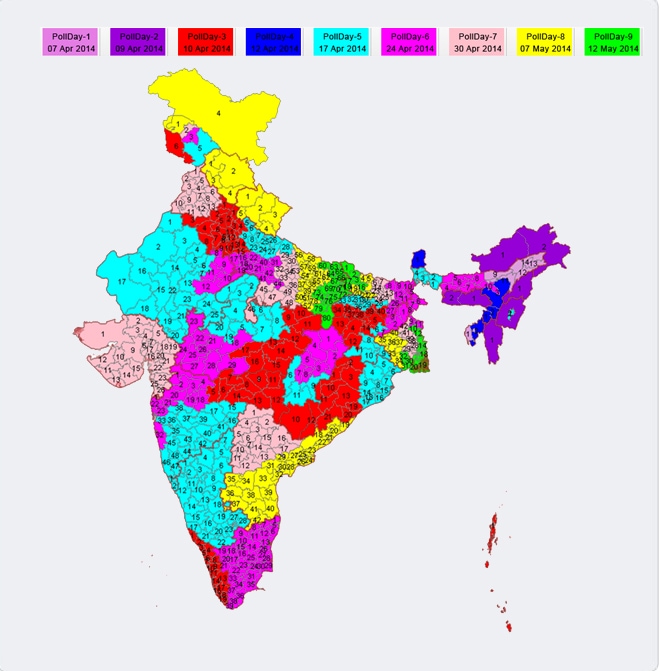 Andhra Pradesh - 30 April and 7 May
Arunachal Pradesh - 9 April
Assam - 7 april, 12 April and 24 April
Bihar - 10 April, 17 April, 24 April, 30 April, 7 May and 12 May
Chhattisgarh - 10 April, 17 April and 24 April
Goa - 17 April
Gujarat - 30 April
Haryana - 10 April
Himachal Pradesh - 7 May
Jammu & Kashmir - 10 April, 17 April, 24 April 30 April and 7 May
Jharkhand - 10 April, 17 April and 24 April
Karnataka - 17 April
Kerala 10 April
Madhya Pradesh 10 April, 17 April and 24 April
Maharashtra - 10 April, 17 April and 24 April
Manipur - 9 April and 17 April
Meghalaya - 9 April
Mizoram - 9 April
Nagaland - 9 April
Odisha - 10 April and 17 April
Punjab 30 April
Rajasthan - 17 April 24 April
Sikkim - 12 April
Tamil Nadu - 24 April
Tripura - 7 April and 12 April
Uttar Pradesh - 10 April, 17 April, 24 April, 30 April, 7 May, 12 May
Uttarakhand - 7 May
West Bengal - 17 April, 24 April, 30 April, 7 May and 12 May
Andaman & Nicobar Islands - 10 April
Chandigarh - 10 April
Dadra and Nagar Haveli - 30 April
Daman and Diu - 30 April
Lakshadweep - 10 April
NCT Delhi - 10 April
Puducherry - 24 April
10.58 am: Lok Sabha elections to begin 7 April 
And finally we have the dates. Polling will begin on 7 April in six constituencies, up until 12 May in nine phases. Counting will be on 16 May.
Here are all the dates:
7 April 2014: 2 states -- 6 LS constituencies
9 April: 5 states, 7 Parliamentary constituencies
10 April: 14 states, 92 Parliamentary constituencies
12 April - 3 states, 5 Parliamentary constituencies
17 April - 13 states and UTs, 122 Parliamentary constituencies
24 April - 12 states, 117 constituencies
30 April - 9 states, 89 Parliamentary constituencies
7 May - 7 states, 64 Parliamentary constituencies
12 May - 3 states, 41 Parliamentary constituencies
Counting for all days is on 16 May
10.48 am: NOTA facility will be provided in LS polls, says EC
Sampath says that like in the recently conducted assembly elections, NOTA (None of the above) option will be provided to voters along with appropriate instructions. Apart from this, voters will also be provided with 'photo voter slips' for identification.
These photo slips will be provided at the voters doorsteps, a few days before polling actually begins.
He reminds those gathered that the model code of conduct will come into effect immediately after his announcement. Minutes away then.
10.42 am 10 crore more voters in 2014 than in 2009, says EC
Some interesting numbers. 840 million people will vote this year - that is 81.4 crores - a number that is a staggering 10 crores higher than the number of people who went to polls in 2009. There are also 12 percent more polling stations this time around.
VS Sampath adds that people who don't have their names on the rolls can go and seek enrollment on 9 March Sunday, when booth level officers will be sitting with the electoral rolls. Booths this time will include sheds, water facilities and ramps for the physically disabled.
10.39 am: Sampath outlines major factors in scheduling
The Election commissioner is outlining the major factors that influenced the announcement of poll dates.
The first of these, is the exam schedule - state boards, monsoons, harvesting and seasonal harvesting.
Of course all of this is going over the heads of the assembled media who just want to know those all important dates.
10.36 am: VS Sampath addressing media, LS dates anytime now
Sampath is interrupted in the middle of his speech on how elections are the 'soul and hallmark' of any democratic system by journalists who are trying to point out that his phone is ringing, creating a disturbance on the mic.
"What? My mobile? Ok", says Sampath before calmly continuing. His phone is still ringing, but he will not be stopped.
10.22 am: Lok Sabha dates anytime now
In a matter of minutes, the election commission will be announcing the dates for the Lok Sabha election.
The EC is expected to announce more phases of polling - at least eight or nine - in several states such as Uttar Pradesh and Maharashtra.
The model code of conduct will come into effect immediately after the announcement.
8.00 am: EC to announce Lok Sabha election dates shortly
The election commission is scheduled to announce the dates for the Lok Sabha elections by 10.30am today.
An estimated 814 million voters will be eligible to vote, with 97.1 million new voters added since the 2009 election.
The "None of the Above" (NOTA) option will be given to voters -- for the first time in a parliamentary contest.
About 800,000 polling stations will be set up across the country, according to Election Commission sources. Around 1.2 million electronic voting machines will be used in the election and another 250,000 have been ordered from public sector companies. In 2009, there were 714 million voters and 671 million in 2004.
"We expect the polling percentage to touch 70 per cent or even cross it for the 16th Lok Sabha election. The SVEEP has done work on a massive scale to educate voters,especially the vulnerable ones - illiterate, poor, marginalised -as well as women and youth," said HS Brahma, election commissioner.
With the announcement of poll dates, the Model Code of Conduct for governments and political parties will come into force with immediate effect. This means that once elections are announced, the Cabinet will no longer be able to take key decisions.
According to this report in the Times of India, unlike the last time (2009) which was a five-phase affair, the polls may stretch to 8-9 phases. It will begin by the end of the first week of April and will conclude in the second week of May. The results are expected by mid-May.
"Polling for Lok Sabha and simultaneous state elections in Andhra Pradesh, Odisha and Sikkim is expected to begin by the end of first week of April and conclude in May second week, according to Nirvachan Sadan sources. The results may be out in mid-May, allowing parties at least a fortnight for government formation", the Times of India report added.
It said that several states including Uttar Pradesh, Maharashtra and Tamil Nadu are likely to see multi-phased polling.
Updated Date: Mar 05, 2014 11:53 AM