Live: Even Narendra Modi sat on dharna when he was Gujarat CM, says Kejriwal
The Delhi election gathers heat as PM Narendra Modi, Arvind Kejriwal and Sonia Gandhi are set to address rallies on the same day.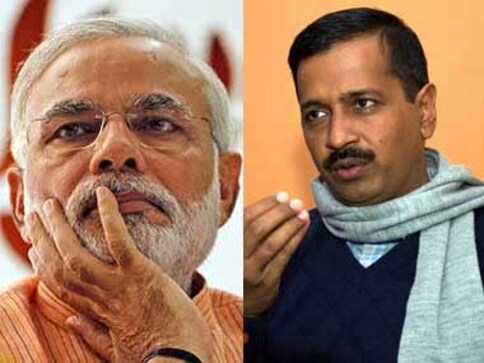 4.14 pm: I personally check tax returns of every AAP member, says Kejriwal
On reports that the assets of AAP leaders had increased significantly over the year, Kejriwal told NDTV, "Before giving them ticket, I had personally looked at the tax returns of each and every AAP candidate. They are all clean. It's just that the average wealth of all the candidates put together has increased."
"We also did not give tickets to any person with genuine criminal cases against them," he said.
On BJP's allegation that Arvind Kejriwal had taken Z security, Kejriwal said, "I just have one car following my car whenever I travel...But I don't even want that security...I have written to the government many times regarding this issue."
When asked whether he will ask Congress for support to form the government in Delhi this time, Kejriwal said, "First let's see whether Congress get enough number of seats to provide the support." The AAP chief also said that he will not resign if his party comes to power in Delhi this time.
He also said that the people of Delhi felt that the Modi government had failed to deliver in the last seven months.
"Arvind Kejriwal and AAP are a package. And people love that package," said Kejriwal.
3.40 pm: Four pillars of democracy are dissent, debate, discussion and dharna, says Kejriwal
Arvind Kejriwal told NDTV that since most of the people from AAP did not have a political background, people began thinking that AAP members are "dharna-waalas".
"I'm not the only one who sat on dharnas as CM. Jayalalithaa, Karunanidhi and Nitish Kumar sat on dharnas as CM. Even Modi, when he was Gujarat CM, had sat on a dharna for a three days," said Kejriwal. "The four pillars of democracy are dissent, debate, discussion and dharna," he said.
On accusations that Kejriwal was an anarchist, the AAP chief said, "Gandhi and Bhagat Singh had said they are anarchists. They were anarchists for the people they were opposing, the people who were looting the nation. Similarly, I am an anarchist for the people who are trying to loot the nation."
On his remark to voters to take bribes from opposition and then vote for AAP, Kejriwal told NDTV, "Rishwat-khori is a fact of life. I didn't tell the voters to accept the bribes. I told them to take the money, do a sting operation and give me the video. I'll send the person giving the bribe to jail."
"In the last elections, when I had told the voters to do this, BJP and Congress realised after the election that they lost their money and did not get votes as well," said Kejriwal. He added that "BJP and Congress have completely lost ground support in Delhi."
3.18 pm: Would've considered making Kiran Bedi CM candidate if she had asked, says Kejriwal
In the interview to NDTV, Arvind Kejriwal said that he would have definitely considered making Kiran Bedi the CM candidate for Delhi if she had joined AAP.
"People began wondering why Kiran Bedi did not join AAP if she had to join a party," said Kejriwal. Responding to a question on whether he would've made her the Delhi CM candidate if she had joined AAP, Kejriwal said, "We would have considered making her Delhi CM candidate if she had asked."
Kejriwal also said that BJP "does not have any agenda, manifesto or leadership. They are trying to throw mud at us. But it has not affected us so far."
"People want to know the plans of the BJP and Congress. Kiran Bedi might have been a great cop, but she doesn't understand Delhi's problems," he said.
3.04 pm: Why attack an entire community, says Kejriwal on BJP's ad
In an interview to NDTV, AAP chief Arvind Kejriwal clarified why he raised his voice against the BJP ad saying that Kejriwal belonged to an 'updravi gotra'.
"This time, the elections are being fought in a dirty way. We have never attacked anyone personally. But let them say whatever they want," said Kejriwal.
"In the first ad, they targetted my children. I didn't respond. But today, they said I belonged to an 'updravi gotra'. People of the Agarmal community are peace-loving, law-abiding people. I don't respond when they attack me or my family. But why attack an entire community?" he said.
End of updates for 1 February
6.23 pm: Amit Shah attacks 'Rahul baba' says he wear Italian glasses
Now BJP chief Amit Shah addresses rally in Delhi's Jahangirpuri. He attacked Rahul Gandhi calling him, 'Rahul baba'
He said, "Rahul Baba, you will not find the difference in LoC during UPA rule and NDA rule because you are wearing Italian glasses."
Attacking Rahul Gandhi, he says, "We have a tit-for-tat policy when it comes to border row with Pakistan. Now they know that Modi government is there to give them befitting reply."
5.13 pm: Kejriwal takes on BJP's promises of reducing prices, curbing corruption
Now he takes on Prime Minister Narendra Modi. He says, "Now they are also planning to do away with subsidies on gas. Only those who have BPL cards with get subsidies."
He says, "Now you will get gas cylinders for Rs 900."
"They too votes, but after coming to power they increased prices," he said.
Taking on BJP's slogan 'Bohot hua brashtachar, ab ki baar Modi sarkar, Kejriwal said, "Has corruption reduced in Delhi? We reduced corruption in Delhi in 49 days, then why can't BJP do it in six months? Because either they don't know how to or their intentions are bad."
Slamming BJP's promise of bringing back black money, he said, "They said they will bring back black money and deposit Rs 15 lakh in the accounts of the poor. But they fooled people and took votes."
5.08 pm: BJP lied to get votes, increased prices, says Arvind Kejriwal in Delhi
Now Arvind Kejriwal is addressing a rally in Delhi's Shastri Nagar. He takes on the BJP over electricity rates.
"The BJP lied to get votes. They said they would reduce rates of electricity. But then after that they increased the rates," he said.
"The BJP has increased prices of everything from vegetables to water. Now they have increased prices of essential medicines," he said.
4.11 pm: Only one solution for all our problems — development, says PM Modi
Modi says, "I contested the Lok Sabha elections on the basis of development. For all our troubles there is only one medicine — development."
"If there is development people will have better jobs, better healthcare," he says.
He says that while everyone in India had grown up listening to promises of eradicating poverty from India, he says, "But poverty still exists because politicians wanted to keep the underprivileged poor."
Prime Minister Modi outlines his promises for the Delhi polls, promises houses in unauthorised colonies. He says, "BJP will concrete houses in place of slums."
3.54 pm: Congress, AAP contesting Delhi polls on basis of lies, says PM Modi
In a scathing attack on the Congress and AAP, Modi said that the two were parties contesting Delhi polls on the basis of lies.
"Running a government, politics is a serious responsibility. One has to lend a ear to people's problems. Running away does not help," says PM Modi.
He says, "Delhi needs a responsible, empathetic government. Delhi needs leaders who have worked for the people of the city before."
Now he asks the crowd, "Have petrol prices gone down or not?" the crowd cheers back "Yes."
He says, "My opposition parties say that Modi is lucky that oil prices were reduced world wide. But if my good luck has saved some money in the pockets of our citizens, then what is the problem?"
He says,"If I am lucky, then why bring to power those who are unlucky?"
Hitting out UPA government's foreign policies, Prime Minister Modi says, "Those who don't know their own nation, how will they have good foreign policy?"
3.50 pm: Congress, AAP colluding behind curtains, PM Modi tells Delhi
Prime Minister Narendra Modi addressing a rally in Delhi's Dwarka tells the crowd that he is now a Delhiite.
"Nowadays there is a habit of politicians of making promises to people and then forgetting about it. BUt I spoke to you about your water problems in Delhi, and as soon as BJP came to power we solved it," he said.
Hitting out at the Congress Modi said, "Congress created tensions between Haryana and Delhi over water. This is their character."
He said that Congress did not solve the water problem despite ruling in both states.
Now he hits out at AAP and Congress saying, "These two parties that are contesting against us, they are conspiring behind the curtains. They wake up in the morning and think today what lie can we spread."
3.30 pm: Mess with a woman and you'll be punished, Kiran Bedi tells Delhi
Even as Sonia Gandhi addressed a rally, there is another giant BJP rally underway in Dwarka.
Addressing the crowds, party's chief ministerial candidate Kiran Bedi talks about women's safety. "I am warning you, if you mess with a girl or a woman you will be punished."
She says, "Purush ho ya mahila, insaaf hoga."
Meanwhile Prime Minister Narendra Modi's motorcade pulls up at the venue. He is expected to address the rally shortly.
3.22 pm: BJP, AAP only capable of making false promises, says Sonia Gandhi
Outlining the work done by the Congress, she says, "We had given you are way to fight corruption through RTI. BUt Modi government has kept the top post of the organisation empty."
She said, "By weakening all the policies of the UPA government they (Modi government) are going back on the promises they made."
"BJP and AAP are only capable of making false promises. Their only goal is to oppose the Congress," says Sonia Gandhi.
She warns the voters, "There is need to be ware of those who are involved in politics of showing off."
3.18 pm: Where is the black money you promised to bring back? Sonia asks PM Modi
Congress President Sonia Gandhi is addressing in rally in Delhi's Badarpur. She hit out at the AAP for 'running away from responsibility' and the BJP for their misgovernance.
"Who is responsible for this state of Delhi? Those who left you and also those who ran their own government in the guise of having President's rule," said Sonia Gandhi.
"In the last year, the way the law and order situation has deteriorated, it is clear in front of everyone," she said.
Hitting out at Modi she asked, "Where is the black money you promised to bring back?"
Criticising AAP she said, "Those we supported, they couldn't even last for one-and-a-half months and abandoned their responsibilities."
1:15 pm: PM Modi, Arvind Kejriwal, Sonia Gandhi to address rallies today
In the last few days of campaigning ahead of the Delhi polls on 7 February, Prime Minister Narendra Modi will address a rally for the BJP on Sunday. What will make the day interesting is that AAP chief Arvind Kejriwal will also be addressing rallies and Congress president Sonia Gandhi will also be addressing her first rally for this poll.
In a hard-hitting attack on AAP, Prime Minister Narendra Modi on Saturday had called the party a "backstabber" and asked Delhiites not to repeat the "mistake" of voting for the Arvind Kejriwal-led party.
"The very people whom you voted for last time stabbed in your back. They shattered your dreams and destroyed Delhi. You gave them a befitting punishment in Lok Sabha polls. People do not repeat their mistakes again and again," Modi said in the rally at Viswas Nagar in East Delhi.
Apart from Modi slamming Kejriwal, the BJP has been continuously criticising Kejriwal through their five questions daily, accusing the AAP of being anti-women and slamming it for taking Congress support to form the 2014 Delhi government. AAP responded to BJP's questions by saying that the party would not respond to BJP's questions as it had already challenged the saffron party's chief ministerial candidate Kiran Bedi for an open debate, which she "ran away from".
This will be the first time Sonia Gandhi will be addressing a rally for the upcoming Delhi elections. Congress vice president Rahul Gandhi had addressed an election rally for the Delhi polls on 29 January.
"He (Modi) had said I will bring back crores of black money, will deposit 15 lakh in every account. I want to ask you, did you get 15 lakh? You didn't get anything but Modi wore a suit worth Rs 10 lakh during Obama's visit," he had said.
Politics
He appealed to the voters not to vote for the decades-old party as it was 'never going to form the government'
India
The action came after BJP MP Parvesh Verma complained that Shah was 'working as a spokesperson of the Aam Aadmi Party' even as he held the post of vice-chairman of the Dialogue and Development Commission of Delhi
Politics
BJP's national spokesperson Gaurav Bhatia claimed the report shows that the private firm decided the terms and conditions for the construction of classrooms in collusion with the government