Lessons for Mahagathbandhan: After power-sharing, seat-sharing tussle mars Karnataka's Congress-JD(S) coalition
If Congress concedes to JD(S) demands, it will be a win-win situation for Gowda. But what the Congress doesn't want is to get caught in a lose-lose scenario in the Lok Sabha polls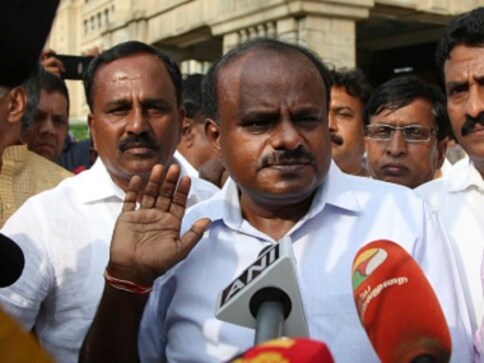 Two questions crop up in Karnataka with excruciating regularity. First, who is the state's real chief minister? Second, how long will the coalition government of the Congress and Janata Dal (Secular) last? The two questions, spin-offs of each other, are once again being asked, as the power struggle within each party and between the two has reached new lows seven months after they came together to keep the BJP out of power.
Fighting over crumbs of power is not uncommon in India's democracy, but what you see in Karnataka now is of a brazen kind that stirs up visions of vultures hovering over carcasses. Even 10 days after a long-delayed cabinet expansion, the coalition is still reeling under tantrums thrown by those who were not made ministers. As if petty squabbles over power-sharing aren't bad enough, a tug-of-war has already erupted over seat-sharing for the upcoming Lok Sabha election.
All this only makes the coalition look like a clumsy zombie that lumbers along, ready to fall under its own weight at any time. The coming together of the Congress and JD(S), which was trumpeted earlier as a precursor to Opposition unity to fight the BJP nationally, is increasingly turning out to be an example of what a mahagathbandhan should not be.
To start at the beginning, who is Karnataka's real chief minister? It's HD Kumaraswamy, silly. But that's the question many in both the JD(S) and Congress ask. Many think it's Kuamraswamy's elder brother and public works minister HD Revanna, who is the de facto chief minister. Revanna either takes key decisions or decides on the auspicious time when these should be taken or executed. Kumaraswamy and Revanna are sons of former prime minister HD Deve Gowda who, some claim, is the "super chief minister" above all.
That isn't the end of it. JD(S) leaders are now accusing Congress honcho Siddaramaiah of "acting like" the chief minister. Many in the Congress, in fact, seem to think that it's Siddaramaiah, chief minister for five years till the May 2018 Assembly election, who calls all the shots in the party in Karnataka.
With a mischievous twinkle in his eyes, Siddaramaiah hotly denies it, saying that it's only the wishes of the "high command" that he obeys. The "high command" is sometimes made to sound like a godlike, shapeless collective entity consisting of unnamed mystic characters, and it's sometimes personified as Rahul Gandhi. But the mention of it shuts Congress mouths, only till the question is raised once again about Siddaramaiah's real role in the affairs of the party as well as the coalition.
For the record, Siddaramaiah is the head of a "coordination committee" comprising leaders of the two parties with the job of ensuring the coalition's smooth functioning. In reality, he is more than that. That was more than evident from the 22 December cabinet expansion which saw at least four of his nominees among the eight ministers inducted.
Siddaramaiah once called himself a trouble-shooter, though he is often accused being a trouble-maker. The fight for plum departments that followed turned so bitter that it was only a week later and only at Rahul's intervention that the party was able to finally decide on portfolios.
But replacing municipal administration minister Ramesh Jarkiholi with his elder brother Satish Jarkiholi has left wide open a rift in the party that may even lead to a few desertions, even if it doesn't result in the fall of the government. And divesting deputy chief minister G Parameshwara, a dalit, of the home portfolio and giving it to MB Patil, a Lingayat, has left many utterly discontented and frustrated.
Horrors of seat-sharing
Even as the party continues to reel under the repercussions of all this — nobody yet knows what turn this may take, Gowda has sprung a nasty surprise on Congress over sharing Lok Sabha seats. The state has 28 Lok Sabha seats, of which JD(S) won only two in 2014. BJP won 17 and Congress, nine. But talks haven't begun over sharing seats. There is not even any talk on when to begin the talks. But that hasn't stopped Gowda from declaring that the JD(S) will contest 12 seats, while the Congress is willing to spare five.
What matters more, however, is not how many seats but which ones. The JD(S) wants to take most of the seats in the Old Mysuru region where Gowda's Vokkaliga caste is dominant, but the Congress will insist on keeping most of these seats, where it either won or came in second in 2014. If JD(S) gets most of the Old Mysuru seats, the Congress can only get a bulk of its share from the rest of the state. In Old Mysuru, JD(S) can benefit from Congress vote banks. But in return, Congress can get little support from JD(S) elsewhere.
If Congress concedes to JD(S) demands, it will be a win-win situation for Gowda. But what the Congress doesn't want is to get caught in a lose-lose scenario in the Lok Sabha polls.
Rahul's advisors may have told him that running Congress is like walking the tightrope. But they may have forgotten to add that, if he didn't balance himself right, he could easily slip and fall to depths from which it's tough to rise. At the same time, the mess in Congress-JD(S) camp doesn't automatically translate into jubilation for BJP, which must first focus on setting its own divided house in order.
Meanwhile, 156 of Karnataka's 176 taluks have been officially declared to be drought-hit with the northeastern monsoon failing the state to the extent of 49 percent rainfall deficit. But farmers can wait or even perish, as parties juggle their election arithmetic and indulge in ding-dong battles over loan waivers.
The author tweets @sprasadindia
Politics
The court of Chief Judicial Magistrate HH Varma, which held Gandhi guilty under Indian Penal Code sections 499 and 500, also granted him bail and suspended the sentence for 30 days to allow him to appeal in a higher court, the Congress leader's lawyer Babu Mangukiya said
Politics
The Congress leader gave the 10-point reply hours after a Delhi Police team knocked on his doors for the third time in five days. He also sought eight to 10 days to give a detailed response to the questions posed by Delhi police over his January 30 remarks
Opinion
The Congress leader wasn't dropping a 'truth bomb', he was name-calling and ridiculing a journalist who was trying to do his job