Left out of Narendra Modi's 'inclusive' politics: Dalits in Gujarat
However, with Modi and the BJP identifying Muslim votes as his biggest hurdle, seem to have forgotten what being a favourite with Hindus doesn't warrant - support of the people placed low in the caste hierarchy in India.
Narendra Modi's makeover as an 'inclusive' political leader, as one who aspires to enable equal development, has been underway  for some time now and if social media and a section of political criticism is anything to go by, it has been a roaring success.
It can be argued Modi is on his way to snatch Congress' secularism agenda and give it his own spin. Unlike the Congress, which in its public rallies promise they will not discriminate, Modi doesn't seem to even acknowledge that the society is host to the kind of communal divisions that run risks of political discrimination.
He addresses the society as a homogeneous entity, one that is routinely exploited by the UPA's policies. With that, the Gujarat CM, has almost successfully tried getting rid of the baggage of communalism and portrayed himself as an inclusive leader.
However, while Modi and the BJP have identified Muslim votes as his biggest hurdle, they seem to have forgotten that they still aren't assured of the support of people placed low in the caste hierarchy of India. Consequently, as Modi has taken a headlong plunge into politics of inclusiveness, the Dalits in his own state seem to have taken it upon themselves to battle caste discrimination, with their CM failing to intervene.
An Indian Express report refers to the mass conversion of Dalits in Saurashtra to Buddhism to escape the stigma of belonging to a lower caste, once considered untouchables in India. Explaining why 60 families in Vishal Hadmatiya village converted to Buddhism, 65-year-old Dahya Vaghela tells The Indian Express:
"Local barbers refuse to give me a haircut or shave, saying that he will not get any upper caste customers. So I have to travel all the way to Junagadh. We also have a separate temple," he says. 
The story goes on to explain how Dalit children are not allowed to sit together with upper-caste children while eating and upper caste villagers not visiting tea stalls run by Dalits.
Dalits contributes a meagre 7 percent of votes in Gujarat and hence is not a political force to reckon with.
"Dalits don't have the numbers to directly influence an Assembly poll, so they generally tend to go with the majority community. The religious conversion, if any, will not affect their political affiliation," Jetha Solanki, Dalit leader and BJP MLA from Kodinar, told Indian Express. 
However, discrimination against the Dalits have been a reality buried in Gujarat's development clamour for a while now.
In a survey conducted in 2011, where 200 Dalit children and 65 Non-Dalit children were interviewed in 12 villages in Gujarat and Rajasthan, it was revealed that more than 90 percent of Dalit children have faced discrimination while procuring medication at government hospitals clinics. More than 80 percent of Dalit children have faced discrimination while trying to avail something as basic as pathological tests.
The survey conducted by Indian Institute of Dalit Studies and UNICEF in 2010 revealed appalling degrees of discrimination against children,  it isn't hard to imagine what the adults might have to face in the same society.
The paper, written by Sanghamitra S Acharya, states:
Of 1298 times that the 200 dalit children were given any medicine, they experienced discrimination on 1181 occasions. Nearly 9 out of 10 times dalit children experienced discrimination while receiving or getting the medicine or a pathological test conducted. While seeking referral about 63% times dalit children were discriminated. Also, nearly 6 in every 10 times dalit children were discriminated during diagnosis and while seeking referral.
It also says how the interviewed children as conditioned to not disagree, agree to take up jobs that involve physical labour if asked to and appease 'certain' people at all times.
Another report about Saurashtra from April this year points out how in Saurashtra itself Dalits faced an acute water crisis as they are not allowed to draw water from the Narmada. The reservoir that supplies water to some of these villages were also never connected with the Narmada water pipeline. Fearing backlash from the upper castes the Dalits mostly kept mum till the water shortage became unbearable and they had to complain to the deputy collector of the district.
A report in Counter Currents points out that according to the 2011 census data there are more than 2000 households who are forced into manual scavenging in Gujarat.
Another survey conducted by Tata Institute of Social Sciences and reported by Indian Express mentions that more than 12,000 manual scavengers exist in Gujarat. And Saurashtra, which has the greatest concentration of Dalits in Gujarat, leads the pack with more than 900 families indulging in manual scavenging.
Dalit leader and writer Kancha Ilaiah, in an article questioning the how fit the Gujarat model of development is, says that a state like Andhra Pradesh has far more beneficial policies for SC/STs and OBCs and the government spends decidedly more on the development of backward tribes than Gujarat.
He points how that the caste hierarchy in Gujarat continues to be so strong that no strong political enterprise was ever encourage or given leeway in the state, even under the chief ministership of Narendra Modi, himself an OBC member.
Ilaiah says:
"The Gujarat government's apathy towards tribals, leave alone minorities, speaks volumes. In fact, there is no evidence that Modi allowed capable leadership to grow which would allow them to assert themselves. For example, the tribal and dalit intelligentsia in Andhra Pradesh emerged from quality residential schools and colleges that the state government initiated way back in the 1980s and '90s. Modi's government did not initiate such educational projects for the Scheduled Castes/Scheduled Tribes."
The census 2011 pegged the combined percentage of Scheduled Caste and Scheduled Tribes in India at 25 percent.
That a percentage of voters who will be difficult to ignore in the upcoming elections. According to a Tehelka article, Dalits comprise 17 percent of the country's voters and until now, the BJP has been getting just 12 percent of Dalit votes compared to Congress' 30 percent. The Congress on their part has aggressively gone ahead with their pro-poor claims and has been flaunting the Food Security Bill and Land Acquisition Bills as policies that will greatly benefit the poor - several of who are Dalits. The same Tehelka article also claims that the BJP, which had till now steered clear of caste based politics, has now decided to leave no stone unturned and has also raised a mild caste pitch in their campaign. The article reports:
The BJP is not only spreading the word of dalit-saints but also promoting views of non-BJP dalit leaders like BR Ambedkar, Jagjivan Ram, Kanshi Ram and KR Narayanan. The party is organising functions, publishing and circulating literature on their lives and work. Their pictures embellish the SCM office at 11 Ashok Road, Delhi. A few party leaders did oppose it, but Rajnath Singh's approval has made it clear that the BJP now wants to connect with the dalits.
However, if the Dalits in Narendra Modi's own backyard continue to face the heat of caste supremacy, it won't be too long before it becomes a political hot potato that Modi and BJP finds difficult to handle. Also, if the country indeed is looking for a 'change', the clean-up should start from the grassroots - a sizable part of which seems to have fallen in the wayside of the country's contemporary political narrative. If Narendra Modi's development plans, or the idea of them, is indeed inclusive, he'll have bring about visible changes than make politically potent gestures like inviting Muslims to rallies and making them wear skull caps.
Subscribe to Moneycontrol Pro at ₹499 for the first year. Use code PRO499. Limited period offer. *T&C apply
India
There will certainly be grumbling that it's a very basic joint statement, that there have been so many of the sort in the past and that Pakistan is not to be trusted
World
In mainland China, major events have been largely erased from public memory by censorship. Critics fear that model is being imported to Hong Kong.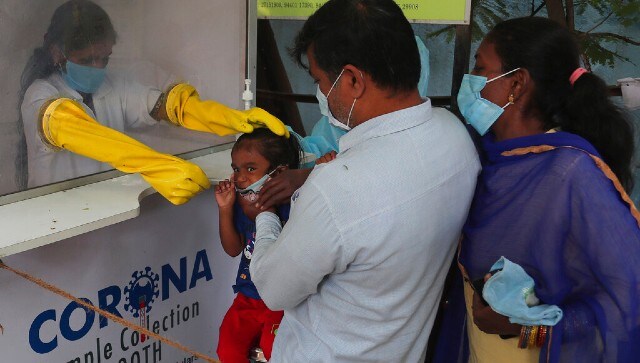 India
It is important to reiterate that the argument of 'natural herd immunity' remains largely a thereotical one, and cannot be relied on to mitigate the disease, especially with millions of vaccine doses ready