Left in the lurch: Ahead of JNU polls, arch rivals AISA, SFI join hands to survive
The growing influence of Right wing sentiments across the country and also the uprising of the Dalits have made matters even more complicated for the Left-oriented school.
A senior leader of a Left student wing the Jawaharlal Lal Nehru University (JNU) told this writer in a personal conversation that their chances in these elections are bleak. He went on to the extent of saying that this is for the first time in his memory that Left has stood so weak in the student union elections of JNU. And it is for this reason that ever since its inception, All India Students Association (AISA) has joined hands against its arch rival Students Federation of India to contest the elections.
The All India Students Federation did not contest election despite the popularity of its leader and JNUSU president Kanhaiya Kumar. However, Kanhaiya cannot not fight the elections himself as well as per the Lyngdoh guidelines.
All this indicates towards one genesis and it is Left organisations are ceding their turf to the Right wing organisations and Ambedkarite parties. The growing influence of Right wing sentiments across the country and also the uprising of the Dalits have made matters even more complicated for the Left-oriented school. This mood, which is now reflecting even at the national level including the university campus where Bapsa (Birsa Ambedkar Phule Student Organisation) is directly pitching against the ABVP. The BJP student wing performed extremely well in the 2015 elections, winning the post of joint secretary and making inroads into the central panel 14 years after Sandeep Mahapatra won the post of president in 2000. It also won 11 councilor seats and stood second on the post of general secretary and vice-president, visibly performing better that many Left outfits in their own bastion.
The Left on the other hand is struggling to retain its vote bank. Many Dalits and Muslims on the campus traditionally considered to be the vote bank of All India Student Association confessed to this writer in one-to-one conversation that this time they will vote for Bapsa and not Left parties as they believe the struggle of oppressed can be led by the oppressed itself. They believe that it is time that leadership of the oppressed is handed into the hands of oppressed itself and be taken away from the Brahminical faces of Left leadership. Students Islamic Organisation of India (SIO) has openly come out in support of Bapsa and hence made a serious dent into the Muslims vote bank of Left parties.
Bapsa president Rahul Sonpimple has also vociferously asserted in his speech about the cause of women, homosexuality, Kashmir and Muslims — all that comes under the umbrella of a progressive struggle earlier considered to be the monopoly of the Left. This should clearly mean that some free floating progressive voters might end up voting for Bapsa. ABVP on the other hand is all set to retain its Right wing vote bank mostly from the School of Social (natural sciences) Sciences. Their share of votes might go up this time after they have successfully constructed a binary of nationalists and anti-nationalists on the campus. All those swearing for a nationalist cause among the Left voters also might end up voting for the saffron outfit.
All this indicates that in JNU, Left parties which have been a dominant force is slowly becoming redundant with hardly any vote bank left of its own. Its traditional voter groups are ceding away right under its nose to Dalit led outfits and ABVP is consolidating its own vote bank quite sturdily.
It is this realisation among the Left parties, that arch rival like AISA and SFI which fought against each other in the past vociferously have come together now. Again this SFI-AISA alliance will erode its support of the latter as it built its base in JNU against the backdrop of atrocities committed by CPM, the parent party of SFI in Singur and Nandigram, no doubt this alliance will be read by many as an opportunistic one than a pragmatic coalition.
Find latest and upcoming tech gadgets online on Tech2 Gadgets. Get technology news, gadgets reviews & ratings. Popular gadgets including laptop, tablet and mobile specifications, features, prices, comparison.
Politics
They made the demand even as Chief Minister BS Yediyurappa is yet to allocate portfolios to seven ministers who were inducted on 13 January
World
To Trump, one advisor said, the vice-president had entered 'Sessions territory', referring to Jeff Sessions, the attorney-general who was tortured by the president before being fired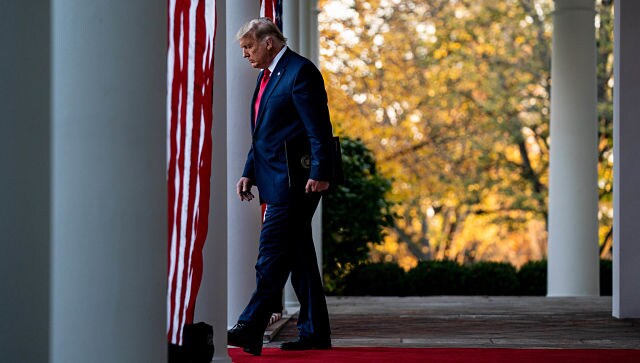 World
As expected, Republicans objected to a resolution calling on Mike Pence to invoke the 25th Amendment, meaning that the House would have to call a full vote on the measure