Law degree row: Jitender Tomar a big fake, but Modi sarkar's guilty of a greater crime
In India, the law means different things to different people. Film star Salman Khan and AAP leader Jitender Singh Tomar would agree.
In India, the law means different things to different people. Film star Salman Khan and AAP leader Jitender Singh Tomar would agree.
Just a few weeks ago, actor Salman Khan was convicted by a Mumbai court in the hit-and-run case and sentenced to five years in jail. But he wasn't under arrest even for a single second because the film star needed time to file an appeal in the high court.
Tomar's case is a peccadillo in comparison. He is accused of faking a law degree and other educational qualifications. Tomar has not been found guilty by any court; his case is still pending in the Delhi high court. Yet, the Delhi Police arrested him like a petty criminal in an early morning swoop on Tuesday (2 June) and put him behind bars. Tomar even had to resign after the uproar over the fake law degree issue erupted.
So, a criminal convicted of culpable homicide not amounting to murder is let off because he is yet to exercise his right to hearing by a higher court. But, an elected representative is arrested and humiliated because his degree looks suspicious even when the case is pending in a high court.
In India, politics of questionable degrees means different things to different politicians. Former Delhi law minister Tomar and Union HRD minister Smriti Irani would agree.
The ex-Delhi law minister gets reviled, ridiculed and arrested on charges of a fake law degree. But, the HRD minister of the country gets away by jazzing up her own dossier, obfuscating her educational qualifications by submitting self-incriminating conflicting affidavits.
For those who have come in late, in 2004, Smriti Irani submitted an affidavit claiming a Bachelor's degree in Arts in 1996 from Delhi University's school of correspondence. But in 2014, Irani submitted another affidavit saying she had completed just the first year of her degree course. Such is the confusion about the HRD minister's academic background that nobody knows if she is a graduate, a Yale scholar or somebody who couldn't pursue education beyond school. Yet, Irani continues to strut around as a symbol of BJP's shuchita and sanskriti, Tomar languishes in police custody as a symbol of AAP's depravity.
Such selective application of law and political propriety can take place only in India.
This is not to say Tomar should be let off easily. From the evidence available in the public domain, Tomar looks like a career fraud and Kejriwal appears set to destroy his career by promoting such frauds.
Tomar is in the dock because he has not been convincingly countering the allegations against him. The controversy would have ended if he had been able to produce the original degree instead of hiding behind a photo-copy.
Evidence collated by the police insinuates Tomar created a paper trail of fake degrees, counterfeit qualifications and has a history of cheating. If all this is true, he deserves the prescribed punishment.
Kejriwal himself is guilty of gross violation of norms he has publicly professed. When allegations of a fake degree first surfaced against Tomar, the Delhi chief minister should have practiced the high-standards of integrity and political propriety he applies to others.
Pending an enquiry, he should have asked Tomar to step down, just as he forced Yogendra Yadav, Prashant Bhushan, L Ramdas and several others in the party to quit even when the jury was out. But, like always, Kejriwal applied his own selective standards, gave a clean chit to Tomar, argued that he was personally satisfied with Tomar's explanation and allowed him to continue as his law minister. Kejriwal looks like a complete fake when he preaches from the pulpit while trying to hide a cheat in his basement.
Prime facie, Tomar and his boss Arvind Kejriwal are guilty of the same crime: faking their credentials, academic and moral.
Yet, Tomar's arrest is not just a simple case of law taking its own course. The tearing hurry the police have shown in arresting him even when the case is sub-judice indicates that this is another move in the ongoing game of political chess between the Centre (via its proxy Najeeb Jung) and Kejriwal.
The Centre appears to be keen on proving that it is the real boss in Delhi and Kejriwal is just a helpless, powerless mayor masquerading as chief minister. By trying to control the bureaucracy and police, the Centre is ensuring that Kejriwal is not able to function independently and faces roadblocks at every step.
Had this been just another case, Tomar would have been a free man. Salman Khan and Smriti Irani were lucky that the Modi sarkar had no such use for them.
Find latest and upcoming tech gadgets online on Tech2 Gadgets. Get technology news, gadgets reviews & ratings. Popular gadgets including laptop, tablet and mobile specifications, features, prices, comparison.
Entertainment
Former Bigg Boss contestant Devoleena Bhattacharjee will reportedly enter the house as a proxy for Eijaz Khan.
Entertainment
Directed by Prabhudeva, Radhe was scheduled to release last year on Eid before it got pushed due to the coronavirus-induced theatre shutdown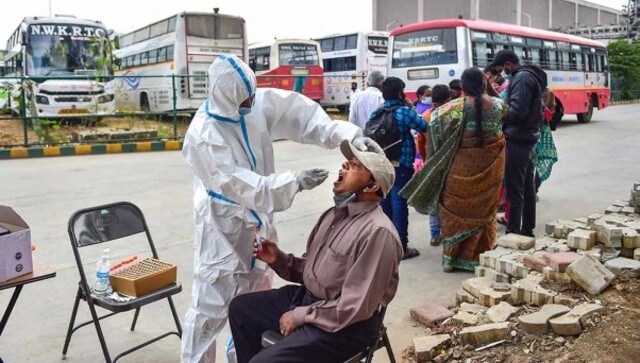 India
The number of people who have tested positive for the new UK variant of SARS-CoV-2 has climbed to 82 in India, the Centre said; the number of such people stood at 73 till 6 January