Lalu Prasad releases Nitish Kumar's election affidavit detailing murder charge against Bihar CM
Lalu Prasad Yadav tweeted an image of Nitish Kumar's affidavit filed with his nomination papers which included a list of criminal cases against the JD(U) at the time of filing.
Amid high political drama on Thursday, Lalu Prasad Yadav hurled allegations of his own against one-time ally Nitish Kumar, releasing the Bihar chief minister's affidavit released at the time he filed his nomination papers. In it is mentioned a list of criminal cases filed against Nitish Kumar.
नीतीश के खिलाफ पब्लिक को गोली मारने का मामला है। स्वयं उसने affidavite में माना है। वह कंबल ओढ़ कर घी पी रहे है। पढ़िए pic.twitter.com/MUmOkKgV3q

— Lalu Prasad Yadav (@laluprasadrjd) July 27, 2017
He wrote in the tweet: "Nitish has murder cases against him. He has himself admitted so in the affidavit."
Lalu Prasad had earlier brought up Nitish Kumar's criminal cases saying they were more serious than the corruption charges against his son and deputy chief minister Tejashwi Yadav.
"There is a case of murder under sections 302 and 307 of the IPC against Nitish Kumar, which dates back to 1991. It can lead him to life imprisonment. We knew about it. The charge against Nitish Kumar is much more serious and bigger than the charge of corruption (against Tejashwi Yadav)," Lalu said, in an attempt to discredit Nitish and protect his son from the corruption charges.
The image of the affidavit tweeted out by Lalu shows the different sections of the IPC under which Nitish has been charged: sections 147 (punishment for rioting), 148 (rioting, armed with deadly weapon), 149 (unlawful assembly), 302 (punishment for murder) and 307 (attempt to murder).
Nitish was accused of the murder of Congress leader Sitaram Singh and injuring four others ahead of the Barh Lok Sabha by-election in November 1991.
It was alleged that Nitish, along with other party members, created disturbance at the polling booth which led to clashes between villagers. The police initially dropped the charges against Nitish, but they were levelled against him again in 2009, reported The Times of India.
Lalu had on Wednesday told the media that Nitish had not brought up the resignation when they last spoke. "I talked with Nitishji last night (Tuesday) and asked him to clear all the misunderstandings. We talked for 40 minutes and he did not mention about his resignation for once. He also advised me to clarify the corruption charges through the media. Nitish Kumar knew that he is an accused in a murder case and an Arms Act case under sections 302 and 307 of the IPC. He also declared this in elections affidavit. Nitish knew that if he would ask Tejashwi to resign his crimes will also be exposed," Deccan Chronicle reported Lalu as saying.
The Nitish Kumar-led JD(U), is not unfamiliar with its leaders being charged with criminal cases. In a report published in 2013, India Today researched election affidavits filed ahead of the 2010 Assembly polls to say that 58 out of 118 MLAs in the Bihar JD(U) had criminal cases against them. Of these, 43 had serious criminal offences, including 23 murder charges and 35 attempt to murder cases.
Politics
Karnataka CM Basavaraj Bommai slammed Shivakumar for refusing to take the COVID test, saying he is not bothered about the health of others
India
Bhupesh Baghel's father Nand Kumar Baghel urged President Ram Nath Kovind to issue an order to conduct elections using ballot papers in place of EVMs in the larger interest of healthy democracy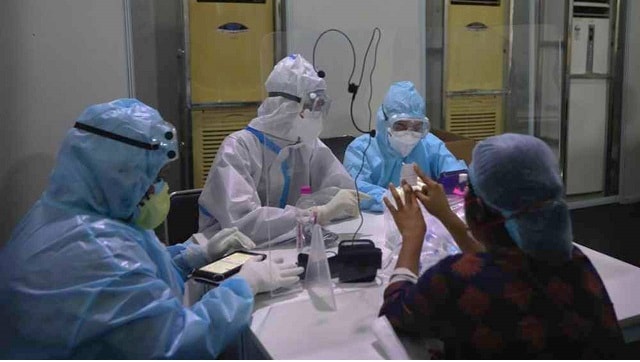 India
Earlier, Health Minister Anil Vij had said that Haryana was 'adversely affected' due to its vicinity to Delhi