KV Thomas says Priyanka Gandhi should join organisation in Congress
Priyanka is one year younger to Rahul Gandhi, her brother and party general secretary.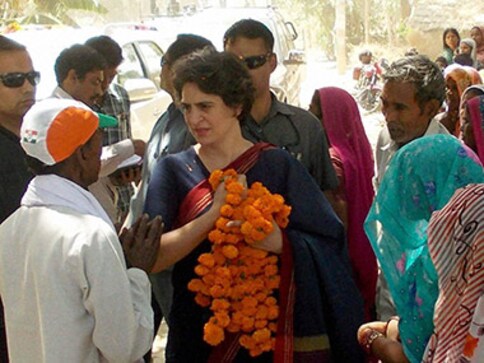 New Delhi: Outgoing union minister KV Thomas has said that Congress workers were keen that Priyanka Gandhi Vadra joins "the organisation" as it needs a younger leadership which could lead the party after its worst defeat in the general election.
Priyanka is one year younger to Rahul Gandhi, her brother and party general secretary.
Thomas, who held the Food, Consumer Affairs and Public Distribution portfolio in the UPA-II government and who won the recent Lok Sabha election handsomely from Kerala, said there was a "special interest" in Priyanka to take up the position in the party as she resembles her grandmother and former prime minister Indira Gandhi.
"People of this country and Congress members wish that she (Priyanks Gandhi) comes into the organisation," Thomas told IANS in an interview.
He said a decision on Priyanka Gandhi assuming a bigger role will be finally taken by her, Rahul Gandhi and mother and party chief Sonia Gandhi but noted that the decision will have an impact on the party.
"It is not a family matter (only). The Congress is a big organisation and the decision will have an impact on it. The BJP's leadership is made up of elder people. We need a younger leadership," Thomas said.
"There is a special interest in Priyanka. She reminds people of Indira Gandhi in the way she walks and talks. Indira was loved and respected in every home in the country," he added.
Priyanka, 42, has so far restricted her role to campaigning in her mother's Rae Bareli constituency and her brother's constituency of Amethi.
Both Sonia and Rahul Gandhi, accepting responsibility for the Congress rout in the Lok Sabha election, offered to resign. But the Congress Working Committee (CWC) unanimously rejected the offer.
Murmurs have already started in the grand old party against the leadership of Rahul Gandhi and his team. And as the rank and file is totally dejected with the Congress getting barely 44 seats in the 16th Lok Sabha -- its lowest parliamentary tally, the demand for Priyanka joining the party can get shriller in the coming days.
When asked whether party workers were unhappy with members of Rahul Gandhi's team, Thomas said: "These questions are asked due to failure. Success leads to glory. Under the leadership of Sonia, Rahul and Priyanka Gandhi, the Congress can do well."
Thomas praised Rahul Gandhi for his initiative of holding direct elections to the Youth Congress and said the same path should be followed for the party's complete overhaul.
"I started my career as the president of a ward. I rose in the party step-by-step by winning elections. Till 1991, elections were held in the party.
"Afterwards, positions were filled by adjustments. This weakened the party. Elections should be restarted. They should be held in a healthy manner. Strong groupism in the states has prevented it till now," Thomas, who is among the handful Congress ministers who won the Lok Sabha election, told IANS.
He won from his home turf Ernakulam in Kerala by over 80,000 votes.
Asked to compare Manmohan Singh with BJP leader Narendra Modi, Thomas said the outgoing prime minister was "a world renowned economist (but) politically he could not compete against Modi, especially when it came to oratory".
Thomas said the Rashtriya Swayamsevak Sangh (RSS) had contributed significantly to Modi's victory in the Lok Sabha polls.
"This is a victory of Modi and RSS. The RSS played an important role in the background. Modi was able to project himself as a strong leader. Huge money was also spent on forming a Modi - not BJP - government at the Centre," he added.
The Bharatiya Janata Party (BJP) got absolute majority on its own for the first time since its inception in 1980 and won 282 seats. The BJP-led National Democratic Alliance bagged a total of 336 seats in the 545-member Lok Sabha.
IANS
Politics
Ajay Maken has written a letter to Mallikarjun Kharge in which he expressed his unwillingness to continue as Congress in-charge of Rajasthan since no action has been taken against the three loyalist of CM Ashok Gehlot who were given show-cause notices
India
Senior party MLA Suresh Routray termed the incident as unfortunate and blamed his own partymen for the theft
Politics
Kharge questioned whether any leader of the Bharatiya Janata Party (BJP) had fought for the freedom of the country