Kudos Mr Khursheed, Sachar can only hold Muslims back
Salman Khursheed's advice to Muslims to avoid treating the Sachar report as a holy book is timely. The fact is Muslims do not need the badge of victimhood anymore. It can only hold them back.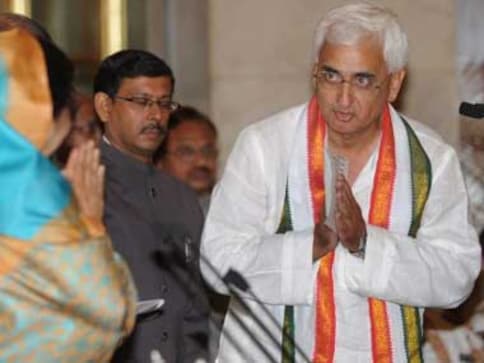 Salman Khursheed, Minority Affairs Minister in the UPA government, has kicked off a storm among traditional vote-bankers by speaking the unspeakable: that the Sachar Committee report on the status of Muslims need not be put on a pedestal. While the Koran can't be questioned, Sachar can be.
Urging Muslims to break out of the ghetto mentality, he said he was not in favour of focusing delivery of economic benefits exclusively to the community as opposed to "ensuring an equitable share," The Indian Express quoted him as saying.
His views have already upset the former member-secretary of the Sachar Committee, Abu Saleh Shariff, a big votary of special treatment to Muslims. Critiquing Khursheed for asking Muslims to go "mainstream" when they were still being discriminated against, Shariff claims the Sachar report went easy with the word discrimination "just to save the face of the government in power."
One presumes thanks are due from the UPA government to Shariff for such small mercies, but it is precisely the likes of Shariff who will ensure that Muslims remain backward. For the truth is that Sachar went out of his way to prove that Muslims got the short straw, and ignored all evidence to the contrary. Sachar has been a major factor in giving Muslims a permanent sense of victimhood even when things are improving.
This is not to deny that Muslims face discrimination. They most certainly do. But in a diverse country, they aren't the only ones. And discrimination is a half-truth, at best.
In any case, the answer to discrimination lies in more education, better laws to enforce equal opportunities, affirmative action, and incentives to the very backward to stand on their own feet. Mollycoddling and ghettoisation are not the answers.
Broadly speaking, the Sachar Committee makes a case for special treatment for Muslims on the basis of the community's low representation in government services, the army and the police, and its low share of bank loans, among other things. While these need to be corrected, the report completely ignores all evidence to the contrary – that Muslims are succeeding against the odds.
In Shariff's scheme of things, the answers to the problems of Muslims lie in job reservations and special treatment – though Sachar steers clear of the word reservation — when the evidence is that Muslims are not asking for crutches.
Here are six reasons why Khursheed is right and Sachar and Shariff wrong:
One, the lower economic status of Muslims is related to where they are located, and not (usually) their religion. The 2001 census figures show that the Muslim literacy rate is actually higher than the Hindu one in seven major states – Andhra Pradesh, Tamil Nadu, Madhya Pradesh, Karnataka, Gujarat, Jharkhand and Maharashtra. In Kerala, Muslims and Hindus are level, and the former suffer no discrimination, whatsoever. In fact, they have benefited the most from the state's high-quality education system and access to lucrative Gulf jobs because of their religion.
In the states where Muslims are faring worse, the explanations are clear. UP and Bihar were the worst-governed states till recently. As for West Bengal, Assam and Jammu & Kashmir, the explanations are even more obvious: illegal immigration from Bangladesh in the first two cases, and terrorism and infiltration by jihadi groups in Kashmir. Both skew the Muslim picture enormously.
The 2011 census should offer us further confirmation in this regard – and possibly a closing of the gap between Hindu and Muslim literacy rates, which stood at 65% and 59% in favour of Hindus in 2001.
Two, you cannot build a case for discrimination only by looking at areas where the numbers are stacked against the community. Muslims may be under-represented in government jobs, but they are over-represented in several other booming areas: Bollywood, employment in the Gulf, the media and entertainment sectors, BPO, automobile servicing and repairs, and several traditional industries like glass-making, leather, powerlooms, carpet-making and zari work – to name just a few examples.
Continue reading on the next page

Three, you cannot build a sense of empowerment among Muslims without talking about their success stories. Whether it is an Azim Premji at Wipro, Yusuf Hamied at Cipla or Habil Khorakiwala at Wockhardt, these are the role models to provide inspiration. But Sachar does not even mention them.
Are these success stories aberrations? Can a community lift itself without its own sense of heroes? How many Muslims would be energised by the symbolism personified by the Khans of Bollywood as opposed to the Sachar symbols of crutches and life-support systems?
Four, the Sachar data is highly biased in three ways. First, it is not "normalised". Apples are compared with oranges. Second, the Muslim data is compared only to the upper classes/castes in Hindu society and not the whole of it (SC/ST Hindus are excluded from the comparison). When you choose your own yardstick for comparison, you will get the results you want (discrimination).
As Sunil Jain pointed out in Business Standard some years ago, the data are not comparable. If we have too few Muslim IAS officers, we have to look deeper, for the raw numbers provide no explanation. The real issue is few Muslims even sat for the IAS. But things are changing, and the 2010 IAS topper was a Kashmiri Muslim – Shah Faesal. Jain also says that Muslims figure lower in the economic league because they have fewer members among the salaried classes.
Five, Nitish Sengupta, a former MP and secretary to the Union government, also points to a more fundamental flaw in Sachar's loaded report. According to him, the lower economic status of Muslims in India was the result of partition, which saw the best and brightest leaving for Pakistan. This automatically robbed Indian Muslims of their elite, those who were best equipped to succeed in independent India.
Says Sengupta: "Those (Muslims) who stayed back in India were, by and large, the rural community, the self-employed and the service providers. A great majority of them, under the influence of powerful mullahs, kept away from modern education and, in consequence, modern jobs and professions. Thus, the figures for Muslim percentage in government jobs practically started from a zero base. This point should have been mentioned in the report's overall analysis. Its omission is a serious statistical error."
Six, Sachar completely ignores the internal factors that may be holding back Muslims. It did not look at the reasons why Muslims opted out of a secular education, why they have looked to mullahs and imams for leadership instead of modernists like Arif Mohammed Khan (who supported the Shah Banu court verdict) or even a Salman Khursheed.
It is apt to give Salman Khursheed – the brave Congress minister who set off this debate – the last word.
"I have requested a critical appraisal to ensure that these (reports like Sachar and programmes targeted exclusively at Muslims) are not used for ghettoisation. It's in this context that I said, for Muslims only the Koran cannot be questioned. All other books and documents are subject to critical scrutiny."
More power to his elbow.
Economy
Despite the enveloping gloom, India's position is nowhere as bad as the rating agencies think it is. But if this spurs action, we will do well.
Politics
NCP today made a strong pitch for early implementation of the Sachar Committee and Ranganath Mishra Commission reports contending that Muslims needed "different treatment" for development.
Breaking Views
While the misguided Kudankulam agitation is an aberration in TN, the Mullaperiyar row is part and parcel of Kerala's agitational ethic.