'Kiska saath, kahaan hai vikas?': Congress' rant against NDA's two years shows its desperation
The Congress press conference against the Modi government's two years did not offer anything new apart from the same old rant.
"Khuda ke bande sambhal ja. Waqt hai abhi, badal ja."
"Chunav ke pehle vaaydon ka mayajaal, do saal mein kiya desh ka bura haal."
These are not lines from some poetry-reciting competition or a stand-up comedy act but quotes from some of the most senior and respected leaders from the oldest party of India which has ruled over the nation for many years.
If the press conference by leaders from the Indian National Congress on Thursday was meant to convince the people of how bad the two years under the Narendra Modi government had been, it was an utter failure.
Congress leaders Mallikarjun Kharge, Kapil Sibal, Ghulam Nabi Azad and Randeep Surjewala resorted to the same old mud-slinging which they have been engaging in for the past two years.
The most nauseating part of the press conference was definitely when the leaders decided to come up with cheesy rhetoric and poetic remarks against the government rather than give specific and new facts.
"Modiji has only one slogan: Keval bhaashan, no shaasan (Only speeches, no administration)," said Congress leader Randeep Surjewala.
"Do saal mein desh maange hisaab: Kiska saath, kahaan hai vikas?" said Mallikarjun Kharge.
"If we would've sent PM Modi to the moon or Mars, then there would've been a cause for celebration," said Kapil Sibal, looking very pleased with himself for coming up with that jibe.
"Make In India is an abject failure. Babbar Sher is now a meow cat," said another Congress leader.
When senior leaders of a once-respected party have to resort to juvenile trash-talk to criticise the government, you know that party is desperate.
Instead of using some new points to criticise the Modi government or even talking about the achievements (if any) of or the work done by the Congress in the last two years, the party leaders chose to make vague and sometimes frivolous statements against the Modi government on issues like black money, social tension, foreign policy and terrorism, something which the Grand Old Party has been doing for two years now.
"The worship of one person or 'Modi stuti' has become the character of this government," Surjewala said.
It is ironic when a party perceived to be full of sycophancy and nepotism talks about "worship of one person". It is even more ironic when this statement comes at a time when senior leaders from the Congress suggested that the top leadership needs to take strong action instead of making vague statements about "introspection" after the party's debacle in the recent Assembly polls.
"This government is thriving on advertisements. These two years were full of social tension...This government has been spreading fear. Dalit women and students are living in fear," said Ghulam Nabi Azad. Keeping in mind VK Singh's infamous 'dog' remark on the Dalit killings in Faridabad and the criticism which BJP faced after the JNU row, there might be some substance in this allegation.
However, the more important point is that Congress has repeated these allegations over and over again.
Repeating even more of its charges against the Modi government, Azad then criticised the government on the issue of the economy. "Investment is low, there is food inflation, job creation is at its lowest. They promised two crore jobs and the people got 1.35 lakh. Exports are also falling. Industrial production is stagnant," he said. Again, Congress criticising the Modi government on the economy is nothing new.
But the most repeated remark against the Modi government by the Congress could arguably be about black money. "Return of black money was a hollow promise. Names have come up in Panama papers. But the government has done nothing," Azad said.
"They had promised to bring back black money in 100 days. Two years are over but black money has not come back...When BJP promises are 'chunavi jumle' (election tricks), we know that none of the promises will be fulfilled," Mallikarjun Kharge said.
The party's repeated remarks over black money makes it look like it has nothing else to say.
"This government has become famous for repackaging UPA schemes, because they are incapable of conceiving a new scheme. Nirmal Bharat has become Swachh Bharat. Planning Commission has become NITI," said Azad, again something which Congress has been saying since this government came to power in 2014.
"Last year, two Sessions (of Parliament) could not transact any business because the government refused to act against corruption," said Azad, ignoring the fact that it was actually the disruption by the Congress on pretty much any issue because of which the two Sessions were unproductive.
Another allegation which has been constantly repeated by the Congress is that of terrorism and foreign policy. "Almost every day, incidents take place in Srinagar. Gurdaspur, Pathankot and Udhampur attacks took place under this government," said Azad. "PM Modi's foreign policy has been consistently inconsistent, vis-a-vis China and Pakistan," he said.
"The people who were responsible for Pathankot were called to investigate the attack," Kapil Sibal said.
And of course, how can any Congress rant against the government be complete without making the usual remarks about that 'kisan-virodhi' sarkar?
"There is major agricultural distress. But the government has done nothing to help farmers, especially in this time of drought," said Azad.
"PM Modi took many tours abroad. But he could not help the farmers and people in his own country," said Kharge.
Of course, there were parts of the Congress leaders' speeches which made more sense and were points relatively newer than their usual complaints.
For example, when Azad talked about the "record ceasefire violations" which had taken place or the "rise in crimes against women" in the last two years, he was stressing on issues which the Congress has not repeatedly obsessed on since the Modi government came to power.
But the press conference was mostly full of rhetoric and the same old Congress rant.
Even when the party did talk about itself, it was about the time before the last two years. "Manmohan Singh used to talk less but his work spoke more. From 2011 to 2014, 24 crore bank accounts were opened," Sibal said in the press conference.
The Modi government is definitely far from perfect. It has not been able to tackle the problem of unemployment. BJP MP Subramanian Swamy recently made an absurd comment against the RBI governor. BJP leaders have repeatedly made remarks against people over issues as trivial as the beef ban.
But maybe the Congress should realise that it has been singing the same 'suit-boot ki sarkar' song for two years now. It can neither find anything new to say against the government nor find any significant achievement it has accomplished on its own in the last two years to talk about. And unless it changes this habit, it may never emerge as a strong opposition party.
Politics
Sidhu will formally assume charge of the Punjab Pradesh Congress Committee, along with four working presidents, at Punjab Congress Bhawan on Friday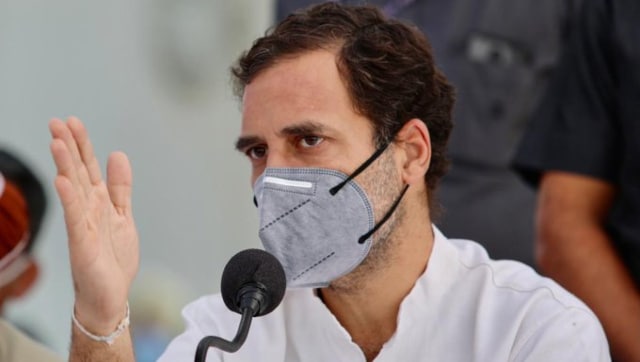 India
The Congress leader had asserted that any phone that he uses are tapped, adding that a Supreme Court-monitored probe should be ordered in the matter
Politics
Banerjee's visit during the ongoing Parliament's Monsoon Session assumes increased significance with the Opposition cornering the Centre on price rise, increasing cost of fuel and COVID-19 pandemic