Khurshid's jibe on Modi: A political history of the term 'napunsak'
In our strictly gender coded hierarchy of political insults calling a male politician a woman is a slap in the face. But calling him a napunsak is way below the belt. Salman Khurshid was following in a hoary political tradition here.
Mr Salman Khurshid has used the N-word about Mr Narendra Modi.
In our strictly gender coded hierarchy of political insults calling a male politician a woman is a slap in the face. But calling him a napunsak is way below the belt.
"Absolutely indecent" protests Gujarat minister Jay Narayan Vyas. It's just the "frustration" of Congress leaders losing their "mental balance" says BJP leader Yatin Oza.
That is probably true. But it's also true that napunsak stings in a way chaiwalla does not. Chaiwalla boomeranged on the Congress exposing a Mani Shankar Aiyar's obnoxious elitism. Chaiwalla can be turned on its head into a Chai pe Charcha relayed live in 300 cities. Don't hold your breath for Modi to launch a Napunsak pe Charcha relayed live to even 377 Indians.
Mani Shankar Aiyar was just crass. Even Sonia Gandhi's infamous heavy-handed "maut ka saudagar", while indignantly protested, has a manly conquering twang to it. But Salman Khurshid was sneaky. He used a double-edged sword, a word that attacks Modi's machismo, the BJP's prime ministerial contender's biggest selling point, especially against the wishy-washy Rahul Gandhi.
Narendra Modi has used his single status as an asset in a country beleaguered with dynastic politics. Rahul Gandhi's bachelorhood has made him the butt of jokes and the object of some pity. But Modi's Lion King aggression allows him to project a kind of masculine virility that apparently works quite well with women.
"Modi, though he may not acknowledge this, is a sex symbol in his home state," writes Aakar Patel. "The ratio of women to men for his meetings and gatherings is higher than it is for other politicians in the state." Modi's appeal is now going national with a breathy Mallika Sherawat cooing happy birthday and Sherlyn Chopra wanting to be his personal assistant.
"If women are feeling unsafe we are not fit to call ourselves mard" Modi had said once. Now at his rallies, BJP politicians routinely promise Modi as the one who will deliver women from rapists and goons. But Khurshid insinuates Modi cannot have it both ways – bask in his protector-of Sati-and-Savitri glow but throw up his hands and plead "absolute emptiness" suffered "in solitude" when it comes to the massacre of citizens in his own state.
"We don't accuse you of killing people," Khurshid told a rally. "Hamara aarop hai ki tum napunsak ho. (Our accusation is that you are impotent). You couldn't stop the killers."
Ironically, the third-gendered were in fact once regarded as protectors from killers and rapists. As scholar Mario da Penha points out, "The one thing Salman Khurshid got very wrong: third gendered people [khwaja saras] protected pre-colonial harems, women and other treasures inside. Calling Modi a napunsak is valid only within a colonial view of femininity as helpless, masculinity as protective and thirdness as failure."
The BJP can protest about a "debasement of politics" but napunsak or impotent and its eunuch variations have a hoary history in our political parlance. As journalist Siddharth Vardarajan tweets "impotent is a fave cuss word in our politics." Modi's own website once hit out at historian Ramachandra Guha's "impotent anger" as being typical of a "snobbish but vacuous intellectual."
VHP leader Ashok Singhal called the Vajpayee government "napunsak" for its failure to build a Ram Temple in Ayodhya.
The very colourful Sadhvi Rithambara has often called politicians napunsaks. She's also called Mulayam Singh Yadav an ulla ka patha and the Shahi Imam a buffalo.
Congress politician Suresh Kumar Routray told an Odisha rally that they should not trust Naveen Patnaik. "Naveen is neither a man nor woman. How can you trust somebody who is not even sure of his gender?"
Baba Ramdev called Manmohan Singh a "namard". After Time Magazine called Singh an underachiever, Bal Thackeray helpfully re-translated it into "Thackeri bhasha" as "politically impotent."
During the heyday of the Anna Hazare anti-corruption march, Sanjay Kumar, a professor at St Stephens, spotted a placard that read "Sonia Gandhi Hinsak Hai, Rahul Gandhi Napunsak Hai."
Subramanian Swamy had an entire exchange in the Lok Sabha in 1998 about whether the word "impotent" was parliamentary. He had used it in connection with the Vajpayee government and the Cauvery water dispute. When the Parliamentary Affairs minister protested, Swamy said he had meant in the "powerless" sense not the "Viagra sense".
But that is the true stinging power of napunsak. It packs a double punch in a way that its English cousin does not. Powerless is a word that might be insulting but is hardly unparliamentary. But in its Hindi incarnation it acquires a different kind of insulting power. In a nation where posters for sexologists guaranteeing succour from impotency and premature ejaculation are ubiquitous, it plays right into our national performance anxiety.
It is even more loaded when used against a male politician without a wife and children – Vajpayee, Patnaik or Modi. Marriage and family values is not a make-or-break issue here the way it is in the United States where a presidential campaign is unimaginable without a politician's photo-perfect family as the backdrop. But virility is an all encompassing preoccupation. It's one thing to be officially celibate in fierce penance like a Vishwamitra but quite another to be impotent. A napunsak, in our popular imagination is seen as man quite literally stripped out of his masculinity. And the fact that it comes out of our own ancient cultural history gives it more zing that if it was just borrowed from some western insult book.
In an article in Debonair mythologist Devdutt Pattanaik has written that the idea of kliba shows up in Brahmana texts written eight centuries before Christ. Scholars believe words like kliba, namard and napunsak historically could mean anything from "sexually dysfunctional male to impotent man to homosexual". He says hijras believe they are the descendants of the ancient kliba.
Pattanaik recounts that when Lord Rama went to exile he asked the men and women of Ayodhya who followed him to return to the city. But the hijras, being neither male nor female, continued to wait outside the city until he returned. "Touched by their devotion, Rama declared that the non-man would be king in the Kali Yuga," writes Pattanaik.
Did Khurshid in his rush to insult just unwittingly reiterate an ancient Indian prophecy? The BJP, if it wanted, could spin Khurshid's "absolutely indecent" insult to its own advantage, presenting Modi as the promised king of our Kali Yuga.
But to make tea out of a chaiwala jibe is one thing. To embrace "napunsak" would take real cojones even for a "chhappan nu chhaati".
Subscribe to Moneycontrol Pro at ₹499 for the first year. Use code PRO499. Limited period offer. *T&C apply
India
There will certainly be grumbling that it's a very basic joint statement, that there have been so many of the sort in the past and that Pakistan is not to be trusted
World
In mainland China, major events have been largely erased from public memory by censorship. Critics fear that model is being imported to Hong Kong.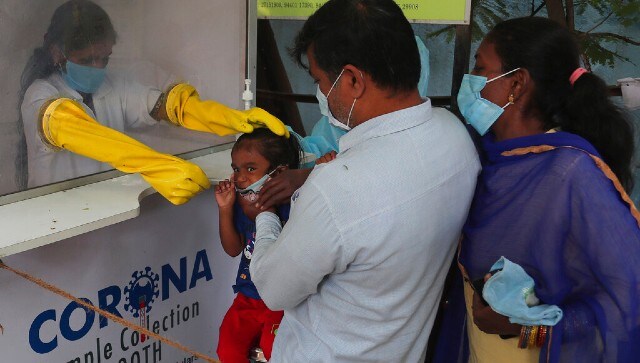 India
It is important to reiterate that the argument of 'natural herd immunity' remains largely a thereotical one, and cannot be relied on to mitigate the disease, especially with millions of vaccine doses ready