Khaps put on progressive face: Women in meetings, inter-caste weddings okay
From relaxing rules on inter-caste marriages to freeing women from purdah and allowing them to participate in decision-making, Haryana's powerful Jat community leaders are slowly trying to keep with the times.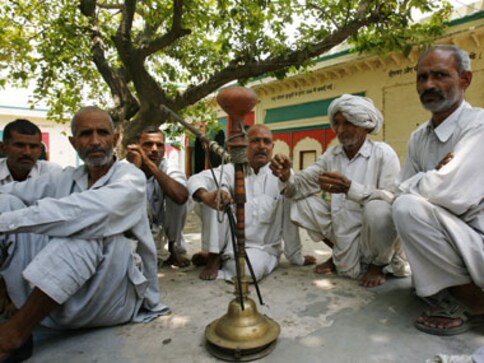 Chandigarh: Khaps are mending their ways, and how. Forever in the headlines for the wrong reasons, the informal yet hugely powerful community entities in Haryana's Jat belt have decided to relax their obnoxious restrictions on matrimonial alliances and bring about positive modifications in other pernicious, exclusionary customs too.
In a clear departure from the past, the Satrol Khap in Hisar district allowed intra and inter-caste marriages, the only condition being the approval of parents. Leave aside becoming a part of the decision-making process, women in Haryana were not even allowed to sit in Khap meetings, but slowly this rule is changing too. Women were allowed to participate in the Khap meeting at Biwipur in Jind district recently. The Satrol Khap's decision brings an end to a 700-year-old tradition which banned marriage of any community member within 42 villages of Hisar and Jind districts. These villages are under the Khap's control.
In the past, Khaps have been in the news for honour killings, a charge they vehemently deny. However, there is no doubt that they were opposed to marriages across caste lines. Sometimes the decision of the Khaps defied the courts' decision in this regard, but that did not deter them from pronouncing their controversial 'judgments'. In Jat-ruled Haryana, leaders of all parties, be it the Congress, the Indian National Lok Dal (INLD) or the BJP, dared not question or defy the Khap's verdict. Politicians feared the loss of votes and support to their party if they angered the Jats by opposing Khaps.
In the course of pronouncing its decision, the Satrol Khap of Narnaund district in Hisar made it clear that though Jat boys and girls can now marry within the Khap, they would not be able to do so in the same village, the nearest neighbouring village or to somebody of the same gotra. It also allowed inter-caste marriages on the condition that the parents of the boys and the girls give their consent to do so. Although almost the entire Satrol Khap agreed to abide by the decision, Petwar Tapa (cluster) defied the new order and decided to oppose it. According to spokesman of the Petwar Tapa, Phool Kumar, a 25-member committee has been formed under Tapa chief master Randhir Singh to oppose the controversial decision that may lead to serious complications in society.
What seems to have driven the Khaps' decision on marriages is the declining sex ratio in the state. Finding a match for the Jat boys and girls is no more as easy as it used to be decades earlier. Earlier there were small villages and people could easily find a match. Population growth and female foeticide have made the task very difficult now. The Satrol Khap has around 100 gotras and it was necessary to allow more of inter-gotra marriages for their community to survive. The Jats realized that their children were not getting suitable match within their castes due to acute shortage of girls of the right age group.
Head of the Satrol Khap, Subedar Inder Singh (retired) said the youth, who were earlier not permitted to marry within 42 villages were now free to do so be it in their caste or outside it. "We want to keep our traditions in sync with modernity and prevailing social circumstances of relevance," he said. The decision of the Satrol Khap has been welcomed by the Sarv Khap Mahapanchayat and several other Khaps.
Baljit Singh Malik, Pradhan of Haryana's biggest and progressive Gathwala Khap in Sonepat, said it was a welcome move and the need of the hour. Ishwar Singh Punia of the Punia Khap too welcomed the development.
Dr Santosh Dahiya, president of the Women wing of the Sarv Jatiya Sarv Khap Mahapanchayat, said Khaps have understood that it is necessary to change with times. "It is a welcome move and for the betterment of society. Our Dahiya Khap of Sonepat district, Haryana, too has taken several significant decisions to keep pace with the changing times. Slowly people are realizing that Khaps are not just strong-headed entities that can only take harsh decisions, but are ready to understand the needs of the community and act and move according to time," she added.
Khaps have slowly started accepting role of women in decision making. "It is a welcome sign," says Dr Dahiya. "In contrast to the earlier times, most women in villages today are well-read and educated and are capable of taking their own decisions. It is high time these women were given a just place in the Khaps and allowed to become a member of decision makers in the Jat community. The Bibipur experiment in which women were allowed to sit in the Khap meeting is encouraging and it must be replicated in other parts of Haryana," she said.
According to Khushwant Singh, a Jat from Rohtak district, another change visible in the Khaps of Haryana is that they have become more liberal in allowing education for women. "Many Khaps have donated their land, helped build Gurukuls where women can study. Many historical decisions had been taken by the Dahiya khap in Sisana village of Sonepat when the Khap celebrated its centenary in 2011. One of the decisions was to check female foeticide.
Dahiya said they have started a new movement - Hamara Baana, Parda Mukt Haryana - to free women of their veil. "Recently we removed the parda (veil) of 31 women in Kurukshetra in front of the Sarpanch and Panches who gave their blessings, to launch our movement. Without the veil the women will feel more confident to face the world," she says.
Find latest and upcoming tech gadgets online on Tech2 Gadgets. Get technology news, gadgets reviews & ratings. Popular gadgets including laptop, tablet and mobile specifications, features, prices, comparison.
World
As demoralising as June was for many Republicans, what was less visible were the frenetic attempts by top Republicans to soothe Trump and steer him away from self-sabotage, while also manipulating him to serve their own purposes
World
As the US boils with anger over police brutality and racism, the experience of Russia since the collapse of communism offers a cautionary lesson in the perils and disappointments of toppling monuments
World
Nepal's domestic politics is in some ways comparable to Bihar's internal politics: There are no permanent enemies and no permanent friends