Keshav Prasad Maurya, Uttar Pradesh chief minister who never was: Chronicle of a fall foretold
BJP top brass clearly didn't want Keshav Prasad Maurya, a leader with ten criminal cases against him, to become chief minister of Uttar Pradesh
There is this new tactic in politics — to kill a career with praise. You pump sunshine up the derriere of an individual, by telling him how much you value his opinion and his standing in the party and how you will honour him by backing his candidature for a plum post. That way the guy looks less like an ass and pretends it's a jolly good idea while his wife and family know daddy has been diddled.
So much nicer and classier and softer than saying listen dude, you have ten criminal cases against you and we don't want you adding to it as chief minister of Uttar Pradesh where the Yadavs and Mayawati will eat you for breakfast. And frankly, this is one decent way of shoving you off the stage, so go find a patsy, some little stooge of yours and place him on the chair, so you don't rent asunder our image of good, clean governance. And if you cannot find one, we will find one for you.
Imagine the conversation between Amit Shah and Keshav Prasad Maurya, who has just told Mrs Maurya how he intends to be the new chief minister. Aren't we going to have a blast, you the first lady of the state of UP, girl, get your hair done, smarten up a bit, we're the power couple, Keshav must have told his wife.
He's sunning himself in self-love when the phone rings and Amit says, Heyyyy, man, congrats on the wipe out, you were so good, the party is indebted to you.
So when do I take the oath, Keshav asks.
Sorry, it is a bad line, cannot hear you.
When do I take the oath as CM? Will Modiji come down? Parrikar has already taken his, so how about 5 pm tomorrow?
Do you know how busy the prime minister is?
Okay then day after? Theek hai, Chalega? Nahin?
Well about that, old son, Modiji sees you as a lot more valuable than being wasted in the red tapism that comes with being CM...
What are you talking about? I'm the architect of the victory, the kingpin, the lord of the rings, are you stopping me from being the boss?
No,no, no, perish the thought, it's just that as a former chaiwala yourself, you appreciate the need to create the right mix — cheeni, doodh, chaipatti, you understand what I am saying…
No…
What I am saying is you have ten criminal cases against you and we are a clean government. We swear by it, we are like that detergent that wipes the dirt away… (there is a pause as the ditty from Nirma, washing powder Nirma, plays in the background) murder, extortion, hanky panky, so we cannot rent asunder the image...
What rent, I have paid my rent  and who is A. Sunder? I don't know any A Sunder, what is going on here?
What is going on here moi comrade in arms is I doing a hatchet job on you, ashiving a knife up your gut and you are too damn dumb to figure it out. I am telling you to take a hike 'coz you ain't becoming no chief minister.
What do I do, woe is me.
Well, now that you mention it, Kesh, old bean, it's a bit of a squash, but we will select your nominee and save your face.
Forget my face, what about my career?
Behind the scenes, buddy, like me, pull the strings, and yes, fall ill, get into ICU so we can express regret.
What regret?
That as much as we hold you in the highest esteem (murder, extortion et al aside) your health comes first and yes, we are sending you the name of the nominee you will announce as your choice and how you wish to slog on as a servant of the party... why are you breathing so heavily, you okay?
Because my blood pressure is rising and I want to know why you are doing this to me?
Let's put it this way, mon ami, your cup of tea isn't Modiji's cup of tea, see you in the ICU.
As Keshav gets flung into the ambulance, he mumbles, who is A Sunder, back stabber.
India
The two parties has joined hands to fight the battle of the deprived, oppressed, backward, Dalits, women, farmers, youth and the weaker section, as per Samajwadi Party's Twitter handle
India
He said under the BJP-led NDA rule, India gives a befitting reply to terrorist attacks which was not the case when the Congress-headed UPA was in power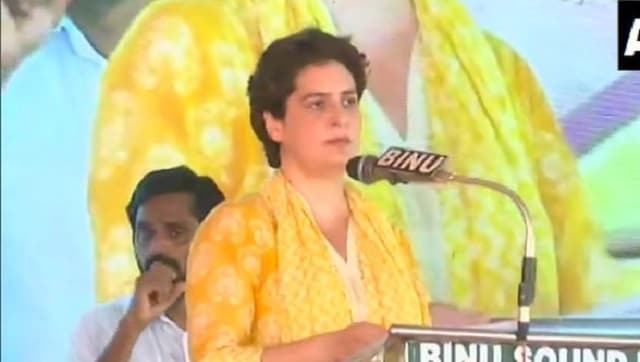 Politics
Had the Congress been serious about women empowerment, it would have made such statements in Punjab, Uttarakhand, Manipur and Goa where it is in serious contest for power in the 2022 elections