Kejriwal CM, Modi PM: A BJP loss means Delhi wants ladoo in both hands
Kejriwal is a shrewd politician. He knows that Modi is still popular in Delhi. He knows that voters in Delhi are absolutely clear about what they want: Modi for PM; Kejriwal for CM.
During the Vedic era, powerful kings used to perform a horse sacrifice, called Ashwamedh Yagna, to establish their supremacy over others. Followed by an army, the king's white horse would wander free for one year. If the horse was allowed to pass through a neighbouring territory, it was seen as acceptance of the king's supremacy; if it was stopped by someone, he had to fight with the sacrificer's army.
In the Delhi election, Prime Minister Narendra Modi's rampaging horse has been stopped by Arvind Kejriwal. As a result a fight is on. By the end of the day, we will know if Modi has become India's 'chakravarti' (universal) ruler or whether Kejriwal has thwarted his yagna.
A horse sacrifice was generally performed with the minimum use of force. Most of the hostile neighbours used to surrender meekly if the king's army defeated a powerful challenger at the very beginning. Others would learn from a challenger's defeat and simply lose the courage and will to resist. But if the king lost, his enemies got emboldened.
If Modi wins Delhi, it will be an affirmation of his popularity, and an approval of the performance of his eight-month-old government. With Delhi in his pocket, Modi will find it easier to form a government with the PDP in Jammu & Kashmir and challenge the Nitish-Lalu combine in Bihar. At the moment, the BJP seems to be galloping ahead in West Bengal too. A victory in Delhi will add more momentum to the BJP's Bengal campaign.
Aware of the ramifications of the battle of Delhi, Nitish and Mamata Banerjee have already extended their support to AAP. When results of the exit polls come out this evening, both Nitish and Mamata will be more eager to know them.
But what if the BJP loses Delhi? Politically, it will give a fresh lease of life to all the anti-Modi parties across India, give them more confidence; it is also possible that the AAP may yet again feel emboldened to try its luck outside Delhi.
But, should a reversal in Delhi be seen as a defeat for Modi? The answer is no, if you have been listening to the Delhi voter and even Kejriwal properly, who has been careful enough to not attack Modi personally. Kejriwal's references to Modi have been confined to his rejoinders to Modi's accusation that the AAP leader is a Naxalite and should be sent to the jungle.
Kejriwal dared finance minister Arun Jaitley to arrest him after he was accused of receiving donations from shell companies, he even taunted Amit Shah for saying that the "15 lakh promise" was an electoral stunt. But he said nothing against the PM, as against Rahul Gandhi's persistent attacks on Modi and references to the "10 lakh ka suit."
Kejriwal is a shrewd politician. He knows that Modi is still popular in Delhi. He knows that voters in Delhi are absolutely clear about what they want: Modi for PM; Kejriwal for CM.
A few nights ago, eager to understand what is going on in Delhi, I asked my cab driver, a middle-aged father of two from Sonepat, every journalists' favourite question: Aur kya ho raha hai? What is happening in the election?
He replied, "A good party is leading the election,"
A good party; which is that? "Sahab, you are an educated person, you should know which is the good party in this election?"
The journey was short—from Delhi Cantonment to Dhaula Kuan—and the driver was frugal with his words; so there was no way of knowing which party he was supporting. But, he left a cryptic clue: "We gave Modi ji what he asked for in May. Now he should perform instead of asking for more."
The noise in the media and the bytes from politicians may delude us into believing that the Delhi election is a contest between Modi and Kejriwal. But if you go out in the streets, it would be clear that the Delhi voters want ladoo in both hands.
Delhi isn't India; it is a city state. The problems people face here are related to their day-to-day life. Water, electricity, hospitals, traffic, schools and thugs in uniform seeking bribes and hafta are their major concerns. While choosing a chief minister, they are looking at somebody who has solutions to these problems; somebody who can make their life better.
In contrast, when they voted for Modi, voters were looking for a PM who would ensure vikas, get foreign investments, tame hostile neighbours and get rid of the corrupt and incompetent Congress misrule. It is another matter that Modi volunteered to pick up the broom; but in their minds voters had assigned that task to the jhadoo party.
If you look at the 2013 election and the ongoing Delhi polls, the pattern becomes clear. Back then nearly a third of Delhi voters were with the BJP; in this election too the saffron vote share is likely to be around 35 per cent according to opinion polls.
If the opinion polls have got it right, some of the additional 13 percent people who voted for Modi in the Lok Sabha polls are now thinking of giving the Kejriwal model a chance because they find him more suitable for the CM's job.
Both AAP and BJP are unlikely to get the real meaning of the 'Modi for PM and Kejriwal for CM' message. The voters would love to see them work on their independent models, to collaborate and not compete. They would hope that the pre-election rancor gets buried after the results.
This is unlikely to happen. Regardless of the outcome, Delhi is destined to see a relentless fight between the two parties. Both will not yield an inch to each other's wandering horses.
Find latest and upcoming tech gadgets online on Tech2 Gadgets. Get technology news, gadgets reviews & ratings. Popular gadgets including laptop, tablet and mobile specifications, features, prices, comparison.
India
India reported more than 60,000 new COVID-19 cases for the third consecutive day. The country's case count had crossed 20 lakh on Friday.
India
Chief Minister Arvind Kejriwal said the move will help the National Capital's economy recover from the pressures of the coronavirus pandemic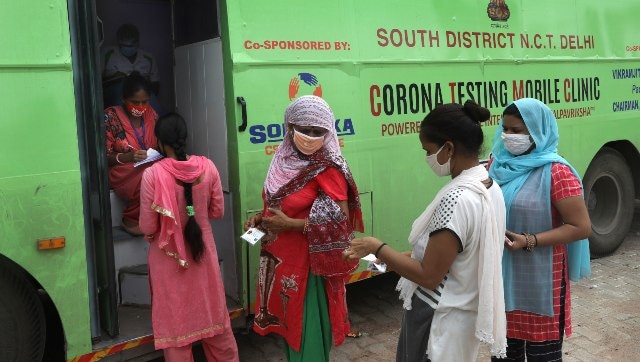 India
The BJP and AAP called a truce as they joined hands to deal with the COVID-19 crisis in Delhi, and encouraging results are now being seen