Kejriwal begins his five-day political visit to Punjab, plans to boost AAP's prospects
AAP leader and Delhi Chief Minister Arvind Kejriwal arrived in Punjab on Thursday for his five-day visit to boost the political prospects of the Aam Aadmi Party.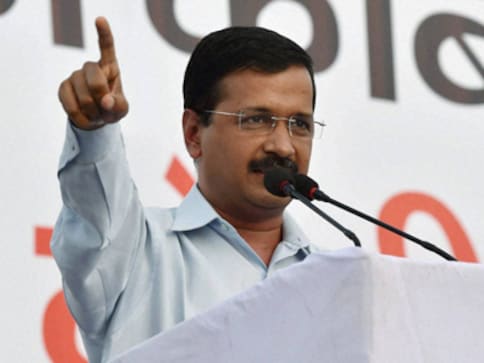 Chandigarh: AAP leader and Delhi Chief Minister Arvind Kejriwal arrived in Punjab on Thursday for his five-day visit to boost the political prospects of the Aam Aadmi Party.
Kejriwal, who reached here on a regular flight from Delhi, drove immediately to Sangrur town in Punjab. He was received by top AAP leaders of the Punjab unit and some party leaders from Delhi.
"I am starting my five-day trip of Punjab today. I will be visiting villages and meeting with common people," Kejriwal told the media after landing here.
During his trip, the AAP leader will meet families affected by drugs to understand their problems. "We will meet families of farmers who committed suicide and understand their problems too. The AAP philosophy is that we meet people, listen to their problems and find solutions," he said.
Kejriwal will be visiting villages to personally interact with families. "Other parties make their manifestoes in air-conditioned rooms. We go to villages and homes of people," he said while taking a dig at other political parties.
During the visit, the Delhi CM will travel to Punjab's three regions - Malwa, Majha and Doaba, starting from Sangrur and Bathinda districts in the agriculturally-fertile south-west Punjab.
Kejriwal will visit Ferozepur and Faridkot districts on February 26, Khadoor Sahib, Gurdaspur and Amritsar districts on February 27, Hoshiarpur and Jalandhar districts on February 28 and finally go to Ludhiana, Fategarh Sahib and Patiala districts on February 29.
"He will interact with various sections of the society comprising families of distressed farmers who have been committing suicides, members of Dalit families and unemployed educated youth and know the concerns of the women folk about their safety and security," an AAP spokesman said.
To know the problems faced by the people in the state, Kejriwal will also meet the business community, comprising traders and captains of industry,
The Congress in Punjab had earlier said that if the Aam Aadmi Party does not change its agenda for the state, it will oppose Kejriwal's visit."Kejriwal should not play with fire by instigating the sentiments of the people of Punjab. This is a very dangerous style of politics being done by the AAP," Congress leader and Ludhiana MP Ravnit Singh Bittu had said.
In January, Kejriwal had addressed a major AAP rally at the Maghi religious fair in Punjab's Bathinda district.
The AAP, which has been eyeing Punjab for sometime now, is being viewed as a serious political challenge by the ruling Shiromani Akali Dal-BJP alliance and the Congress in the run up to next year's assembly polls as they have dominated Punjab's political space for decades.
IANS
Find latest and upcoming tech gadgets online on Tech2 Gadgets. Get technology news, gadgets reviews & ratings. Popular gadgets including laptop, tablet and mobile specifications, features, prices, comparison.
First Cricket News
Ahead of the new Indian Premier League season, take our Kings XI Punjab quiz to test the extents of your knowledge on KL Rahul and Co.
First Cricket News
Two playoffs appearances in 12 attempts, the last one being six years back, do not inspire much confidence in Kings XI Punjab, neither does their propensity to lose steam midway through the tournament with alarming regularity. Will IPL 2020 be any different?