Telangana chief minister and Telangana Rashtra Samithi chief Kalvakuntla Chandrashekar Rao, more popularly known as KCR, has inflicted a surgical strike on the Opposition by dissolving the state Assembly few months ahead of schedule and declaring 105 of 119 candidates on the day of dissolution besides taking a calculated risk by announcing the names of almost all his sitting MLAs.
The TRS supremo is holding his first election meeting at Husnabad on Friday and plans to tour 100 Assembly segments in 50 days to remain much ahead of his rivals in the electioneering.
The speed with which KCR took key decisions that went beyond political speculation indicates that careful planning went into the whole process. The outgoing chief minister held meetings with Prime Minister Narendra Modi ostensibly to get the state grievances addressed. However, insiders told Firstpost that, political matters were high on the agenda when the two leaders met. The central leadership of the BJP which is not averse to and in fact would love to rope in TRS to the NDA fold in case the need arises post-2019 has readily agreed to the idea of premature dissolution. Though the Centre's approval is not technically needed in regard to the constitutional scheme as far as the dissolution of state Assembly is concerned, the shrewd politician in KCR ensured that there would not be any political roadblocks in realising his strategy of early elections. Even KCR acknowledged this in his press conference immediately after dissolution. By disclosing that he himself was in touch with the chief election commissioner to ensure that elections are not delayed at any cost. KCR averred that Telangana would also go to polls along with Madhya Pradesh, Rajasthan and Chhattisgarh.
It was a calculated electoral strategy of KCR to delink Assembly elections and Parliament elections in the state. It is ironical that TRS which is a votary of simultaneous elections decided to separate the Assembly elections with that of the Lok Sabha elections purely for political reasons.
Notwithstanding the mounting criticism from the opposition for failure to give valid reasons for the dissolution of the House over eight months ahead of schedule, KCR felt that the political mood during Lok Sabha elections would be focussed on Modi versus Rest of India and such a climate, according to KCR would benefit the Congress in the state. The BJP is not a force to reckon with in the state despite being instrumental in ensuring the formation of a new state. The state has over 12 percent Muslim population.
The failure of the Modi-led government in fulfilling the provisions of state reorganisation act and the promises therein is incurring the wrath of the people. The Seemandhra voters who constitute a significant chunk of Telangana electorate especially in and around Hyderabad are completely annoyed with the Modi government on the denial of special status to Andhra Pradesh where they originally hail from. KCR fears that this antipathy towards Modi may cost him if elections to the Lok Sabha and Assembly are held together as Congress would be taking advantage exploiting this anti-Modi sentiment.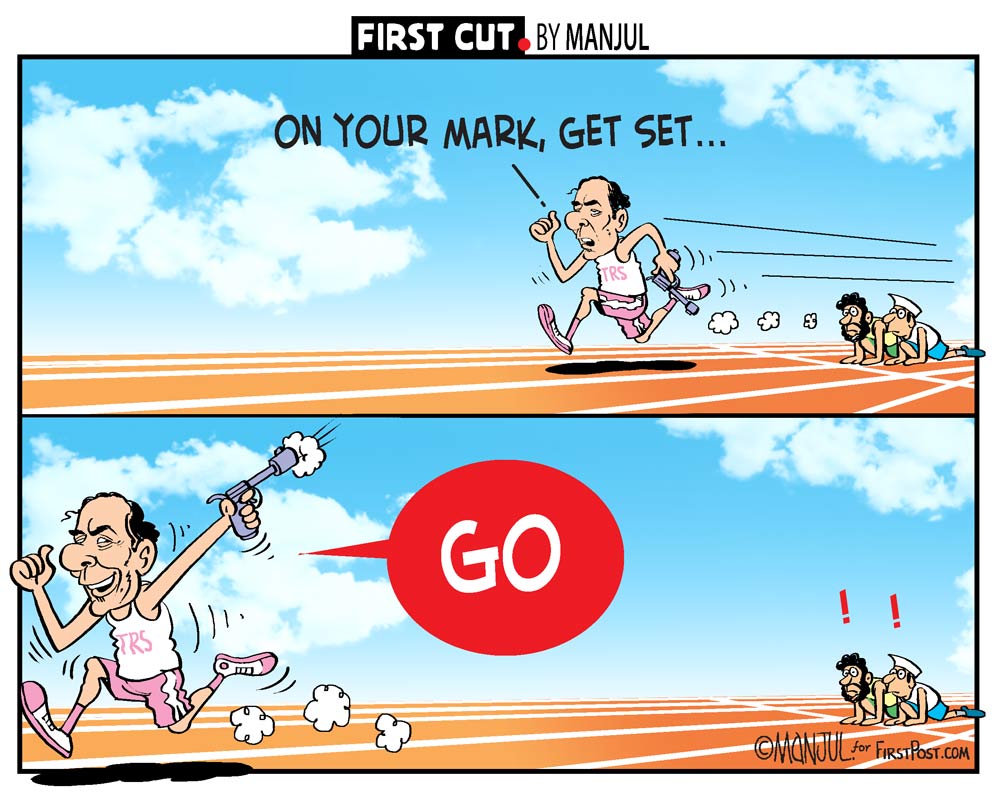 KCR's decision to go for early polls was in the realm of speculation for quite some time now. But his decision to announce 105 candidates out of 119 on the day of dissolution has certainly surprised even his party men. This was a strategy to demoralise the opposition camp which is yet to seriously take up electioneering activity. The Congress-led opposition has to finalise political alliances and subsequent seat-sharing arrangements. The selection of candidates cannot be completed unless alliance talks come to a conclusive stage. The Congress hopes to unite as many opposition parties as possible in a bid to prevent split of the anti-TRS vote. The BJP cannot obviously be a part of any such Congress-led combine. The CPM stating its political line of not allying with Congress has floated Bahujan Left Front rallying few smaller parties and individuals on the plank of social justice. Thus, the Congress has already expressed its intentions to rope in TDP, CPI and the newly formed Telangana Jana Samiti (TJS) of Kodandaram. Yet the alliance talks are at a stage of intent. Thus, by right away plunging into active campaign mode immediately after the dissolution of the house KCR has certainly taken an initial advantage, leave alone its political and electoral dividend.
In a clever bid to tide over possible anti-incumbency over sitting MLAs, KCR turns the contest into a sort of referendum on his leadership. In fact, the ground reports indicate that his party outgoing MLAs do not enjoy the same popularity as KCR does. But, KCR took a calculated risk by retaining almost all of them as he thought that any large-scale changes may result in election eve dissidence. Thus, KCR is going to people seeking a personal mandate. As leader of Telangana movement that delivered a new state, KCR certainly enjoys taller political stature within the Telangana political spectra compared to any other opposition leader. KCR wishes to capitalise on this.
Along with his personal charisma invested in the polls, KCR wishes to fight the opposition with Telangana sentiment. This is evident from the fact that he chose to dismiss TDP as Andhra party and any congress alliance with it is a betrayal of Telangana cause.
Embracing MIM to garner Muslim votes KCR intelligently distances himself from BJP by delinking assembly and Loksabha elections. The state has not seen any major communal conflagration in the recent past. The state BJP and its Parivar never tried seriously to polarise the voters on religious grounds.
The BJP not taking up even KCR's 12 percent Muslim quota in a big way is an illustration of saffron Parivar's decision to not embrace a non-Congress regional party too much when BJP has no political stakes in the state. As a result, KCR has audaciously announced MIM as a friendly party. But calling TRS a secular party, KCR says his party, therefore cannot have any truck with the saffron party. However, he fails to explain how bonhomie with MIM will fit into his secular politics. In fact, while having an explicit understanding with MIM, the TRS never questioned controversial policies of BJP which critics call as divisive agenda. Thus, KCR makes a strange political maths of sailing with MIM and going soft on BJP.
Your guide to the latest election news, analysis, commentary, live updates and schedule for Lok Sabha Elections 2019 on firstpost.com/elections. Follow us on Twitter and Instagram or like our Facebook page for updates from all 543 constituencies for the upcoming general elections.
Updated Date: Sep 07, 2018 16:05:44 IST