KC-M leaving UDF in Kerala exposes its opportunist politics: Congress
Kerala Pradesh Congress Committee on Sunday dubbed Kerala Congress (M)'s decision to quit UDF as 'opportunist.'.
Thiruvananthapuram: Kerala Pradesh Congress Committee on Sunday dubbed Kerala Congress (M)'s decision to quit UDF as "opportunist."
"KC-M's decision to quit UDF is opportunist politics as they left without any valid and just reason," KPCC President VM Sudheeran told reporters.
"It is not equidistance policy, but opportunist politics," Sudheeran said, attacking KC(M) supremo Mani.
He rejected Mani's charge that a section in Congress had tried to weaken and "insult KC-M and its leaders."
"Congress party leaders worked for the victory of KC-M candidates in the last polls and only wanted to strengthen that party...it is painful that they left the Front," he said.
"Congress also would not allow anybody to isolate and attack any Congress leader," Sudheeran said, apparently referring to KC-M charge that a 'conspiracy' by a section in the Congress led by Ramesh Chennithala, was behind the bar bribery scam.
"All decisions in the bar bribery scam were taken based on general consensus arrived by Congress leaders," he said.
Congress also did not denounce Mani over the scam and protected him even after it suffered setback, Sudheeran said.
Referring to the KC-M leader's remark that they have been "insulted" by Congress, Sudheeran said Mani did not lodge a complaint with the Front about any issue before or after the assembly polls.
Asked whether Congress would take back KC-M to its fold if the party returns, Sudheeran said "that question has no relevance at the present juncture."
Former Chief Minister Oommen Chandy, who was deputed by the party to hold talks with Mani, said KC(M) leader's decision was "unfortunate". "Congress has tried to sort out all issues," he said.
Reacting to the development, Opposition leader Ramesh Chennithala said Mani will remain only where there is power.
"Mani should have aired his problems in the Front or to Congress...No one can create any rift among Congress over this issue... no one should think that they can destroy Congress," he said.
CPI-M state secretary Kodiyeri Balakrishnan said KC-M quitting the Front "is the beginning of UDF's disintegration. UDF has no future in Kerala and it is better to dismantle the Front," he said.
KC-M has only six MLAs in the assembly and so the change in stand is not going to affect the LDF government in any way, which has 91 members in the assembly, he said.
"It is not the policy of CPI-M to gain the support of minorities by wooing any party," he added.
Meanwhile, Youth Congress activists waved black flags against Mani as he was leaving the meeting venue at Charalkunnu.
Police had a tough time controlling the Youth Congress activists and KC-M who tried to protect Mani.
Politics
The senior BJP leader said Congress, which imposed Emergency in the country, has lost the right to pronounce the word democracy, further claiming that the party burnt 10,000 Sikhs alive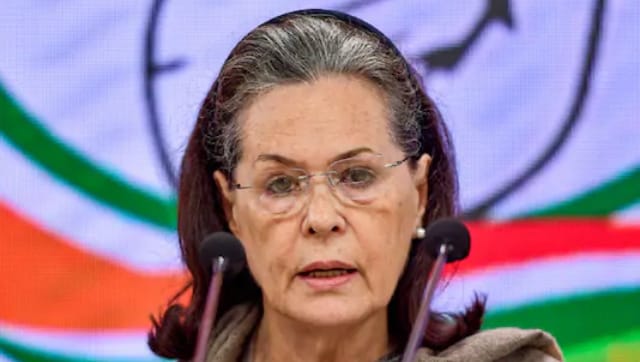 Politics
In her opening remarks at the CWC meeting, interim chief Sonia Gandhi said she is a full-time and hands-on party president and there is no need for leaders to speak to her through the media
India
Several parts of Kerala have been lashed by heavy rains since Friday triggering landslides and flood-like situation in several districts