Kashmir dialogue: Govt's move neither a 'bold step', nor a 'failure' but a legitimate progression of 3-pronged strategy
The Centre's bid to reopen the Kashmir dialogue process is neither a backward step, nor a U-turn and certainly not a 'failure of muscular approach.' It is the logical progression of its three-pronged Kashmir strategy.
The Centre's bid to reopen the Kashmir dialogue process is neither a backward step, nor a U-turn and certainly not a "failure of muscular approach." It is the logical progression of its three-pronged Kashmir strategy.
The challenge, however, will lie in attaining clarity of objectives, addressing issues and showing political resolve in implementing them. On all these counts, it is too early to call the initiative either a "bold move" or a "failure".
The govt has decided to appoint former Director of IB, Shri Dineshwar Sharma, as the Representative of GOI to initiate dialogue in J&K:HM

— HMO India (@HMOIndia) October 23, 2017
As a Representative of GOI Shri Sharma will initiate a sustained interaction &dialogue to understand legitimate aspirations of ppl in J&K:HM

— HMO India (@HMOIndia) October 23, 2017
The first thing to understand about Rajnath Singh's decision to appoint Dineshwar Sharma as a representative of the Centre to resume "sustained dialogue" with all stakeholders in Kashmir is that it comes from a position of strength.
Had the government buckled under pressure from separatists, terrorists and their overground workers in the Valley and agreed to hold talks in 2016 or in the first few months of 2017 (when there was an atmosphere of fierce resistance and massive funeral processions of slain terrorists), that charge could have been legitimate.
Kashmir, of late, has settled into a state of resignation as the army and Jammu and Kashmir police stepped up its counter-insurgency operations. Till 22 October, 175 terrorists have so far been neutralised by the security forces, compared to 114 in the same period last year.
Some top militants from Lashkar-e-Taiyaaba and Hizbul Mujaheedin stable including Abu Dujana, Bashir Lashkari, Azad Malik, Sabzar Ahmad Bhat and Abu Ismail (responsible for the 10 July attack on Amarnath pilgrims) have been hunted down.
Other terrorists such as Abu Haris, Abul Ali, Abul Mala, Anis Bhai, Abu Mansoor, Abu Umar, Abu Maviya and Sher Gujri have also been neutralised.
Along with the hot pursuit of terrorists, the army has been able to largely control and restrict the stone-pelter brigade, many of whom were being appointed as mercenaries through cross-border funding.
One of the biggest changes in the nature of the insurgency movement in Kashmir since the turn of the millennium was the way Inter-Services Intelligence (ISI) started focussing more on lending financial and logistical support to local operatives in the Valley instead of trying to control it entirely through exportation of mercenaries.
This gave the Kashmir secessionist movement some sort of moral legitimacy. The task before the Centre was to control the funding network, often conducted through hawala channels of cross-LoC trade.
In the last few months, the National Investigation Agency (NIA) carried out unrelenting operations against these operatives—many of whom moved in the shadows and restricted their role to extending monetary support.
Multiple raids were carried out in different locations across the country, evidences of hawala transactions and incriminating documents were seized. Cases were opened, arrests were made—including some key Hurriyat leaders and their aides—and some top funders were caught in the dragnet. One of whom was a shadowy trader from Srinagar, a millionaire called Zahoor Ahmad Watali.
Watali was the conduit through which funds were channeled to separatists and ground-level insurgents in Kashmir from Pakistan. His habit of keeping account of the transactions made him a key figure in the case against separatist leaders.
An extremely well-connected man, even in Delhi's political and bureaucratic circles, Watali's arrest in August  according to a NIA statement, "follows the searches conducted… at multiple locations in Srinagar, Handwara, Kupwara and Baramulla belonging to his relatives and employees. The searches have unearthed highly incriminating material pertaining to receipt of funds by Zahoor Watali from foreign sources and its further distribution to the terrorists and separatists in Kashmir valley for anti-India activities."
In Governance Now (Kashmir's Blood Money Trail), Aasha Khosa tells us of the way Hurriyat leaders were being funded by Pakistan through conduits like Watali. She writes: "The front-rung leader of the All-Parties Hurriyat Conference (APHC) admitted that he had received a monthly allowance from Pakistan for five years. 'I was getting about Rs 8-10 lakh per month. The money would come from the ISI and was delivered to me in cash by Zahoor.' he said. Watali, he alleged, deducted his 20 percent commission and handed over the rest to him with utmost punctuality.
According to the report, some 30 separatist leaders were in Pakistan payroll through Watali. The NIA investigation and raids broke the back of this terror network. Hurriyat leaders now lie isolated and increasingly disempowered. They have little access to funds to keep the embers burning and are suffering from an erosion of moral legitimacy before Kashmiris who now feel a sense of betrayal.
As Sameer Yasir writes in Firstpost, "The raids carried out by the National Investigation Agency probing the terror funding in Kashmir have created fear psychosis among the workers of both factions of Hurriyat Conference, so much so that there is no one to take charge of the positions left vacant after the arrest of leaders from both factions of Hurriyat Conference."
With two crucial parts of its three-pronged Kashmir strategy under way, the Centre has now decided that the time is ripe for the third step: Restarting the dialogue process. Restoring a semblance of law and order in the Valley was the first requisite and it must be eventually followed by a political process to build on the gains and restore normalcy. This isn't a contradictory approach, but a concomitant one.
The Narendra Modi government appears to be in control of the Valley and in launching the dialogue process according to its own timetable—not Pakistan's or the separatists—has sent a message that it wants Kashmir to return to normalcy, but cannot be taken hostage by violence. This shift in power dynamic is important in dealing with a secessionist movement that still enjoys tacit (if not active) ground support.
The other charge, that appointment of a representative for talks is a failure of "muscular approach", also misses the mark by a mile. If the talks process sees a simultaneous reduction in action against terrorists or withdrawal of cases related to terror funding, such a charge would be valid. There is every indication that the Centre has no such plans.
On Tuesday, the NIA arrested Hizbul Mujahideen chief Syed Salahuddin's son Syed Shahid Yousuf in a 2011 terror funding case. According to Hindustan Times, the 42-year-old Yousuf was "receiving and collecting funds through international wire money transfer" from a Saudi Arabia-based Aizaz Ahmad Bhat (member of a terror group) on Hizbul chief's orders.
On action against terrorists, a government official told Bharti Jain of The Times of India that "there will be no let-up in anti-terrorist operations. The thrust on development projects and implementation of the PM's package will remain. However, we are adding the third prong of 'sustained and structured dialogue' to the Jammu and Kashmir strategy."
The other crucial question regarding the talks process pertains to the phrase "all stakeholders". Who are these stakeholders? According to Rajnath Singh, the former IB chief will have "all the rights to engage whatever parties he wishes to," but the Union home minister qualified his comments by saying that "the government is going to address the legitimate apprehensions of the state populace and try to restore peace in the Valley."
The stress on "legitimate apprehensions" immediately places it within the framework of Constitution, and we find a more straightforward statement from Jitendra Singh. The MoS for PMO told News 18  that talks with Kashmiris will be held within the framework of the Constitution. "The Constitution is sacrosanct," he said. "How can you speak to people who indulge in violence and hawala transactions?"
It indicates that while the government is ready to talk to "all parties" who have a "stake in Kashmir," these discussions will be held only within the framework of the Constitution, and on the government's terms. This does not sound like "U-turn", "failure" or "backward step." That said, therein lies the challenge.
If the Centre defines the Hurriyat's space within the constitutional framework, that leaves the secessionists with very little room to manoeuvre. This may dovetail with government's ultimate aim in delegitimising the Hurriyat and making them irrelevant, but it equally puts the onus on the Centre to define who these other stakeholders are who can engage with the State.
Rajnath Singh said, "The sustained Jammu and Kashmir dialogue will include all individuals and groups willing to engage with the interlocutor." This would mean elected representatives of the government, various youth groups, civil society, lawyers and the powerful clerics who wield enormous influence over polity.
It is here that Sharma, who has prior experience of Jammu and Kashmir as a former Intelligence Bureau chief and has handled insurgency movements in Nagaland and Manipur, will face his greatest challenge.
Some of these "stakeholders" include out-of-power former chief ministers such as Farooq Abdullah, whose rhetoric is increasingly inseparable from that of Pakistan. 
The Centre must therefore increase the ambit of its talks and include local Kashmiris whose voice have so far gone unheard. Countering the growing Islamist overtone of insurgency is another huge challenge.
What has added to the problems is the State's miserable failure to build capacities, and nowhere it is more apparent than in the way elected representatives have been targeted by terrorists.
Officials, politicians and sarpanches have repeatedly fallen to bullets. Between 16-22 October, terrorists "attacked eight houses of political workers in south Kashmir" and even Peoples Democratic Party leaders (member of BJP's coalition government) weren't spared.
Any comprehensive and sustained dialogue must include the Kashmiri Pandits as major stakeholders. There is also no clarity in this area as well.
It is also not clear whether Sharma's inputs will meet the same fate that other such reports have met over the years.
To sum it up, while the Centre should be applauded for taking the right step at the right time, there are challenges galore.
Both Singh and Sharma have their work cut out.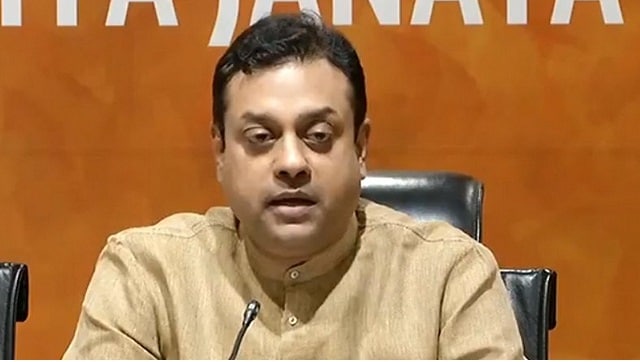 India
BJP national spokesperson Sambit Patra, in a press conference, alleged that the Congress sacrificed not only the Kashmiri Pandits but also the development of the region
World
In his address on Tuesday, the Turkish president also referred to China's minority Muslim Uyghurs in Xinjiang and Myanmar's Rohingya
India
Army Commander, Northern Command, Lt Gen Y K Joshi paid rich tributes to the slain officers.