Karnataka's anti-Maharashtra stand continues in Belgaum: Shiv Sena
Shiv Sena, in its mouthpiece Saamana, has accused the Karnataka police of removing a 'Maharashtra Rajya' plaque from a village in Yellur, Belgaum.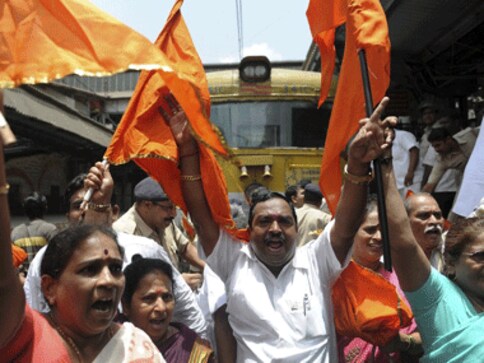 Mumbai: Re-igniting the Belgaum border dispute, Shiv Sena, in its mouthpiece Saamana, has accused the Karnataka police of removing a 'Maharashtra Rajya' plaque from a village in Yellur, Belgaum.
The editorial read, "Karnataka government's anti-Maharashtra age old stand continues. In 24 hours, not just once but twice the Kannadas have tried to target Maharashtrians symbols. They have indulged in violence."
Sena further accused the police of beating up women and assaulting villagers when they re-installed the noticeboard. "Women were beaten up. Houses were destroyed. But no 'Mai-ka-laal' raised their voice against this. Karnataka government is against Marathis and Maharashtrians. The plaque was Belgaum's Marathi pride," it further read.
According to media reports, clashes broke out in Yellur region of Belgaum on Sunday when a crowd assembled at the place from where the signboard was removed and started pelting stones at police. As the crowd turned violent and continued pelting stones, police resorted to lathicharge, said Belgaum Deputy Commissioner N Jayaram.
He added that the re-erected 'Maharashtra Rajya' plaque was removed by the district administration. Prohibitory order under section 144 of the IPC has been promulgated in Belgaum, Khanapur Taluka and Nippani town till 29 July, he said.
While the Shiv Sena urged the Centre to step in, Maharashtra Chief Minister Prithviraj Chavan said he will speak to his Karnataka counterpart.
Disputes between Belgaum's Marathi-speaking leadership and the Karnataka government have been frequent. Matters came to a head in mid-2012, when the Karnataka government actually superceded the Belgaum City Municipal Corporation. The Maharashtra Legislature unanimously passed a resolution against the move and demanded that Belgaum and the surrounding area embroiled in a border dispute be placed under the rule of the Centre until resolution of the dispute in the Supreme Court. Only in late 2011, the Belgaum civic body was dismissed along with its Marathi-speaking mayor and deputy mayor.
Since the 1960s when the border row first began, the Maharashtra legislature has passed at least 18 resolutions against the Karnataka government, calling its actions to crack down upon Marathi-speaking institutes and people in Belgaum illegal and unjust.
(With inputs from PTI)
India
According to the NCS, the movement of tectonic plates under the earth's surface was felt around 4 am in 89 kilometres west of Nashik. The depth of the earthquake was 5 km below the ground
Education
It is to be noted that candidates from round 1 will have to report to the new college if their seat gets upgraded
Politics
''There is a feeling of hatred and politicians have now reached a stage where they don't want their opponents even to be alive. Maharashtra's political atmosphere has become polluted where people are out to destroy each other," said Raut.