Karnataka resort brawl: Kampli Congress legislator JN Ganesh who hit fellow MLA Anand Singh 'missing'
JN Ganesh had said 'no bottle attack' took place even as he indicated that some kind of a brawl had ensued between him and Anand Singh on Saturday night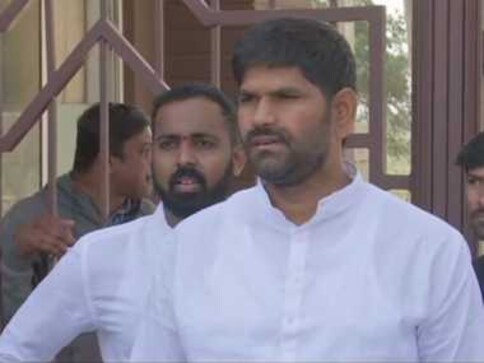 JN Ganesh is reportedly missing since Tuesday afternoon

The Congress had suspended Ganesh, MLA from Kampli, soon after the FIR was registered

Special teams have been formed to track JN Ganesh
A day after Karnataka Police registered an FIR against Congress MLA JN Ganesh for allegedly  hitting his lawmaker colleague Anand Singh during a brawl at Eagleton Resort in Bidadi on Saturday, Ganesh has reportedly gone missing since Tuesday afternoon. Singh was hospitalised following the attack wherein he was allegedly hit by Ganesh with a bottle, local media had reported.
The Congress had suspended Ganesh, MLA from Kampli, soon after the FIR was registered, an incident that gave an embarrassing twist to the party's bid to keep its flock together.
According to a report by The Hindu, special teams have been formed to track Ganesh. Police officials who had conducted a spot inspection took statements from the resort staff but were unable to trace Ganesh. A senior police official was quoted saying, "We tried to reach him on his phone, but it was off. We also contacted his family, relatives and friends, but in vain." The police are now waiting to record the statements of other MLAs who witnessed the brawl. "Since they were all busy with the funeral of Shivakumara Swami, we are waiting to take their statements," the officer added. Ganesh, on the other hand, had said "no bottle attack" took place even as he indicated that some kind of a brawl had ensued between him and Singh on Saturday night. He has been booked under sections 307 (attempt to murder), 323 (voluntarily causing hurt), 324 (voluntarily causing hurt by dangerous weapons or means), 504 (intentional insult with intent to provoke breach of the peace), and 506 (criminal intimidation) of the Indian Penal Code. Congress had shifted its legislators to the resort last Friday fearing the BJP might lure some of them in its alleged bid to destabilise the Congress-JDS coalition government in the state. State home minister MB Patil, in the meanwhile, said that police is working on the case against Ganesh. 
K'taka Home Min MB Patil on Congress MLA JN Ganesh after reports of alleged brawl b/w Congress MLAs Anand Singh,JN Ganesh&Bheema Naik: Nobody is bigger than law. FIR filed;party suspended him. Police working on it.Our party took initiative to take action against him after assault pic.twitter.com/c6BYdLrqC7 — ANI (@ANI) January 23, 2019
World
The twice-impeached Republican, whose party lost the White House and both chambers of Congress during his term, makes his case for another four years with appearances in New Hampshire and South Carolina
World
Peru has been embroiled in a political crisis with near-daily street protests since 7 December, when then-president Pedro Castillo was arrested after attempting to dissolve Congress and rule by decree
Politics
The 60-member Tripura Assembly will go to polls on February 16, while the counting of votes will be taken up on March 2. In 2018, the BJP formed the government for the first time in Tripura, ending the 20-year run of the CPI(M)