Karnataka polls 2018: Who is BJP to hand out religious tags, asks Prakash Raj, blasts party's 'divisive politics'
As Karnataka prepares to elect its next government on 12 May, actor and activist Prakash Raj said governance would thrive over 'communal politics' that the Bharatiya Janata Party (BJP) braces as its agenda.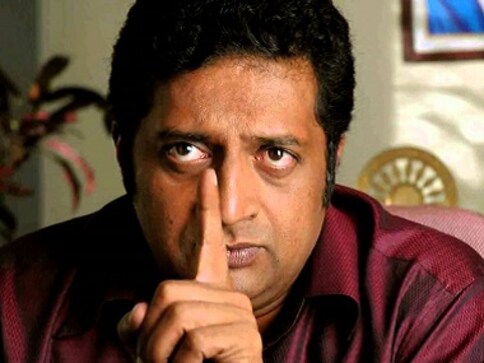 As Karnataka prepares to elect its next government on 12 May, actor and activist Prakash Raj said governance would thrive over 'communal politics' that the Bharatiya Janata Party (BJP) braces as its agenda. In a telephonic interview with Firstpost, the 53-year-old actor said that he does not identify himself with any political party, but is trying to highlight issues that plague the country. His advice to voters was a strong message against communal disharmony which he associated with the BJP.
Here are the excerpts from the interview:
Firstpost: What options do you think voters will weigh before casting their ballots in the Karnataka polls?
Prakash Raj: Before casting their votes, voters should know the people they are voting for. They should be aware and should not be voting for somebody who divides them on communal, caste-based or religious grounds. This is exactly what the BJP is trying to do.
FP: You have voiced criticism of political parties irrespective of their flags. Do you associate yourself with any political ideology?
Prakash Raj: No. I believe in speaking from the common man's perspective. I do not associate myself with any political ideology in this country. Whatever issues plague the common man, I will raise my voice against it and against any party which does not take that into consideration. Despite of being at the Centre, the BJP is not addressing the issues it should (and) all people have a right to know why.
FP: Do you think your efforts are bearing fruit?
Prakash Raj: Ofcourse! I will say this again and again, I will raise those issues which are silently being ignored. I will say, as an independent individual, with no affiliation to any party whatsoever, all questions regarding several issues, whether it be Dalit and minority rights or the Kathua incident, answers must be given to the entire nation and not just me. As a common man, I feel this effort of seeking answers is bearing fruit as people are coming out and speaking up now.
FP: Have you thought about joining any political organisation in the near future?
Prakash Raj: No! Several people want to hear me speak as a member of the Congress, the BJP or other parties; but I have no intention to join any political organisation; neither am I a part of any. I only believe in talking about issues which are disturbing me as a common man and the lack of governance by the BJP at the Centre. I speak for what is clearly being seen by the entire country in terms of injustice and communal divides. I speak as an individual and express my views independently.
FP: How do you associate yourself with the rights of minority groups in the country?
Prakash Raj: I feel extremely saddened at the violation of rights of minorities in the country. Why is this happening? Who is responsible? If the BJP will not answer, who will? In the recent horrific incidents in Kathua and Unnao, what did the BJP do? Shield rapists? It is Yogi Adityanath's government in UP who is shielding the alleged accused in the rape of a minor. Doesn't all this speak enough on the atrocities committed by the BJP on minorities? There is nothing that is hidden and I repeatedly say, read between the lines on every issue.
FP: Do you agree with Dalit organisations on the view that the Supreme Court has recently diluted the Protection of Scheduled Castes and Tribes (Prevention of Atrocities) Act and the BJP-ruled Centre was interfering in the judicial functioning of the country?
Prakash Raj: Yes! The BJP has definitely interfered with the Supreme Court decision. You suddenly tell me that such a judicial ruling comes out; isn't the issue clear at hand? Today, the scenario is very unsafe for minorities, including Dalits. For example, a Muslim man cannot have a marriage procession without being attacked, a Dalit is pulled down from his cart and lynched. BJP leader Anant Kumar Hegde recently compared Dalits to dogs and Amit Shah addressed other party leaders as non-Hindus. Who are the BJP to give a religious tag to anybody or decide for others?
FP: From reservation for the Lingayat community to the politicisation of Dalit rights, do you think community-based or caste-based identity would influence voters in choosing their representatives?
Prakash Raj: If you are talking about the Lingayat issue, I would definitely question the timing by the Chief Minister of Karnataka. But that said, why shouldn't the community get a separate religious identity? If a Sikh, Christian, Muslim can have their religious identities, why not them (Lingayats)? But, again the timing remains questionable. Even on the matter of Dalit rights, they are suddenly being politicised in the pretext of elections. Why aren't they otherwise treated justly or their issues addressed? I don't think that it will influence the voters as such. They will choose representatives who will adhere to democracy and its principles, rather than those dividing it. I have full faith in the people of Karnataka and on their choices.
FP: You are producing a documentary on ecology to highlight the Cauvery and Mahadayi issues. How will the movie address the conflict?
Prakash Raj: The thing is, many people do not understand the subject clearly. Many people do not even know what one TMC of water means. Thus a few people approached me; we want to portray the issue by taking in perspectives of officials from both states and all available information. It is more towards understanding why there is a conflict and can anything be done (about it)? It is to provide an amicable picture of the (Cauvery) issue for people by providing them all perspectives surrounding it.
FP: What are the questions that you feel the Prime Minister needs to address on a priority basis?
Prakash Raj: He (Prime Minister Narendra Modi) has to give answers on several issues that the common man faces today. What has been done to resolve the inter-state water crisis? Can the prime minister tell the nation if leaders behind these horrific incidents will be removed? What is being done to ensure safety of Dalits and other minorities? When these questions are raised, the BJP makes statements asking people to leave the country; asking them to go to Pakistan, or that India is a Hindu country. Who are they to ask me or anybody to leave this country?
The author is a member of The NewsCart, a Bengaluru-based media startup
Politics
Tejashwi Yadav, the 33-year-old younger son of the charismatic Lalu Prasad, has finally come back to centre stage as the kingmaker. He has demonstrated an ability to read the situation he finds himself in and make the best of it
Sports
President Droupadi Murmu, Vice President Jagdeep Dhankhar, PM Modi, Home Minister Amit Shah, BJP president JP Nadda and several other Union ministers paid tributes to Atal Bihari Vajpayee at his memorial 'Sadaiv Atal' in Delhi
Sports
"In eight years PM Narendra Modi gave a 'Sarva Sparshi, Sarva Samaveshi' government to the country. There isn't any area where reforms didn't take place," Amit Shah said