Karnataka polls 2018: Congress has a local mascot in Siddaramaiah, but caste alone may not be sufficient to win the state
Siddaramaiah is not a mass leader, but his paroxysms of rage against BJP and Hindutva have made him a household name in Karnataka
There is a fundamental difference in the way Congress is fighting the Karnataka Assembly elections to be held in March-April this year. It has a local leader in Chief Minister Siddaramaiah to lead its campaign. The party didn't have local faces in the Assembly elections it fought in the recent past, and it won't have one in most of this year's polls.
In last month's Gujarat Assembly elections, the absence of a local leader was said to be one of the reasons why Congress missed victory. On the other hand, it enlisted the services of the likes of Hardik Patel, Jignesh Mevani, and Alpesh Thakor. Earlier in Uttar Pradesh, Congress rode piggyback on Akhilesh Yadav of Samajwadi Party as part of a miscalculated and bungled venture.
Nagaland, Tripura, Meghalaya, and Karnataka are going to polls in the next four months while Mizoram, Chhattisgarh, Madhya Pradesh and Rajasthan will have elections in the second half of this year.
The Congress is in a mess in Nagaland and Meghalaya, and virtually non-existent in Tripura. Though relatively better off in Mizoram where the party is trying to form a government for the third consecutive term, it has leadership issues in other states going to polls.
In Rajasthan, it's still a toss-up between Sachin Pilot and Ashok Gehlot whereas, in Madhya Pradesh, it's worse: the faction-ridden party has to pick one from among Jyotiraditya Scindia, Kamal Nath, and Digvijaya Singh. The party has no leader to face the powerful Raman Singh in Chhattisgarh. In most of these states, BJP has leaders and strategies in place.
All this leaves Karnataka as the only state with a local face. The Congress knows it. So does Siddaramaiah.
He is no longer 'Nidde'ramaiah
Till not very long ago, Siddaramaiah was made fun of as 'Nidde'ramaiah. Nidde in Kannada means sleep, and he was known to doze off at public functions. Pictures of him sleeping regularly went viral on the social media. But like the Kumbhakarna of Mahabharat, he has woken up from a long and deep sleep — yawning and growling — ready to devour everything within the reach of his hands. And that includes BJP and Hindutva. Now, if anybody is caught napping, it's BJP leaders.
If the barbs that fly from Siddaramaiah were poisoned arrows, there would have been a massacre of BJP leaders on the streets of Karnataka. His recent outburst calling BJP and RSS terror outfits was one such.
Siddaramaiah is neither a mass leader nor a crowd-puller. His influence within his own backward community of Kurubas (7-8 percent of the population in the state) is doubtful. It's another matter that BJP's state unit president and chief-minister-in-waiting BS Yeddyurappa is anything but charismatic.
Siddaramaiah is also not an orator nonpareil. Nobody can accuse him of displaying the sophistry and grace of a seasoned and polished statesman. But his taunts at BJP, composed of rustic language and delivered in an enviable baritone, are beginning to rattle opponents. The Sangh Parivar's keyboard warriors do their creative best to counter him, but by then Siddaramaiah will have done the damage, whether he intended it or not.
It was partly because of his paroxysms of rage against BJP and Hindutva — gaining more frequency as elections near — that he has made himself a household name. He is also fond of indulging in direct attacks, sometimes verging on the personal, on Narendra Modi and Amit Shah.
The Chief Minister and his followers make it appear as if the Karnataka election is a direct fight between him and the Modi-Shah duo. They would like you to believe that Siddaramaiah is next only to — or on a par with — Congress president Rahul Gandhi at least as far as taking on the prime minister is concerned.
The Congress leadership knows this and indulges him only because it has no other choice if it wants to put up a good fight in Karnataka. It was, of course, not a conscious choice of Congress to nurture Siddaramaiah as a local leader to lead the election. In the absence of alternatives, he just fitted in, like a vital piece of the jigsaw falling into place.
From 'outsider' to insider
For a leader who left former Prime Minister Deve Gowda's Janata Dal (Secular) and joined Congress 12 years ago and who was till recently looked down as an outsider by the party's leaders, Siddaramiah's rise to the status of the party's mascot has been indeed remarkable.
A Cabinet reshuffle that the Karnataka chief minister undertook in June 2016 led to a revolt that almost led to his fall, but the Congress leadership had no choice other than retaining him, more so because ousting him could mean the fall of the government itself. The victories in the two by-elections in April 2017 led to a dramatic rise in his political stock.
Today, Siddaramaiah is not only an unchallenged Congress leader in Karnataka but also one of the party's few important regional satraps in the country. Perhaps, Congress had learnt the lesson in Punjab and decided to leave Siddaramaiah alone. It was Amarinder Singh, a regional leader like Siddaramiaha, who led Congress to victory in the February 2017 election in Punjab, despite Gandhi's intentions to sideline him.
A populist chief minister
Siddaramaiah is populist, if not popular. The mention of his names brings to mind his penchant for populism. He has, in fact, been in an election mode almost ever since he became the Chief Minister of Karnataka in 2013, so much so that governance has come to mean announcement — if not always execution — of schemes for free supply of something or the other.
These include schemes to supply free rice and milk to poor people, payment of cash to women of minority communities and provision of laptops to SC/ST students. He has also set up Indira canteens to supply subsidised food in Bengaluru (to be extended to other parts of the state). A scheme to provide free healthcare to the poor is also being worked out.
There is more. Siddaramaiah has also been making the right noises to stir up sentiments of the Kannada pride by opposing the imposition of Hindi by the Central government and proposing a separate flag for Karnataka.
Apart from the fact that Congress has a leader in Karnataka and it's ruling the state, the party's campaign template seems to be more or less the same as it was in Gujarat, and earlier in Uttar Pradesh. So, Siddaramaiah keeps attacking Modi, Hindutva and his claims on the nation's economy. And like Gandhi did in Gujarat, Siddaramaiah is also trying to shed his anti-Hindu image by putting on the garb of soft Hindutva.
And just as it did in Uttar Pradesh and Gujarat, Congress under Siddaramaiah is also depending a lot on caste permutations to win Karnataka. But that kind of a caste-based strategy may not be the recipe for success that Congress is looking for in Karnataka, though it's sure to give a tough fight to BJP.
India
The decision was made at the meeting of the Crisis Management Group presided over by Chief Minister Nitish Kumar. The state saw a 10 percent positivity rate over the past week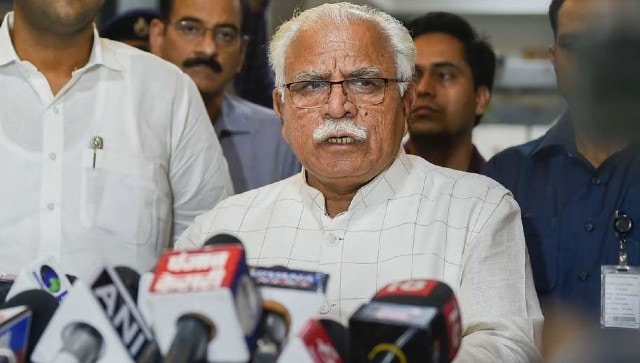 India
Khattar was responding to questions on the alleged under-reporting of COVID-19 deaths by the government with scenes at crematoriums and burial ground belying official data
Politics
The DMK's vote share was 37.7 percent with an impressive performance in regions including southern and northern regions while the AIADMK sliced away 33.4 percent