Karnataka govt formation: JD(S) leader Kumaraswamy to be CM, Congress to get majority of ministries
While JD(S) will get its chief minister in Karnataka, with HD Kumaraswamy set to take oath of office, the Congress, which is the numerically stronger party in the alliance, will get a deputy chief minister, Speaker and a majority of ministries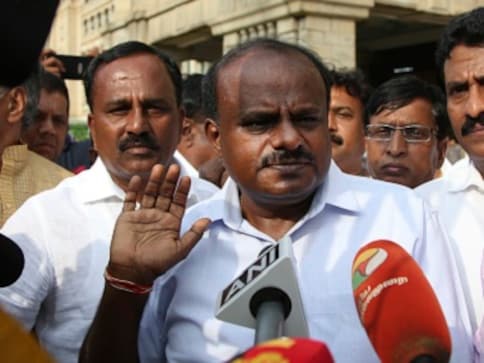 While the Janata Dal (Secular) will get its chief minister in Karnataka on Wednesday, with HD Kumaraswamy set to take oath of office, the Congress, which is the numerically stronger party in the alliance, will get a deputy chief minister, Speaker of state Assembly and a majority of ministries.
As reported on Tuesday, Karnataka Pradesh Congress Committee (KPCC) chief G Parameshwara is set to be the new deputy chief minister. He would be the first Dalit deputy chief minister in the state.
Compulsions of striking a caste and regional balance in the distribution of power is likely to force the coalition partners to have two deputies for the chief minister. News agency ANI reported sources as saying that the Speaker will also be from Congress.
According to a report in The New Indian Express, while Parameshwara is almost certain to get one, there is a strong demand from Congress leaders from northern Karnataka to get a deputy post, preferably belonging to the Veerashaiva-Lingayat community. According to party sources, MB Patil, SR Patil and HK Patil are the front-runners for the second deputy chief minister post.
"We have received the demand for having two deputy chief minister posts. Party high command will take a final call on this," Parameshwara said after meeting with party leaders Ghulam Nabi Azad, Venugopal and Ashok Gehlot, as per the report.
However, an NDTV report said the plan to have two deputy chief ministers has run into rough weather, with the two parties unable to reach a consensus on the issue. The parties held a meeting on Tuesday evening where the shape of the Cabinet was decided, the report added. Of the state's 34 ministries, 22 would go to the Congress and 12, including the post of chief minister, will be with the JD(S).
The agreement was reached following a meeting in Delhi between Kumaraswamy and Congress president Rahul Gandhi. The two discussed the issue of the deputy chief minister as well as the power sharing formula. However, the final decisions on the issue was left to the state leaders, NDTV said.
A report on Hindustan Times said Kumaraswamy is likely to keep the finance portfolio with himself, while Parameshwara may get Home.
Here's the likely list of Karnataka Cabinet portfolios, as per sources quoted by the Hindustan Times report:
JD(S): Kumaraswamy, chief minister and finance minister; CS Puttaraju, agriculture; H Vishwanath, education; N Mahesh, social welfare; GT Deve Gowda, cooperatives; Bandeppa Kashempur, textiles and endowments; DC Thammanna, labour; RV Deshpande, law and parliamentary affairs; AT Ramaswamy, industries.
Congress: G Parameshwara, deputy chief minister and home minister; KJ George, Bengaluru development minister; M Krishnappa, sport; Krishna Byre Gowda, information and publicity; Dinesh Gundu Rao, excise; Dr K Sudhakar, health; Tanveer Sait, higher education; Roshan Baig, forest; MD Patil, food and civil supplies; Satish Jarkiholi, small industries and sugar; Dr Ajay, science and technology; S Shivashankarappa, revenue; Ramalinga Reddy, transport; R Narendra, animal husbandry; UT Khader, health.
Follow live updates on the Karnataka government formation here
also read
India
The BJP will be wiped out from central India as well after the Madhya Pradesh polls, which are due by year-end, said the former MP chief minister
Politics
While the supporters of both the leaders are pitching for their respective leader, the Congress is said to be working on a power-sharing formula to accommodate all sections
Politics
Rahul Gandhi visited Mallikarjun Kharge's residence and held a closed-door meeting with the Congress chief for almost an hour and a half. Randeep Surjewala and KC Venugopal were also present at the meeting