Karnataka govt formation: G Parameshwara to take oath as deputy CM today, KR Ramesh Kumar to be speaker
Congress' G Parameshwara will be sworn in as Karnataka deputy chief minister, according to several media reports.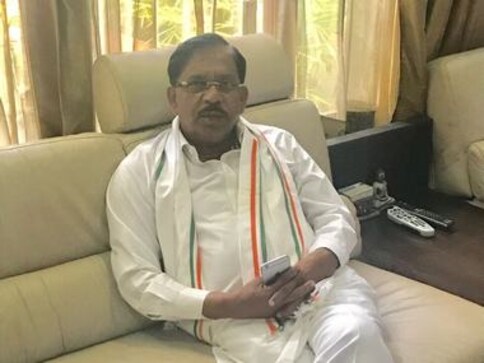 Congress' G Parameshwara will be sworn in as Karnataka deputy chief minister on Wednesday, according to several media reports.
Parameshwara, the longest serving Karnataka Pradesh Congress Committee (KPCC) chief, was among the frontrunners for the deputy chief minister's post. Parameshwara won election from Koratagere constituency in Tumakuru district by defeating JD(S) candidate Sudhakar Lal, making it his fifth victory in state elections.
KR Ramesh Kumar, who will be sworn in as speaker of Karnataka's Vidhana Soudha,  won from Srinivaspur constituency in Kolar district and was the health minister in the Siddaramaiah-led cabinet.
Congress leader KC Venugopal said that of 34 ministries, 22 ministries would go with Congress and 12 ministries, including the chief minister, would be with JD(S), ANI reported. Venugopal added that the portfolio allocation would be decided after the floor test, according to the report.
According to Karnataka Congress' official website, former prime minister Rajiv Gandhi had seen potential in Parameshwara when he had visited Tumkur. Parameshwara was first appointed as KPCC joint secretary.
Parameshwara has been the KPCC president for eight years now. He was appointed as KPCC president on 27 October, 2010.
He has been elected to the Karnataka Assembly four times earlier. He has represented Madhugiri in 1989, 1999 and 2004, and Koratagere in 2008.
However, in 2013, Parameshwara was defeated in Koratagere, according to The Financial Express. At that time, he was one of the top contenders for the chief ministerial post but because of his defeat, Siddaramaiah was chosen as the chief minister.
Parameshwara has served as the minister for sericulture (1993-94) and minister for higher education (1999-2004).
Karnataka will also get its first Dalit deputy chief minister if Parameshwara is appointed to that post.
On Monday, Parameshwara had said that difficult times were ahead, but there was a need to stop the BJP from coming to power in the southern state. He had said he understood the sentiments of many who were averse to a tie-up between the Congress and JD(S).
However, the need to keep communal forces away from power made the Congress lend support to JD(S), Parameshwara had said.
"I do understand the sentiments of many people that we should not have gone with the JD(S). But there was a need to stop the BJP from coming to power again in Karnataka. Keeping this in mind, our seniors took a decision to support the JD(S). We all must accept their decision," he had said.
With inputs from PTI
Politics
Rahul Gandhi is Congress MP from Wayanad, Kerala. He has been disqualified as a Member of Lok Sabha following his conviction in defamation case over his 'Modi surname' remark
World
Biden has previously made clear, without formally announcing, that he intends to run for a second term in 2024 when he'll be just under 82 years old on election day
World
Supporters of Khan's party, the Pakistan Tehreek-e-Insaf (PTI), clashed with police in the city of Lahore last week as they attempted to arrest him at his home, and later with police in Islamabad as he arrived to appear before a court on Saturday.