Karnataka floor test: SC directs BJP to prove majority by Saturday; Operation Kamala 2.0 on cards?
Back in 2008, the BS Yeddyurappa-led BJP fell five short of the majority and resorted to Operation Kamala. This is playing out all over again in Karnataka.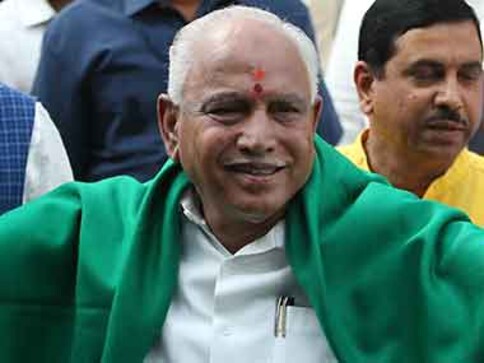 Bengaluru: Back in 2008, the BS Yeddyurappa-led Bharatiya Janata Party (BJP) fell five short of the majority and resorted to Operation Kamala, where elected members from other parties were asked to resign and stand on a BJP ticket. The year is playing out all over again in Karnataka.
Soon after Governor Vajubhai Vala administered the oath to Yeddyurappa as the state's 23rd chief minister on Thursday, the seething Congress-Janata Dal (Secular) combine took their respective flock to resorts in an effort to keep them from splitting. The high political drama over numbers continued in the Supreme Court on Friday, with the apex court asking Yeddyurappa to prove his majority on the floor of the Assembly by 4 pm on Saturday. It had earlier refused to stay the governor's decision to invite the single largest party to take office.
The only element missing now is the overwhelming presence of mining baron Janardhan Reddy, his two brothers, and friends, who are operating from the background owing to their tainted image. However, their friend and trusted lieutenant B Sriramulu is at it. "We have reached out to like-minded persons. We will prove the majority within the stipulated time on the floor of the House," he told media persons.
That Yeddyurappa got 15 days to prove his majority by the governor is another bone of contention — a long rope given by Vala, a veteran Gujarat politician known to have risen from the RSS pool of talent. Vala, strictly speaking, is going by the rule book – taking care of the Constitution and at the same time respecting the Supreme Court's decision in the SR Bommai case, where it made a floor test mandatory to prove a government's majority.
Bommai, incidentally, is a former Karnataka chief minister who did not get to prove his majority on the floor of the House as the then governor went by a contentious letter announcing the withdrawal of support to his government in September 1998. The governor had recommended President's Rule with immediate effect.
Later, a full bench of the Supreme Court clarified that the majority enjoyed by any government should be tested on the floor of the House, and has since been a governor's guidebook in such matters. Bommai's son, Basavaraj, has won again on a BJP ticket this time.
Rewriting the equation
After Yeddyurappa took the oath in the name of God and farmers, he went straight to the Vidhana Soudha. He bent down on the first step — invoking memories of Prime Minister Narendra Modi's act of touching the Parliament steps reverentially before entering — and also got a special pooja done to the chief minister's chair before sitting on it. He later held a cabinet meet all by himself and asked the state chief secretary to come up with numbers as to how many farmers would benefit from a loan waiver promised in the BJP manifesto.
Meanwhile, senior Congress leaders, including Lok Sabha MP Mallikarjun M Kharge, Leader of Opposition in Rajya Sabha Ghulam Nabi Azad, former chief minister Siddaramaiah, sat on a dharna at Freedom Park, the city's protest spot, while its freshly-minted MLAs came to the venue from a resort where they were ensconced.
JD (S) leader HD Kumaraswamy, looking visibly upset at being pipped to the post by Yeddyurappa, is zealously guarding his flock of 38 at a Hyderabad hotel, which includes a Bahujan Samaj Party winner. Till the previous evening, Kumaraswamy alternately wore a smirk and a smile and was confident that he would be the next chief minister "due to circumstances thrust upon the state" and "to keep out the communal elements". He said, together with Congress, which provided unconditional support, their numbers would exceed that of BJP's 104 at 116.
Incidentally, the signatures of three from JD(S) and six from Congress were missing from that list, with the parties explaining that the members were still on their way to Bengaluru. Few more from that list have subsequently gone missing.
Since polls were held in 222 seats, BJP needs just seven MLAs to hold on to power to show a majority of 112 on the floor. Of the two 'other' winners, one switched loyalties to Congress after promising to stay with BJP. The saffron party's likely targets are two of its sitting MLAs who joined other parties and won. Eyes are also on six of those who switched between JD(S) and Congress and won, and some dyed-in-the-wool Congressmen, notably Satish Jarkhiholi, who were unhappy with the previous government.
BJP is also making all-out efforts to woo those in JD (S), who fought Congress candidates tooth and nail, especially in the old Mysuru region, and won with a slender margin. "They are aware that they fought hard. They are very upset and confident that their voters will understand their decision to support a BJP government," a senior BJP leader said on the condition of anonymity.
Mayawati's BSP, which had a pre-electoral tie-up with JD (S) in 20 seats, took the opportunity to teach Congress a lesson. "I want to suggest to Congress that it should not use language for its political expediency during election campaigns that end up benefiting the BJP and RSS," she said. Mayawati made it very clear that Congress leaders' utterances had hurt the chances of the non-BJP camp and ended up boosting the BJP tally.
After the Supreme Court's decision on Friday, the BJP has very little time. Will Amit Shah's party be capable of proving its majority on the floor of the House? Going by previous experience, yes, it is fully capable. But at what cost remains to be seen. Goa, Bihar, Manipur and Meghalaya are on their way.
The author is a Bengaluru-based freelance writer and a member of 101Reporters.com, a pan-India network of grassroots reporters.
also read
Explainers
A shortage of over a dozen drugs has forced cancer treatment centres in the United States to switch medication for patients and even delay care. Experts say America is going through a 'public health crisis' and a rethink of the entire market for generic drugs is needed
Explainers
Many on social media weren't pleased when Alejandro Núñez Vicente's design of a double-decker airplane seat went viral last year. Now back with an updated version, Vicente thinks his design will change the face of air travel. But some critics say it is unlikely to ever see the light of day
Explainers
In 2003, Kathleen Folbigg was dubbed Australia's 'worst serial killer' and sentenced to 40 years in prison for killing her four infants. But new evidence showing a rare mutant gene in her DNA suggesting the children died of natural causes led to Kathleen receiving a full pardon