Karnataka Assembly Elections 2018: CFore survey raises more questions than answers; road ahead could be difficult for Siddaramaiah
The CFore survey on Karnataka polls shows that people focus more on local issues of drinking water, sanitation and infrastructure than on big national ones.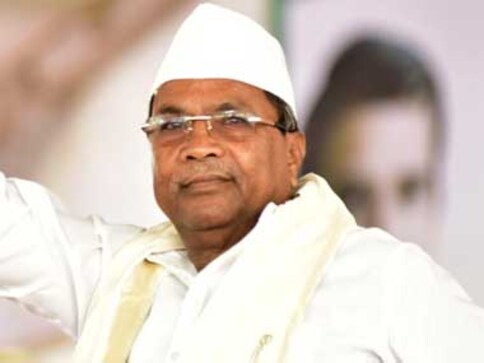 CFore has come out with an opinion poll on the upcoming Karnataka Assembly elections, scheduled to be held in May 2018. It has predicted an even bigger win for Congress this time, than in 2012. The survey, as per news reports, has been commissioned by the Congress party.
The survey highlights that people may focus on local issues of drinking water and sanitation, waste management, the condition of roads etc rather than big national issues, which both BJP and Congress are trying to force on the voters' minds. Without raising any questions on the credibility of CFore and giving due consideration to the fact that it got right its prediction in 2013, we need to analyse the survey.
Highlights of the CFore survey:
Congress is expected to get 46 percent vote share and 126 seats.
BJP vote share has been predicted at 31 percent and seat tally at 70.
JDS is seen down from 20 percent vote share in 2013 to 16 percent in 2018, and from 40 seats to 27.
Independents and others are expected to get seven percent vote share and 1 seat.
Analysis of survey leaves more questions than answers
It is rare that these internal survey results are published, but CFore has gone ahead and done so, presumably with approval from Congress. Party strategists might feel positive surveys could help build the momentum and boost its fortunes.
Congress is expected to get 46 percent vote share (+nine percent) but only 126 seats (+four) compared to 2013. This is very strange, indicating a severe reduction in vote share to seat conversion for Congress from 3.3 in 2013 to 2.7 in 2018. It is notable that no party in recent past has got such high vote share in the state. In recent history, Congress received 43.9 percent vote share in 1989 and bagged a whopping 178 seats. At 43.4 percent vote share in Lok Sabha, BJP was leading in 132 Assembly segments.Congress is seen mostly gaining from JDS (four percent) and others (four percent). With nine percent higher vote share, how can it gain just four seats? Some could argue this is what happened in Gujarat. BJP gained 2.1 percent vote share but lost 16 seats. But there, Congress also gained 3.3 percent vote share, recorded a higher increase than BJP and snatched 16 seats from BJP.
Here in Karnataka, Congress is gaining, BJP is at same levels (aggregating partners contested separately in 2013 and have rejoined the party), JDS and others losing vote share.
Such high vote share without actually translating into seats means Congress is winning seats with much higher margins than in 2013, defying a string anti-incumbency trend. In 2013, the average margin of Congress winning candidates was 12.7 percent, 17,289 votes.
BS Yeddyurappa's KJP and Bellary brothers contested separately in 2013 and got an aggregate 12 percent votes. Adding this to BJP's vote share of 20 percent in 2013, the survey predicts status quo for the party at 31 percent. They won 10 seats, adding to BJP tally of 40, and on aggregate, the BJP+ won 50 seats. The tally is expected to go up to 70. However, this is 23 less than what their combined tally would have been if they had contested together.
JDS is seen down from 20 percent vote share in 2013 to 16 percent in 2018, and from 40 seats to 27. This is in line with reports of the weakening of JDS, given the loss of support and the contest becoming increasingly two way. It also ties in with this author's assessment of 23 seats for the party, based on historical trends.
The survey completely ignores Independents and smaller parties like Sarvodaya Karnataka Paksha, Karnataka Janata Paksha who together won 12 seats in 2013. The survey predicts only one seat for others in 2018. Smaller parties have some influence in border regions of the state touching Maharashtra, Andhra Pradesh etc and received four percent vote share in 2013.
Independents received seven percent vote share in 2013. Together, they are projected to get seven percent in 2018. To note, lowest tally of Independents in the history of elections in Karnataka is six seats, with 6.9 percent vote share. Surveys tend to underreport Independents and other smaller parties vote share. There was a similar situation in Bihar, where opinion polls on an average predicted 15 percent for them in a predominantly NDA versus MGB contest in 2015, but they actually bagged 22 percent.
The biggest surprise in the survey is the results from the Bengaluru region where Congress is leading, 49 percent versus BJP's 31 percent. Normally, urban voters have shown a preference for BJP all over the country. BJP and its allies won 80 percent of the 40 most highly urbanised seats (those where at least 75 percent of voters live in urban areas) and 56 percent of the 123 semi-urban seats (where 25 percent of the population or more live in cities).
Siddaramaiah's attempt to divert elections on bigger national issues is clearly not working. He has been talking about everything under the sun, ranging from the Nirav Modi scam, Jay Shah's alleged irregularities, GST, Demonetisation (in fact all these four find mention in the survey), Rafael deal etc – similar to Narendra Modi in Gujarat.
The survey states that local issues dominate people's minds. If drinking water and sanitation is the top-ranked issue, precipitated by two successive droughts, then there could be trouble for the Congress government. Bengaluru is facing a severe water crisis and there could be no water there by 2023, as per reports.
Issues with surveys in general, including CFore
The survey has covered 154 constituencies. While statistically, it is a sufficient sample, we have seen in recent past that surveys which cover all constituencies tend to be more accurate, like that of Axis.
It is still too early in the game as elections are one and half months away. Around 42 percent voters finally made up their mind to vote for their chosen party in the 2008 state elections on the day of polling and one or two days before the D-Day – 2013 data not available.
Surveys tend to overestimate the ruling party's performance. The opinion polls on Gujarat and Uttar Pradesh one and half months before elections support this argument. In Gujarat, India Today-Axis was predicting a sweep for BJP with 120-135 seats in a survey published in October 2017. In Uttar Pradesh, in a December 2016 survey, ABP-CSDS predicted Samajwadi Party as the single largest party.
To conclude, while we certainly need more surveys from 'big guns' to get a clearer picture, they may not necessarily help. There is no electoral wave palpable on the ground yet as the candidates have not been announced. As it is, voters give one-third weightage to candidates despite elections becoming increasingly like the presidential style. The floating voters could be the key deciding factor in these elections.
The author is a former corporate and investment banker turned political strategist, consultant and commentator. He is the author of e-book 'Battle of Karnataka and tweets at @politicalbaaba
Explainers
Taiwan on Tuesday unveiled six drones developed by the military-run National Chung-Shan Institute of Science and Technology. The self-ruled island, which lives under constant threat of an invasion by China, said UAVs are the key to its 'asymmetric warfare' strategy
Politics
Rahul Gandhi is Congress MP from Wayanad, Kerala. He has been disqualified as a Member of Lok Sabha following his conviction in defamation case over his 'Modi surname' remark
Photos
Rahul Gandhi, the Congress leader, has been disqualified from the Lower House of Parliament after he was convicted by a Surat court in a 2019 defamation case. The move has triggered anger among the Congress and other Opposition leaders