Karnataka Assembly Election Results 2018: Lingayat gamble by Congress dealt serious blow to party, contributed to BJP's votebank
As BJP emerged as the single largest party in the 2018 Karnataka Assembly election, one thing became clear — Congress' Lingayat move had failed to clinch votes for the grand old party contributing to BJP's win in 104 constituencies across the state.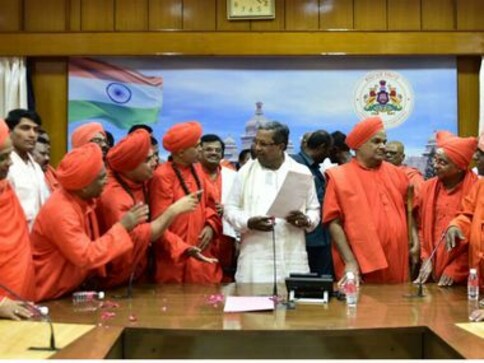 As Bharatiya Janata Party (BJP) emerged as the single largest party in the 2018 Karnataka Assembly election, one thing became clear — Congress' Lingayat move had failed to clinch votes for the grand old party contributing to BJP's win in 104 constituencies across the state.
As Karnataka headed towards a fractured mandate on Tuesday with no party getting past the halfway mark of 112, Congress—with 78 seats in its kitty—joined hands with kingmaker Janata Dal(Secular), which won 37 seats and staked claim to form the next state government. The Lingayat blunder, however, was not missed by leaders. Former Union Minister and Karnataka chief minister M Veerappa Moily candidly admitted that the Lingayat card had backfired for the Congress, without giving any further details.
What is the Lingayat issue?
Lingayats, who follow a 12th Century social reformer Basavanna, have been demanding the status of a separate religion since a long time. On 19 March, a week before the announcement of polls and implementation of the model code of conduct, the Siddaramaiah-led Karnataka government accepted the recommendations of a committee under the state Minorities Commission Act, recognising Lingayats as a separate religious minority.
The Karnataka Cabinet added a condition that allowed those Veerashaivas, who agreed to follow Basavanna's ideals, will also be considered as Lingayats.
This had a significant impact since Lingayat-dominated areas like Hyderabad-Karnataka, Bombay-Karnataka region and parts of central Karnataka were pivotal in deciding who forms the next government.
In 2011, the community had approached the-then chief minister BS Yeddyurappa who forwarded the demand to the UPA-led central government which rejected it. Now, with Siddaramaiah in the saddle, the same demand was supported by a group of Congress ministers MB Patil, Basavaraj Rayareddy and Vinay Kulkarni, while their cabinet colleagues Ishwar Khandre and SS Mallikarjun, the son of senior Congressman Shamanur Shivashankarappa, opposed it.
In order to strengthen his status as a regional leader in the Bombay-Karnataka belt, Water Resources Minister MB Patil led the movement to secure a separate religion tag for Lingayats. He also impressed upon the Congress leadership that if this demand was met, it would help the Congress sweep Lingayat-dominated regions putting the BJP on the mat.
On Tuesday, the verdict of the voters was however different. While Khandre, Patil and Shivashankarappa had won, Rayareddy, Kulkarni and Mallikarjun lost their seats along with many prominent Lingayat Congress MLAs.
Karnataka and the Lingayats: A political backgrounder
The unceremonious dismissal of former chief minister Veerendra Patil in 1990 by the-then Congress president and former prime minister Rajiv Gandhi cost the Congress dearly in Karnataka. The Lingayats, which constitute 19 percent of the state's population, have not stuck with the party after that incident. BJP has been cornering the Lingayat vote under Yeddyurappa's leadership. Such was his influence that he had managed to get a large chunk of Lingayats to vote for Karnataka Janata Paksha (KJP) which he founded in 2013 after walking away from the saffron party. His ability in clinching Lingayat votes thus became a major threat to Congress.
Later, the Congress-led government pulled out a long-forgotten 1,881 document stating that the-then Mysore government had removed the separate religion status for Lingayats. There has been a fight for centuries to restore it, Congress leader Kulkarni claimed two months ago.
This was the first instance after decades of independence when a state government had recommended a separate religion tag for a caste considered a part of Hinduism. Many within the Siddaramaiah government opposed the move to grant a religious minority tag for Lingayats and Veerashaivas who followed Basavanna's ideals.
Since Veerashaivas do not usually follow Basavanna's ideals, the influential community heads had also requested the government not to break up the community just for sake of votes.
Poll gamble led to debacle?
Harish Ramaswamy, a political analyst and a professor at Karnataka University, had earlier said that the Congress should have weighed the consequences in absence of clear statistics with respect to Veerashaivas and Lingayats.
The Veerashaiva mutt heads too called the state government's move a huge mistake as they were of the opinion that Veerashaivas and Lingayats were the same. They say Veerashaivism came first and Basavanna who came later did not establish a religion but rather worked for social reforms.
Apart from this, the state government's decision was not taken well by the Muslims and other religious minorities as a large number of people were now likely to vie for benefits reserved for them.
How Lingayats voted across Karnataka
In Hubli-Dharwad twin cities where the pro-Lingayat religious entity supporters had organised a big convention, BJP won six seats and Congress just one. In Haveri district, there has been no effect as it is a Veerashaiva base where the well-known Kumaraswamy mutt is housed.
In Bijapur, a senior Congress leader Basavaraj Patil Yatnal lost. In Bagalkote district, where Kudalasangama, the cradle of Lingayatism, lies and comes under the Hungund constituency—BJP won despite the influence of Mathe Mahadevi, a woman seer rooting for a separate religion tag. Congress leaders HY Meti and JT Patil lost in the same district.
In Bidar district, there has been a perceptible swing towards BJP. BR Patil, who had joined KJP along with Yeddyurappa and now contested on Congress ticket, lost in Aland despite campaigning vociferously for the issue making way for Subhash Guttedar, incidentally a non-Lingayat. -With inputs from Basavaraj Maralihalli
The author is a Bengaluru-based freelance writer. Contributors are members of 101Reporters.com, a pan-India network of grassroots reporters
World
Only now, 20 years after the Iraq invasion in March 2003, is Congress seriously considering walking it back, with a Senate vote expected this week to repeal the 2002 and 1991 authorizations of force against Iraq
World
Biden, a Democrat, has repeatedly called for a renewed assault weapons ban and stricter rules on gun sales, measures that need to pass Congress
World
CEO Shou Zi Chew's testimony before Congress did little to assuage U.S. worries over TikTok's China-based parent company ByteDance and added fresh momentum to lawmakers' calls to ban the platform nationwide