Kapil Sibal's terrible vice (and our suffering)
When a politician gets the poetic urge, beware. If Kapil Sibal's SMS poetry is any indication, it's high time we had a mobiles completely off policy on all airplanes.
Under water grottos, caverns
Filled with apes
That eat figs.
Stepping on the figs
That the apes
Eat, they crunch.
The apes howl, bare
Their fangs, dance,
Tumble in the
Rushing water,
Musty, wet pelts
Glistening in the blue.
Guess the poet?
It's Barack Obama. Admittedly the man was nineteen when he wrote this for a college magazine. Luckily Obama, the president has not chosen to inflict more of his poetry on us now that he is the most powerful man in the world. Perhaps intelligent man that he is, he is aware of his own limitations.
Sadly, no such compunctions rein in our own Kapil Sibal.
His latest book of poems, My World Within boasts it is SMS poetry. It sounds just like that – electronic versions of what in pre-SMS days used to be airplane napkin doggerel. Airplane napkins were crumpled and lost. Mobile, unfortunately, are more resilient.
"Even while returning from the World Mobile Congress in Barcelona yesterday, I composed a poem on my mobile during my flight," Sibal told the World Book Fair in New Delhi.
His poetry stands as Exhibit A in any case for a mobiles-completely-off policy on airplanes. Nothing is safe from Sibal's  verse-spitting mobile phone. There are little odes to his wife, terrorists, God ("I want God to smile like me"), Gandhi and  the Left "who cannot see beyond their nose." Take this one about friendship.
Your friendship is / a gift that's rare/ and that is why / I really care.
Even Archies cards can do better.
But as Hartosh Singh Bal writes in Open magazine, Sibal is just one of our many Renaissance men and women politicians who have decided to bare their souls to us.
The politician-poet is not that unusual. Andrew Marvell who wrote poems like "On a Drop of Dew" in the 17th century was also an English MP for almost two decades. Ireland elected a poet to the presidency in 2011. WB Yeats was a senator.  But there is a difference between the poet who became a politician and the politician who becomes  a poet.  Sibal, Mamata Banerjee, Atal Behari Vajpayee, Najma Heptullah, even Narendra Modi have all been bitten by the common poetry bug. Vajpayee had claimed that his friends said had he not been a politician, he would have been a poet. Tosh, says Bal. "There is very little in Vajpayee's poetry to suggest he would have been published if he had not been PM. The possibility that they have been published thanks only to their position in politics does not seem to cross any of their minds."
But in a line-up of bad poets, Bal says, Sibal stands out. "Among bad poets, he is the worst."
He does have stiff competition from Mamata Banerjee.
Consider this gem from her collection, Motherland, her first foray into English language poetry back in 1998.
India is our Motherland
Friendship with other countries is our stand.
Everybody loves their Motherland as they love their mother
But selfish people have some selfish fathers.
Reviewing this book, one of very reviewers to even dare undertake such a task, Amit Chaudhuri wondered why she chose to write in English. "To say that Ms Banerjee turned to this language only to widen her audience and constituency is to discount the deep and puzzling urge that Indians feel to express themselves in English, and the way they often indulge in it, helplessly, like a terrible vice."
The problem with the Sibals of the world is that the terrible vice has ceased to be a private vice. It has entered the public sphere, a perk of power, like the red light on top of a VIP car. Thus Kapil Sibal, the poet is gifted an entire session at the Jaipur Literature Festival. He gets to share the dais at his book launch in New Delhi on equal footing with a Javed Akhtar. These literature festivals, writes Bal, have become the semi-sarkari avatars of an old darbari culture. "It is the culmination of a development where the sarkari culture of openly fawning upon people based on hierarchy has given way to this new semi-sarkari culture that is less transparent but equally servile."
But Hartosh Singh Bal should also know that the audience is not fooled. At the packed session at Jaipur where Sibal was holding forth on "The Truth of Poetry and the Truth of Politics", every single audience question was aimed at Sibal, the politician, not Sibal the poet. The audience was not interested in Sibal the poet.
There is one thing, however, that is interesting about these politician-poets. They might be overturning a cultural stereotype dating back to the British days. Amit Chaudhuri writes that "the incredulity and contempt with which the British regarded Wajid Ali Shah, not least for his habit of composing verse, are a study in the 19th-century English disquiet about Art, as an emotional, feminized mode of apprehension at odds with the vigorous, masculinist enterprise of Empire."
Should we congratulate the pugnancious Kapil Sibal for at least unembarrassedly rescuing poetry from any reputation as the dalliance of the ineffectual effete?
For a full sampler of the eructations of our poet-politicians please read Open Magazine's piece here.
Find latest and upcoming tech gadgets online on Tech2 Gadgets. Get technology news, gadgets reviews & ratings. Popular gadgets including laptop, tablet and mobile specifications, features, prices, comparison.
Arts & Culture
Every Friday, we'll bring you a curated list of online experiences — performances, talks, tours, screenings — to mark on your weekly calendar.
Lifestyle
It was only after coming to Mumbai to work as a journalist that I fully understood Aunty Nonie's legacy. Or as the world knew her, the late poet, teacher, literary critic, researcher and novelist Eunice de Souza.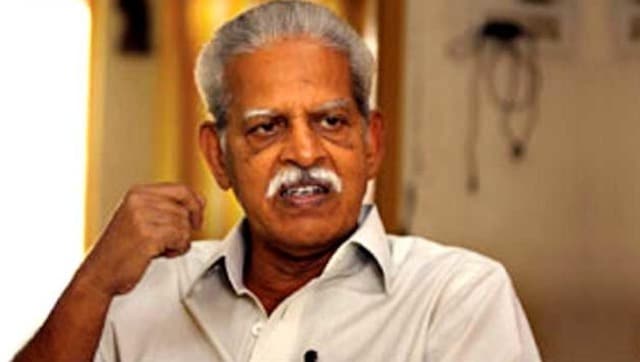 Arts & Culture
Varavara Rao's poetry, which evolved over six decades, reflects and critiques modern social history, balancing it with a consistent and hopeful quest for freedom.