JNU rape row: Unwanted politics in University continues to overwhelm all other concerns
The 'right' is leading the protest in Jawaharlal Nehru University (JNU) now, burning effigies of 'rapists' and 'left' is at receiving end.
The 'right' is leading the protest in Jawaharlal Nehru University (JNU) now, burning effigies of 'rapists' and the 'left' is on the receiving end. This stands in sharp contrast to the protests that rocked JNU campus in February this year and continued for more than a month, with left parties demanding the release of the student union president who was booked on sedition charges.
While there is dramatic role reversal with the erstwhile 'victims' becoming the 'perpetrators', a few things remain unchanged at the JNU campus: politics continues to overwhelm all other concerns in the prestigious university, even an alleged rape of a research scholar.
Six months after JNUSU leader Kanhaiya Kumar was arrested, police again entered the JNU campus on Saturday — this time it was for Anmol Ratan — a leading activist of All India Student Association (AISA). A 28-year-old JNU student had filed a case against Anmol Ratan alleging rape.
Shehla Rashid, JNUSU vice-president, who spearheaded the protest movement following the arrest of Kanhaiya Kumar, in an elaborate statement released on behalf of JNU student union wrote, "Over the past few months, JNU has seen a vibrant movement in defence of JNU's progressive culture. We have asserted that the 'JNU model' is a model of gender justice and social justice. However, this has been possible only because we are not afraid of self-criticism. While we stand in defence of JNU, we also want to stress the need for introspection and further sensitisation."
Sucheta De, national president of AISA, her statement said that the association takes serious note of the fact that Anmol Ratan, a leading activist of AISA, is facing a criminal complaint of sexual assault and "he is henceforth expelled from the primary membership of AISA".
But the assurances and words of regret offered by the AISA office-bearers and that of JNU student union vice-president has done little to prevent the vitiating atmosphere in the JNU campus once again. Akhil Bharatiya Vidyarthi Parishad (ABVP), which has been at the receiving end for their alleged role in 9 February incident, is in no mood to let this opportunity go when they can score some political points.
Speaking to Firstpost, Saurabh Sharma, joint secretary of JNUSU said, "Now they are saying that we are politicising the issue. They raise anti-national slogans and when we oppose them it is politicising the issue, now an AISA member has raped a fellow student and when we are demanding justice for her, they are again saying the same thing. What sort of logic is this?"
Sharma had dubbed  Anmol Ratan as "Rapist Left Brigade" on Monday after the PhD student had filed a case against the accused.
When asked whether he intends to raise the larger issue of safe environment in the campus rather than just targeting the opponents, Sharma retorted, "Why is it seen as politics? This is not the first case against these people — they talk about female emancipation but indulge in such crimes. In past, they would silent the victims at gender sensitisation committee against sexual harassment (GSCASH) level and would get this issue resolved there itself. But this time they have been exposed, as the victim straight away went to the police. We are just demanding justice for the girl."
C P Bhambhri, professor emeritus, Centre for Political Studies at the JNU, in an open letter to "young students seeking admission to the JNU" wrote that they " should not be disturbed by the news, comments and opinions about the events on the campus in February-March, 2016." Dwelling into "distinct characteristics" of JNU he said that "JNU works on pedagogic principles that regard "all students as adults" and "young students are allowed to frame their own boundaries".
The 'libertarian' pursuit that professor Bhambhri spoke about, certainly had good intentions behind it, aiming at creating free-thinking individuals. But it seems that self-created 'boundaries' are colliding in the campus and is creating a rupture that is palpable.
JNU has been grappling with perception problem post Kanhaiya Kumar's incident. From comments by likes of Gyandev Ahuja — BJP MLA from Ramgarh in Rajasthan's Alwar district who had "discreet information" as to how many condoms were used daily in the campus — to a dossier alleging that "JNU has become a den of organised sex racket" caused much damage to the university's reputation.

Take this for example: "Over one thousand boys and girls (sic) students have been fined from Rs 2,000/- to Rs 5,000/- for consuming alcohol, for indulging in immoral activities in their hostels. On a casual glance at the gates of the hostel one can see hundreds of empty alcohol bottles. Sex workers have been openly employed in hostel messes, where they not only lure JNU girls into their organised racket but also pollute the boys. How come big and high brand cars are moving around the hostels particularly in the night hours. Some security staff is (sic) also involved in this racket. Freshers are particularly inducted in this ring of vice by luring through money, sex, drugs and alcohol, so that they become tied up with the cause of foreign agencies," Firstpost had reported on one of the documents in the dossier earlier.
When the reputation of the university has already suffered serious blows, this incident was unfortunate and the resultant politics over the issue completely undesirable.
"The point now is that the Left parties, who are at the receiving end in this case, are complaining about politicisation of the issue. But then this campus is now reduced to a political battlefield and Left has greatly contributed to it. It has become a place where different ideologies are not struggling to co-exist but trying to kill the other," says Pankaj Kumar, who recently completed his PhD from JNU.
The campus that once flaunted the best academic minds, is now sadly recognised for all the wrong reasons. On Monday, this esteemed university silently watched as effigy of a 'rapist' student was being set on fire. A question instantly pops up — has too much politics subdued the intellectual rigour of the university that its students are engaging in street theatrics now?
India
While making my film In the Name of Love, we were not bothered about any politics or any kind of political agenda. We were only overwhelmed by the stories of the converted girls reaching Syria, Iraq, Lebanon and Turkey
India
Students must carry their JNUEE 2021 admit cards, a passport size photograph, a valid ID proof, and PwD certificate (if applicable) to gain entry into the exam centre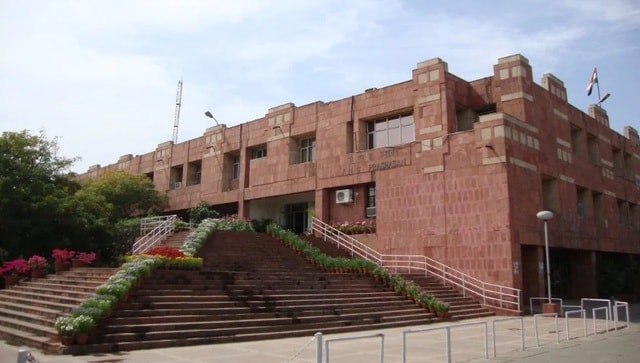 India
The National Testing Agency is set to conduct the JNUEE 2021 examination from 20 to 23 September