J&K governor dissolves Assembly: Some of his arguments ring true, but move will be viewed through partisan prism
Late Wednesday evening, Governor Satya Pal Malik announced the dissolution of the Assembly. Given the timing of the action, the governor's motives seemed questionable.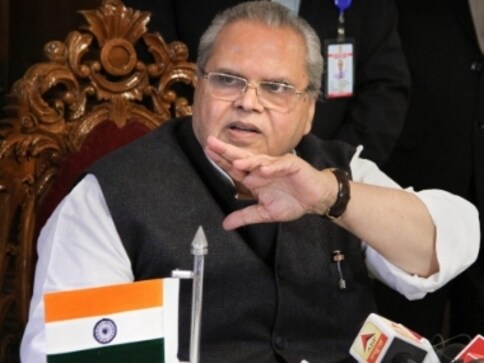 Desperation can take many forms. Some hit their heads against the wall, others throw stones, and yet others form political coalitions. Just months ago, anyone suggesting that the Peoples Democratic Party (PDP) and the National Conference (NC) would come together on a common plank would have been hooted down as a novice on Kashmir affairs. Yet there it is, in black and white and on Twitter too, in case anyone has any doubts. Former chief minister Mehbooba Mufti tweeted her letter staking a claim to form the government after she alleged all communication with Raj Bhawan was cut off. Late Wednesday evening, Governor Satya Pal Malik announced the dissolution of the Assembly. Given the timing of the action, the governor's motives seemed questionable.
Now it seems that "black and white" is not so reliable after all. Mehbooba's claim that she had the numbers (56) to form the government with the support of Congress and the National Conference was denied by Jammu and Kashmir Congress chief Ghulam Nabi Azad, who noted that his own party and NC met separately only a day earlier, and that no decision was taken on forming a grand coalition. NC leader Omar Abdullah stated he had provided no "documentary support" to the PDP. That pulls the rug from under Mehbooba, and the argument that the governor acted specifically to stop her. But the fact remains, that the governor—who's remit is to get political parties to form a government as soon as possible—dissolved the Assembly at a time when the political activity was apparently occurring.
It is worth examining the governor's statements. First, he said he received no claims of government formation from anyone, and that the fax machine was probably not attended to on a holiday. It is true that everything moves at snail's pace in the state, particularly in government offices. But this particular statement is likely to make it quickly into history books. Second, he says it was the political parties themselves who wanted the Assembly dissolved, and which is immediately apparent in repeated statements by all concerned.
The third argument is a little unsound in legal terms. The governor said he dissolved the Assembly to prevent unseemly horse-trading. If that were true, nearly every state election in India should be declared null and void. But that there was horse trading going on can't be denied. Mehbooba has raised it, and the sight of party stalwarts like Imran Reza Ansari defecting to the "Third Front" of the Sajad Lone-BJP combine is there for everyone to see. Horse-trading is nothing new, with MPs herded into resorts and hotels in various states. In Kashmir, however, this can quickly devolve into a bullets and grenades exercise.
The fourth argument, as stated clearly in the Raj Bhawan's statement is: "The impossibility of forming a stable government by the coming together of political parties with opposing political ideologies including some which have been demanding dissolution of the Assembly". An examination of the party manifestos certainly indicates opposing ideologies: the PDP for instance centers its demands around "self-rule", including closer ties across the Line of Control, a position that would be unacceptable to the Congress.
But that did not prevent earlier coalitions under the late patriarch Mufti Mohammed Sayeed. The governor's statement is not much of an argument. There is undoubtedly considerable truth in the view that a government cobbled to bring together such unsuitable allies as the NC and PDP would have had little chance of sustainability, particularly at the ground level. However, the point is that it is not up to the governor to take that call, even though legally, he assumes authority for "any or all of the powers vested in or exercisable" by any body of the State, which includes the safety and security of the State. It's a bit of a tangle, and really hinges on which side of the Raj Bhawan gate you are on.
Finally, the governor is right that stone throwing and other types of violence have reduced considerably; the armed forces have upscaled actions against terrorists, leading to confusion among militant ranks; and the holding of the first phase of Panchayat elections at a reported 62 percent turnout seems to indicate a desire for some initial stability.
And here's the thing: Anyone travelling in Kashmir during these different phases can attest to the disillusionment of the average Kashmiri against all parties, who are seen as predatory and corrupt. It's too early to say whether a Third Front will be successful or not. It might succeed if BJP leaders in Delhi keep out of the tangle entirely, and refrain from incautious allegations. Finally, what is apparent is that the immediate fallout of the drama is that governor's rule will expire mid-January, after which it will probably be extended as "President's rule", since it would be too soon for elections to be held. There is very little difference between these two nomenclatures in actual terms. Time enough for everyone to prove their muscularity. Including in court.
Subscribe to Moneycontrol Pro at ₹499 for the first year. Use code PRO499. Limited period offer. *T&C apply
Entertainment
Five of the 18 titles that competed for the Golden Bear, are directed or co-directed by women. A look at Petite Maman, Moon, 66 Questions, and Ballad of a White Cow.
Lifestyle
If God wasn't able to break the laws of physics, she arguably wouldn't be as powerful as you'd expect a supreme being to be. But if she could, why haven't we seen any evidence of the laws of physics ever being broken in the universe?
India
The case relates to waging war against India with support from Pakistan including terror entities. The judge had put Andrabi and her associates on trial for various offences punishable under IPC and the stringent UAPA on 20 Feb