Jayalalithaa's niece Deepa Jayakumar aims to make things tricky for Sasikala
As Sasikala Natarajan readies to takeover AIADMK, the road ahead for niece and Jayalalithaa-lookalike Deepa Jayakumar will be a tough one, but one that can create a power-tussle in Poes Garden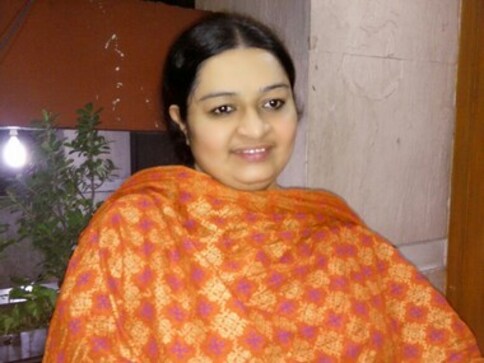 When Deepa Jayakumar laughs, it is almost like watching a ghost. With an uncanny resemblance to the late Tamil Nadu Chief Minister J Jayalalithaa (sometimes also spelt as Jayalalitha), Deepa is asking questions to the ruling party.
"What happened to my aunt in the last two months?" she begins. "Why was I not allowed inside Apollo Hospitals to see her? I went there 25 times but was not allowed. Why was I not allowed to attend her funeral? The whole thing is a farce. There was no transparency in anything," she says.
Deepa is 42 years old, the daughter of Jayalalithaa's brother J Jayakumar and his wife Vijayalakshmi. She has a younger brother too — Deepak — who performed the last rites of Jayalalithaa alongside Sasikala Natarajan.
Deepa says she is ready to take the plunge into politics "if the people want her". But with no political backing, the road ahead will be rough. "No one from the party has contacted me or offered me any support," she claims, adding, "I hope to have the support of the people."
A day after Jayalalithaa's funeral on 6 December, Deepa went to Marina Beach to pay respects to her aunt. Eyewitnesses said that the crowd at the beach went wild. "They thought they had seen Amma's ghost," said one witness. "People spontaneously gathered around her and told her that they are with her and they are ready to protest. The crowds swelled and Deepa quickly left in order to avoid a scene," he said.
At Rajaji Hall on 6 December, party cadre and voters told this reporter that Deepa must come into the party. When asked for their reasoning, the same answer resounded in star-struck Tamil Nadu: "She has the same 'face cut' as Amma."
The favourite niece
By all accounts, Jayalalithaa was once very fond of her niece Deepa. She was in fact born at "Veda Nilayam" in Poes Garden, the home of Jayalalithaa, in 1974 when her brother and family were living with her. "My aunt was the one who named me," smiles Deepa. "I was born a day before Deepavali and so she named me Deepa."
By 1978, Jaya's brother Jayakumar and his family moved out and settled in a house at T Nagar. But the family would visit Poes Garden frequently, especially Deepa, who says she had long conversations with an indulgent aunt. "We would discuss books," said Deepa. "We both had the same taste in books."
Deepa laughs as she recounts what her mother said frequently to her. "My mother used to say you (Deepa) should have been born to Jayalalithaa and not to me," she laughs. "We have such similar personality traits."
Deepa recalls one instance when Jayalalithaa got angry with her. "My aunt got angry with me and asked me why I am imitating her. My mother laughed and told my aunt — she is not imitating you, she is just like you."
Schooled in Adarsh Vidyalaya in Chennai, Deepa went on to earn an undergraduate degree in English Literature from Ethiraj College. Then she completed her MA (Journalism) degree from Madurai Kamaraj University and worked as a sub-editor for The New Indian Express briefly.
In 2010, she left for the UK to pursue another Masters degree in International Journalism at Cardiff University. She is currently working on a research paper on South Asia as part of the course. In 2012, she married Madhavan, an arranged marriage.
When asked about what personality traits she shares with her aunt, Deepa's answer comes pat. "We are both very short-tempered," she says. "We are both also emotional."
She is defensive of her late aunt's notorious intolerance to criticism. "My aunt had a celebrity life from childhood. She has had a tough life," she says.
Deepa admits that the adoption of Sudhakaran, Sasikala's nephew, by Jayalalithaa and the subsequent grandiose wedding caused friction in the family. "My father was very upset with her," she recalls. "He told her (Jaya) what she was doing was wrong and unnecessary. He asked her why she was doing this when she already has a family. There was a fight," she says.
In 1995, Jaya's brother Jayakumar passed away. Deepa says the last time she saw her aunt was in 2007, that too briefly. "I don't know what happened after that. My aunt never said a bad word to me. There was no issue between us. But suddenly I was not allowed inside Poes Garden," she says.
Deepa regrets that she was not able to see her only paternal aunt before she passed away. "She made herself lonely," she says. "She did not have anyone to lean on. She had us but there were other forces who kept us away from her."
As Sasikala's ascension to the top post within the All India Anna Dravida Munnetra Kazhagam (AIADMK) is now a mere formality, Deepa wants questions to be answered. And these questions are the same ones that an angry cadre of the ruling party of Tamil Nadu is asking.
India
A bench headed by Chief Justice N V Ramana asked rival OPS and Edappadi Palaniswamy (EPS) factions of the AIADMK to maintain status quo with regard to the affairs of the party
Explainers
Before the raid on Partha Chatterjee and his aide Arpita Mukherjee revealed Rs 50 crore, authorities uncovered incredible amounts of unaccounted wealth from perfume baron Piyush Jain, industrialist and ex-Congress MP Sardar Inder Singh, a chit fund group and Sasikala's kin and associates
India
The pen-shaped monument to honour the former chief minister's literary accolades will be reachable via a 360-metres long bridge over the sea. Environment activists and fishermen have raised concern over the construction as it will impact the marine ecosystem and may cause long-term damages