Jayalalithaa back as Tamil Nadu CM; BJP leaders, Rajinikanth present
Nearly eight months after she was forced to quit over corruption charges, AIADMK supremo Jayalalithaa was on Saturday sworn in for the fifth time as Tamil Nadu chief minister along with 28 ministers.
Chennai: Nearly eight months after she was forced to quit over corruption charges, AIADMK supremo Jayalalithaa was on Saturday sworn in for the fifth time as Tamil Nadu chief minister along with 28 ministers.
On Friday, the 67-year-old Jayalalithaa was elected as legislature party leader at a meeting of party MLAs in Chennai, 11 days after she was acquitted by the Karnataka High Court in a disproportionate assets case.
The swearing-in ceremony took place at 11 am this morning at the Madras University Centenary Auditorium. As many as 28 others will also be sworn in as Ministers.
Jayalalithaa has retained old faces when she was chief minister during 2011-14. This includes her trusted aide O Panneerselvam as Minister of Finance, Natham R Viswanathan as Electricity Minister and R Vaithilingam as Housing Minister, Edappadi K Palaniswami and P Mohan.
The three held the same portfolios in the outgoing Panneerselvam cabinet.
Barring three, including MSM Anandan who was the Forest Minister in Panneerselvam Cabinet, all others figure in the official list of Ministers released by Raj Bhavan.
P Chendur Pandian, who is ill and designated Minister without portfolio in the Panneerselvam Cabinet, and Agri Krishnamurthy who was arrested over the suicide of an official are the two others who have been omitted.
Including Jayalalithaa, who will hold the portfolios of home, police, public, all India services, general administration and district revenue officers, a total of 29 will be sworn in by Governor K Rosaiah.
Supporters party on Marina Beach
Thousands of supporters gathered on Marina Beach last night to witness the swearing-in ceremony of Jayalalithaa that will take place at 11 am today. According to NDTV, two giant screens were set-up on the promenade where supporters could watch the news of the AIADMK supremo. The Tamil Nadu leader's supporters have been celebrating in the state ever since the Karnataka High Court acquitted Jaya of corruption charges in a Disproportionate Assets case.
O Panneerselvam quits as CM
"The Governor has today (Friday) approved the recommendation made by Selvi J Jayalalithaa, Chief Minister-Designate regarding allocation of portfolios among the Council of Ministers," an official Raj Bhavan release had said.
"The swearing-in ceremony will be held on May 23 at 11 am at Madras University Centenary Auditorium," it added.
Edappadi K Palaniswami who was Minister for Highways and Minor Ports in the outgoing Cabinet will now also hold the portfolio of Forest previously held by Anandan.
Late in the afternoon, Jayalalithaa had called on the Governor and submitted a list of names for inclusion in the Cabinet to be led by her.
After her meeting, she went to pay floral tributes to leaders including party founder MG Ramachandran, C N Annadurai and E V Ramasamy, popularly known as Periyar.
Earlier in the morning, Panneerselvam, also the party treasurer, moved a resolution proposing her name as the Legislature Party leader which was seconded by Electricity Minister Natham R Vishwanathan and adopted unanimously.
Party MLAs greeted the announcement with thunderous applause and soon celebrations broke out in various parts of the state which was claimed to have witnessed a spate of suicides following Jayalalithaa's conviction.
A beaming Cooperative Minister, Sellur K Raju, told PTI "This is the happiest day of our life."
In the resolution moved by him, Panneerselvam praised his leader, calling her "gold refined in fire" and described her as the 'permanent General Secretary' of AIADMK.
Expressing solidarity with Jayalalithaa, rebel MLAs of the opposition DMDK, including R Sundarrajan, Tamil Azhagan, K Pandiarajan, and R Santhi, participated in the AIADMK Legislature Party meeting.
Soon after, Panneerselvam submitted the resignation of his Cabinet to Governor Rosaiah, who asked him to continue till the time alternative arrangements are made.
Jayalalithaa was disqualified following her conviction in the Rs 66.66 crore disproportionate assets case by a trial court in Bengaluru on September 27. The Karnataka High Court had subsequently acquitted her of the charges on May 11.
A statement from Raj Bhavan said,"The Governor of Tamil Nadu accepted the resignation of Panneerselvam and his Council of Ministers from the forenoon of May 22, 2015."
Panneerselvam was sworn-in as Chief Minister on September 29 last year, two days after Jayalalithaa's conviction.
He had returned to the post for a second time after he was chosen by Jayalalithaa as her successor almost under similar circumstances in 2001 in the wake of her conviction in the TANSI case.
Panneerselvam had resigned six months later in 2002, when she was acquitted by the apex court.
His resignation today ended an eight-month tenure.
Much before the AIADMK legislature meeting, party workers and supporters from all over the state had started gathering in huge numbers at Avvai Shanmugam Salai, the AIADMK headquarters.
Before he announced his resignation as chief minister, Panneerselvam met Jayalalithaa briefly.
Large hoardings hailing the party supremo's return had been put up in several parts of the city.
"Welcome Mother (Varuga Thaye)", "Dharma has won", proclaimed the captions on hoardings several of which had the image of a lioness alongside the picture of 'Puratchi Thalaivi' (Revolutionary Leader).
The roads leading to Jayalalithaa's Poes Garden residence were decked up with festoons, mango leaves and party flags. Women workers, who had gathered there since early morning, distributed sweets and drew a welcome rangoli for their party chief.
As Jayalalithaa moved out of her residence making her first public appearance in eight months, she was greeted by thousands of people who showered flowers on her vehicle as it inched towards the Governor's residence.
A beaming Jayalalithaa reciprocated as she kept waving from her car and displayed the victory sign towards the party workers, supporters and the general public who cheered her.
A spotlight inside the car focussed on her to make her clearly visible.
Amidst playing of the traditional musical instruments of Tamil Nadu and 'chenda melam' of Kerala (cylindrical percussion instrument), Jayalalithaa's cavalcade cruised along the four km stretch from her Poes Garden residence.
The leader prayed at a shrine of Lord Ganesh near her residence, en route.
Security men, who were perched on either side of her vehicle, and the police had a tough time preventing the crowd from coming too close to the cavalcade as a smiling Jayalalithaa accepted their greetings.
Preparations have been afoot since Thursday to deck up the venue of the swearing-in ceremony.
After her conviction, Jayalalithaa was automatically disqualified as an MLA. Recently, an MLA resigned from RK Nagar constituency in the city raising speculation that she may contest from there.
PTI
Find latest and upcoming tech gadgets online on Tech2 Gadgets. Get technology news, gadgets reviews & ratings. Popular gadgets including laptop, tablet and mobile specifications, features, prices, comparison.
World
Sharif's decision to become active in politics coincided with the issuance of a non-bailable arrest warrant by the Islamabad High Court. He has been living in London since November 2019 after he was allowed to go abroad for four weeks for treatment
World
Playing up his local, middle-class roots, Biden focussed on Trump's stewardship of the coronavirus, casting the president as a callous leader who cannot empathise with the concerns of most Americans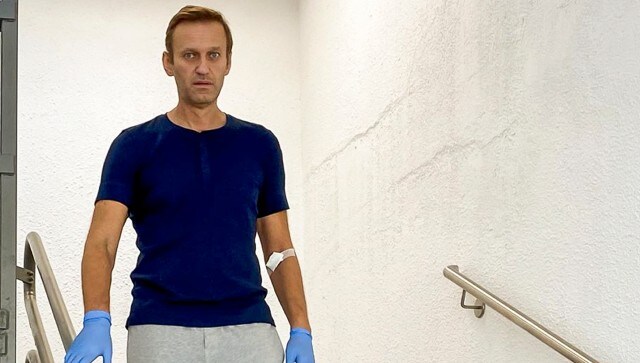 World
The Russian opposition leader, who is being treated for suspected nerve agent poisoning in Germany, said that once he was brought out of the coma, he was confused and couldn't find the words to respond to a doctor's questions