Jaya Jaitly on her memoir 'Life Among the Scorpions', and being a woman in politics
Jaya Jaitly spoke with Firstpost about her memoirs, 'Life Among the Scorpions', what it's like to be a woman in Indian politics, the infamous Tehelka sting operation, and George Fernandes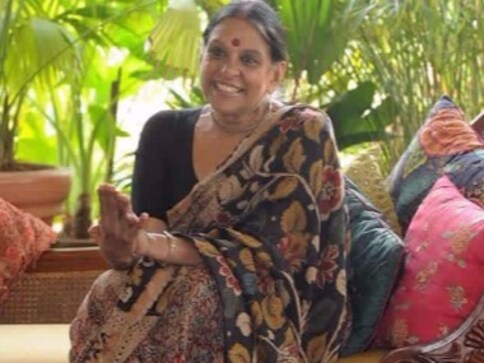 Jaya Jaitly has titled her memoirs Life Among The Scorpions. Reading her account provides a fascinating insight into the lives of women in politics in India. In an exclusive interview with Firstpost, Jaitly spoke about her career and journey so far.
How did you get interested in the crafts and craftpersons? How did you come to start the Delhi Haat?
From childhood onwards, I grew up appreciating aesthetics. I spent my early childhood in Japan where the sense of aesthetics is very fine. There was also a very strong instinct in my family for social work. When I finally went to Kashmir after my marriage, I found the people possessed exquisite skills for crafts but the craftspeople lived in miserable conditions. Later, when I was working for Gurjari, everywhere I went in India, craftsmen were among the most excluded from the comforts of general society. I felt that when they do such beautiful work, why should they be excluded from having a better social and economic status?
I wanted — for the sake of our heritage and culture — for our crafts to survive, but not at the cost of their lives and livelihood. I felt developing the aesthetics and skills of craftspeople, improving their marketing skills to increase their earnings would help them gain greater respectability in society. For me, going into politics was a natural progression... because if you work for the public good that is what politics is all about. All politics does not have to translate into votes and a position for a person. That is how I combined crafts and politics and I have not given up this combination even though I have given up party-related politics.
Your book mentioned that Dilli Haat has been taken over by a group of traders who have changed its purpose and objectives. How has that affected craftspeople?
It's a mafia gang of traders. The genuine craftspersons are struggling to earn a living, they have no space there. Even though the central government allots the space, the administrative management is in the hands of Delhi Tourism. The present government in Delhi claims to be for the 'small' man and against corruption. But corruption seems to have taken hold in Delhi Haat and only those who can afford large sums of money can rent these stalls that Delhi Tourism provides.
The variety of crafts, the states being represented, the different cultures being presented, all these things have gone — for the sake of higher earnings for Delhi Tourism. A recognition of genuine crafts has also gone. I find Chinese goods, industrial goods and factory-made luggage which can be bought on Flipkart on display at Delhi Haat — and no one questions this.
I have taken photos and put them on social media, tweeted about this, but all I've got are cheeky responses from senior officials of the Delhi government. Every pavement in India has Chinese goods, surely we need some spaces for our own genuine crafts? We need to create not only jobs, we also need to create livelihoods and also the ability to sustain these livelihoods. These are skills people have inherited over generations, they can produce excellent art work, all they need is an opportunity to present them. The Delhi Haat was an exercise in doing that.
Although I find it heartbreaking, my will to fight has not diminished. Every day I try and counter this. In the bargain, I face accusations of being corrupt myself.
You refer to these accusations in your book as well.
I find it very strange and ironic because never in my life, have I been interested in money. But the easiest accusation to make against some one you want to put down is to accuse the other person of corruption. It's upsetting because every party does it to the other. If one believed every accusation being made in the media, we could not find a single person in India who is not corrupt. And that is a horrifying prospect. After what has happened to me, if an accusation of corruption is made against my political opponent, I choose not to believe in these unless there is evidence. It is easy to hurl accusations against women because women are vulnerable, they are soft targets.
The whole Tehelka sting operation in retrospect seems so strange.
The whole Tehelka sting operation was completely bizarre. It was out of the blue. These journalists — as they called themselves — had never visited us earlier. Journalists dropped in at our Krishna Marg place all the time. Everyone came to see me, perhaps it was just inputs for them, but there was open sharing of knowledge and information. These were people who had never engaged with George (Fernandes) saheb or me on political or other matters and then they put out a story like this without coming back to us or asking us, 'we have this footage on you and what do you feel about it?'
I give an example in my book how the British newspaper The Guardian gave me a series of questions stating that they were giving me a week to reply to them. I replied within an hour. They did not publish it. They gave me an opportunity to explain myself. But these Tehelka people put transcripts of pages and pages of edited material —
Edited material?
When the transcribing was done anew, it came to over 700 pages of script. What Tehelka had put out was orchestrated material.
How did they get so much material?
They must have been there for half an hour. The conversation was meangingless for most of the time. There was conversation about craft maps, the Habitat centre, rubbish conversation. The only part they were interested in, was to hand me a packet which I did not take and did not ask for.
You did not take the packet?
I have to clarify that as party president I am authorised to accept donations on behalf of the party. I said give it to a person in Mysore who was organising a conference. That was perfectly legal. No money exchanged hands. There is a difference between accepting an offer and taking it physically — which I did not do. I did the former and did not do the later. Even the assurance of help was based on them actually coming back to me with proof that they were suffering injustice. So I did not help them even in that.
A similar sting was conducted against BJP president Bangaru Laxman.
Yes, a similar sting was conducted against Bangaru Laxman who was then BJP president. He was innocent of defence-related matters. He had never contacted George saheb on defence matters. He actually took Rs 1 lakh for his party and put the money in his drawer. That seemed a terrible thing to do. Why was it terrible ? As president of BJP, he was authorised to take it. He did not assure them of help. They did have a conversation that he would be paid in dollars... maybe he walked into their trap.
He kept being shown on TV as being the face of Indian corruption. I found it very cruel because he was obviously dark-skinned, a Dalit, there was some caste feeling underlying it and he was shunned. I felt very sad. It was very easy for TV audiences to believe that a dark-skinned man who all his life was in the lower rungs of Indian society should be the face of Indian corruption.
Maybe it was irrational, but it did bother me. Until the UPA and its corruption came out, Bangaru was the face of Indian corruption. No one had accused him before. No one stood by him, although his party did give his wife a seat in the Rajya Sabha. Something was done for him, but me — I was dropped like a hot brick.
By your party? Is being a woman in politics very difficult?
I don't have the political ambitions that most political people do. I did it because I felt I could serve my craftspeople. Also, I hated what happened in 1984 and I felt I should fight the party who did that. Both were very idealistic reasons. But then my party let me down by taking very momentous decisions without consulting me. I felt it was enough. They went ahead and merged Samata Party with JDU, they obliterated its name, symbol, its leadership. From helping to design its flag and symbol, building the party from scratch , holding party conferences to suddenly finding people sitting in another room and deciding the party would lose its identity, it would be part of JDU... to me was a big shock.
In retrospect do you think it was a mistake?
Sharad Yadav and Nitish Kumar got together at that time but today they have parted company. Over time, things change, some things reverse themselves, some things become ironic.
As your book mentions, it's ironic that Tarun Tejpal himself is now on bail?
I don't feel vindicated. What he did there has nothing to do with what he did to me.
You talked about being naïve and in a sense, you had to bear the brunt of the attack directed at George Fernandes.
You always find a woman to be the cause of a man's downfall. People would say I was misleading George saheb, he is such a great politician but look at him now. People undermine women all the time. I remember once taking this up with India Today, which in a story had implied he became a different person once Jaya Jaitly came into his life... Instead of encouraging women to come into politics, people want to do the opposite.
Why did they hit out at your son-in-law Ajay Jadeja and conduct a sting on him?
I think that was an experimental exercise before the main sting on us. In the cricket one, it was a disgruntled cricketer who was carrying around the camera and supposedly filming other people. If you take a disgruntled cricketer to film other cricketers, that itself is questionable. What feeling can a disgruntled cricketer harbour towards another cricketer? That fact was it worked. People took it seriously. No one stopped to see if anything said made sense. Ajay got banned for life. Tehelka got away as if they were great heroes but the real match fixing was not revealed by them.
Your own party people did not support you.
My party people were happy to find a woman in difficulty. As I have written in my book, they immediately asked me to resign. As though getting rid of me would cleanse everything. No one cared to ask 'Did you do this or not?' They just said 'Please quit'.
From being a darling of Delhi society —
I don't think I was ever that.
People were willing to pay money to have tea with you! 
That was quite disgusting. People presumed if they came and stood close to me or had tea with me , they would get their defence files pushed. I don't know how these murky systems work. This is what was indicated to me. I don't know, this is not a world I would have dreamt about.
Was a lot of money given for this Tehelka operation?
They admitted before the Justice Venkatswami Commission to being paid Rs 8 crores. And when we asked in the Commission of Enquiry 'how many cars and computers did you buy from that money', they said 'we do not know'. If my office bought three computers we would know, if they bought 50 computers, they could not remember. All the records are there in the Commission, I wish the CBI would release them. Who cares about all this? Nobody uttered a word on this. Nobody has written about all of this.
Who was behind this entire Tehelka sting?
Two reasons I think led to this sting, I don't think they necessarily converge. One, I think the Congress was happy to have Tehelka as an equivalent of Bofors, as this would remove the stain of Bofors since the Tehelka sting was all about defence matters and defence purchases. People who wanted to sell arms, the really big commission agents, they felt under George Fernandes' leadership, they could not get what they wanted. And since every step he took indicated he wanted to find out what corruption was taking place in these matters, he had to be got rid off. The third reason, if they could shake George Fernandes — who was the axis on which NDA was built — if he went, the entire NDA would fall. Anyone or all three.
To what extent did they achieve their objectives?
They could not toss the NDA out of the window, they got rid of George saheb for a short while. They undermined the defence purchase system to the extent that it slowed down our defence purchase requirement. I do not think they achieved their Bofors versus Tehelka goal very much. Tehelka did not get any bank accounts but we do have Ottavio Quattrocchi's bank account details, papers and facts to go by, all the documentation is there. All in all, I think it was a useless exercise. It has harmed those of us who are trudging out to court every day.
Who are the others?
Others are some retired army officers and one or two civilians. I am the only political person still stuck in it. Nobody asks, people are surprised it is still going on.
Your book mentioned the Tehelka team walked out when they were told that their tapes were going to be checked by an independent group?
Yes, that is correct but the sad thing is that the Tehelka team was assisted by Prashant Bhushan. If I ever meet him, I would like to ask him why he assisted them.
You were the wife of an IAS officer. What led you to join politics and George Fernandes?
Both my husband and I were extremely politically conscious. We were both exposed to George Fernandes, my husband more than me. We saw George as a person who had integrity, he was hard working and fearless. My husband had worked with George during the Janata Dal regime.
Your book mentions that women take more knocks than men in politics. Did Indira Gandhi and Sonia Gandhi take more knocks than other women?
Their knocks were of a different nature. They grew up in political households with a political name and legacy. Nehru handed the entire legacy of the freedom struggle to Indira Gandhi. She had her own nature which was a very powerful one to overcome all the political attacks on her.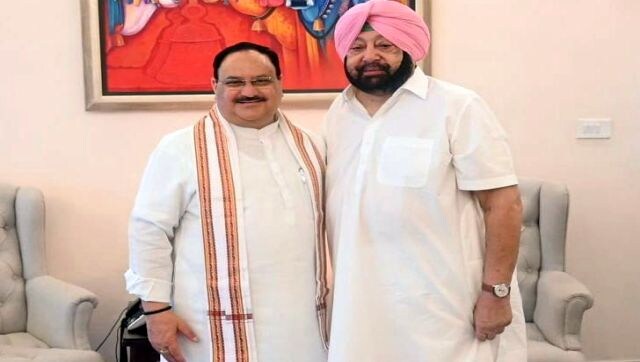 Politics
The two-time former chief minister, Amarinder Singh, will formally merge his newly formed Punjab Lok Congress with the BJP today. From joining the Congress in 1980 to switching to the Shiromani Akali Dal and later rejoining the Grand Old Party, the Captain has come a long way
India
The loss of power, in the third week of August, came as a rude shock for the party which had, less than a month earlier, held with much fanfare a two-day conclave in Patna -- attended by Shah and BJP president JP Nadda
India
Narendra Modi has been Indian politics' Black Swan phenomenon. He has, in the past eight years, worked tirelessly to overthrow the old elite and truly democratise the corridors of power