Jat Election Result 2019 LIVE Updates | Assembly Elections; Constituency, Party, Candidate Name Wise Winner, Loser, Leading, Trailing
Jat Assembly Constituency Election Results 2019 Live Updates - Read Jat constituency vidhan sabha chunav latest news, party, constituency, candidate name wise winner, loser, leading, trailing live updates online at Firstpost.com.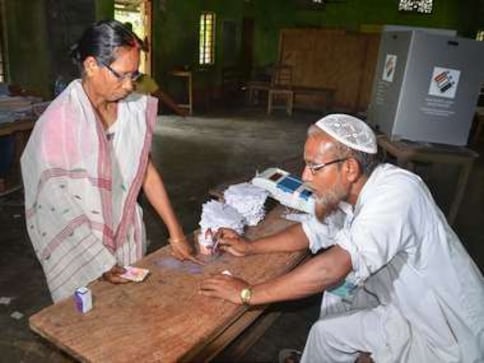 There is one reserved seat under Scheduled Caste category in the Sangli district: Miraj.

This year, the total electors in Jat are 271050. Out of the total, 126465 are female and 144579 are male electors

Jagtap V. Narayan of the BJP won this seat in the 2014 elections.
Jat Assembly Election 2019 | The Election Commission of India (ECI) announced the dates for the Maharashtra and Haryana Assembly elections. Voting for the 288-member Assembly will be held on 21 October in a single phase. The counting of votes and final results will be declared on 24 October, authorities said. The term of the Devendra Fadnavis-led current Maharashtra Assembly will end on 9 November.
The notification and nomination process for the Assembly election was issued on 27 September. Candidates filed their nominations latest by 4 October. The scrutiny of nomination papers was done on 5 October and the last date to withdraw candidature from the electoral battle was 7 October. A total of 95,473 polling stations will be set up for over 8.95 crore voters in Maharashtra.
Click here for detailed coverage of Assembly Elections 2019.
There is one reserved seat under Scheduled Caste category in the Sangli district — Miraj.
Constituency Name—Jat
Constituency Number—288
District Name—Sangli
Total Electors—271050
Female Electors—126465
Male Electors—144579
Third Gender—6
Reserved—None
Results in previous elections—In 2014, BJP candidate Jagtap Vilasrav Narayan won 72,885 votes against Congress candidate Vikramsinh Sawant's 55,187 votes.
In 2009, BJP candidate Prakash (Anna) Shivajirao Shendage won a majority of 58,320 votes against NCP candidate Jagtap Vilasrao Narayan's 53,653 votes for the seat.
In 2004, BJP candidate Khade Suresh (Bhau) Dagadu secured 63,059 votes against Congress candidate Sanamadikar umaji Dhanappa's 37,610 votes for the seat. In 1999, Congress candidate Sanamadikar umaji Dhanappa secured 51,118 votes against NCP candidate Vhankhande Sitaram Basappa's 26,402 votes.
In 2019, Jagtap Vilasrav Narayan of BJP will defend his seat against Mahadev Harishchandra Kamble of BSP, Vikramsinh Balasaheb Sawant of Congress, Anand Shankar Nalage-Patil of Baliraja Party among other opponents.
World
The twice-impeached Republican, whose party lost the White House and both chambers of Congress during his term, makes his case for another four years with appearances in New Hampshire and South Carolina
World
Peru has been embroiled in a political crisis with near-daily street protests since 7 December, when then-president Pedro Castillo was arrested after attempting to dissolve Congress and rule by decree
Politics
The 60-member Tripura Assembly will go to polls on February 16, while the counting of votes will be taken up on March 2. In 2018, the BJP formed the government for the first time in Tripura, ending the 20-year run of the CPI(M)