Jan Aakrosh Rally: Delhi Congress issues more than 40,000 ID cards with barcodes to boost attendance at Rahul Gandhi's rally
Ahead of the massive national-level Jan Aakrosh rally in New Delhi, Delhi Congress issued more than 40,000 identity cards with barcodes to keep a track of all those who attend the event on Sunday
Ahead of the massive national-level Jan Aakrosh Rally in New Delhi, Congress's Delhi unit issued more than 40,000 identity cards with barcodes to keep a track of all those who attend the event on Sunday at the Ramlila Maidan.
The Indian Express quoted party sources as saying that the ID cards will help keep a track of the number of workers each local leader has brought along with them as they often tend to cite exaggerated figures on how many people they were able to get.
Earlier, in a letter addressed to office-holders in the party across the country, Congress leader Ashok Gehlot had asked them to mobilise party workers and ensure maximum participation in the rally. The exercise is said to help the party create a database of its workers with their ward number, block, constituency and mobile numbers.
"Each local leader heading a district or a block is supposed to come with the names of workers from the area, and get ID cards made for them," a source told The Indian Express.
"Suppose a local leader asks for 1,000 cards for people in his area — this can be entered into a separate Excel sheet, and we can later check how many people he/she actually managed to bring," the source explained.
A Financial Express report quoted the head of Congress IT cell, Aniruddha Sharma, as saying that four people will be posted at the gates of Ramlila Maidan with barcode scanners to track the number of workers attending the rally.
Elaborate arrangements have been made to ensure a large-scale attendance from all parts of the country. The Mumbai unit of Congress has booked an entire train to ferry party workers to New Delhi for the rally. Mumbai Congress chief Sanjay Nirupam told PTI that the party unit has booked an 18-coach train and will call it 'Rahul Gandhi Super Fast Express'.
The train will be flagged off from Chattrapati Shivaji Maharaj Terminus on Friday by Nirupam who said over 1,200 Congress workers are expected to travel to New Delhi's Ramlila Maidan.
Nearly 30,000 Congress workers are expected to attend the event where president Rahul Gandhi will address his maiden rally as the party supremo. The Jan Aakrosh (public anger) rally of Gandhi is seen as the virtual launch of Congress' campaign for next year's Lok Sabha polls.
With inputs from PTI
Find latest and upcoming tech gadgets online on Tech2 Gadgets. Get technology news, gadgets reviews & ratings. Popular gadgets including laptop, tablet and mobile specifications, features, prices, comparison.
Politics
Khurshid, in a Facebook post, said if the mood of the electorate is resistant to the liberal values the party has espoused and cherished, it should be prepared for a long struggle rather than look for short cuts to get back into power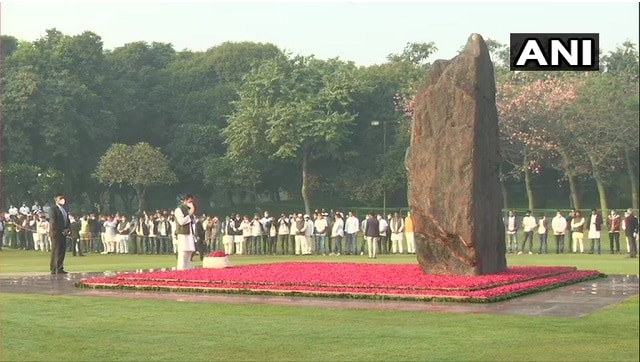 India
Taking to Twitter, the former Congress chief remembered Indira Gandhi as an 'efficient prime minister' and someone who still sets an example of 'her impressive leadership'
India
Khurshid, whose comments come after Kapil Sibal and others spoke critically of party's show in Bihar polls, added that there are forums within the party to air views and that doing so publicly "hurts it"