Iraq PM Maliki welcomes Syrian air raids on militants
Iraq's flagging security forces were swept aside by the initial jihadist push, but have since begun regrouping.
Baghdad: Syria's air force struck Sunni militants inside Iraq this week, Prime Minister Nuri al-Maliki said Thursday, as British Foreign Secretary William Hague visited Baghdad to urge its leaders to unite.
Maliki's confirmation of the air raids, which he said he "welcomed" but did not request, came after powerful Shiite cleric Moqtada al-Sadr vowed to "shake the ground" under the feet of advancing Sunni militants, risking ratcheting up already-high sectarian tensions.
The latest news came as Hague made a surprise trip to Baghdad to discuss the "mortal threat" posed by an offensive that has overrun swathes of five provinces and threatens to tear the country apart.
US military advisers, meanwhile, began meeting Iraqi commanders who have had more success in recent days in holding off militant assaults on key towns and infrastructure after wilting in the face of the initial onslaught two weeks ago.
In an interview with the BBC, Maliki confirmed that Syrian fighter jets had carried out air strikes on Tuesday against Sunni militants on the Iraqi side of the border.
The Iraqi leader said that while Baghdad did not request the strikes, he "welcomed" any such move against militants led by the jihadist Islamic State of Iraq and the Levant (ISIL).
The New York Times reported meanwhile that predominantly Shiite Iran is flying surveillance drones over Iraq and sending military equipment to help Baghdad in its fight against the Sunni insurgents.
US sends advisers
Iraq has appealed for American air strikes against the insurgents, but Washington has so far offered only up to 300 military advisers, the first of whom began working in Baghdad on Wednesday.
The Syrian strikes came after ISIL-led insurgents took control of the town of Al-Qaim on the Iraqi side of the frontier, providing them with a strategic route into conflict-hit Syria, where the jihadist group is also active.
On Wednesday, Al-Qaeda's Syrian franchise, Al-Nusra Front, also made a local pledge of allegiance to ISIL, further bolstering the group's control of the border area.
ISIL aims to create an Islamic state straddling Iraq and Syria and has commandeered an enormous quantity of cash and resources during this month's advance.
Beleaguered premier Maliki has warned rivals against exploiting the crisis to sideline him after Washington urged Iraq's fractious political leaders to unite in the face of the militants.
Hague looked set to echo that message, saying in a statement that the "single most important factor that will determine whether or not Iraq overcomes this challenge is political unity."
He described the ISIL-led offensive as a "mortal threat to the stability and territorial integrity of Iraq" and added that the group also poses a "direct threat to other countries in the region."
His visit came after Moqtada al-Sadr vowed to "shake the ground" under the feet of advancing Sunni militants, in a televised speech from the Shiite shrine city of Najaf.
He said foreign powers "and especially forces of the occupier and regional states should take their hands off" the country, referring to the US and Iraq's neighbours.
Sunni 'marginalisation and exclusion'
In an apparent effort to restrain worsening sectarian tensions, however, Sadr insisted that the militants did not represent Iraqi Sunnis, whom he said had suffered "marginalisation and exclusion".
The cleric's remarks came days after fighters loyal to him paraded with weapons in the Sadr City area of north Baghdad, vowing to fight the militants.
The cleric demanded "new faces" in a national unity government still to be formed after an April 30 general election that saw incumbent prime minister Maliki emerge with by far the most seats, albeit short of a majority.
Opponents of Maliki have called for a "salvation" government that would largely ignore the election results, which they describe as a sham, but the premier has said such a move would be a "coup against the constitution and the political process".
Washington has stopped short of calling for Maliki to go, but has left little doubt it feels he has squandered the opportunity to rebuild Iraq since American troops withdrew in 2011.
Iraq's flagging security forces were swept aside by the initial jihadist push, but have since begun regrouping.
On Wednesday, loyalists fought off insurgent attacks on a major air base and a key western town, after earlier repelling assaults on Iraq's biggest oil refinery.
Government troops maintained control of the Balad air base, while another assault was repelled in Haditha in Anbar province, west of Baghdad.
Maliki's security spokesman has said hundreds of soldiers have been killed since the offensive began.
The United Nations says at least 1,075 people were killed in Iraq between June 5 and 22, and has tripled its appeal for aid funding to more than $312 million (229 million euros).
The UN food agency has warned that the country faces "serious food security concerns" as hundreds of thousands of people have fled their homes.
AFP
Find latest and upcoming tech gadgets online on Tech2 Gadgets. Get technology news, gadgets reviews & ratings. Popular gadgets including laptop, tablet and mobile specifications, features, prices, comparison.
World
The sanctions freeze any assets the targets may have in US jurisdictions and bar Americans from doing business with them
World
Trump is universally presented in the memoirs as a flamboyantly mean and intemperately indiscreet boss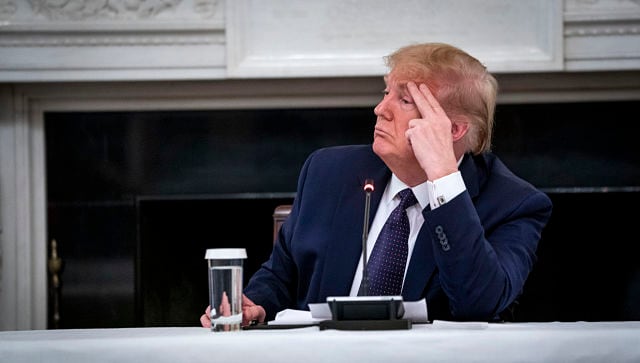 World
There is no strategy that Donald Trump could adopt, no policy choice that he could make, no tweet of himself in a mask that he could issue, that would fundamentally alter his political position