Innocence or guilt: Madan Mitra will decide the fate of TMC in Kamarhatty, West Bengal
For the people in Kamarhatty, West Bengal, there is only one factor which decides their vote: Madan Mitra.
Kolkata: It is a check box election for voters in Kamarhatty and there is really only one candidate in the contest. People inside the polling booths will decide on the innocence or guilt of Madan Mitra, the infamous Trinamool Congress candidate. If they press the button with the grass flower symbol, then it will be a positive endorsement of Madan Mitra's innocence or maybe it will be a positive endorsement of Mamata Banerjee's leadership. If the majority decides that Madan Mitra is not innocent, then it will also mean a loss of faith in "Didi".
By nominating Madan Mitra as the party's candidate, as an act of both defiance and challenge to the Opposition – Congress, Bharatiya Janata Party and the Communist Party of India (Marxist) – Mamata Banerjee has chosen to go to the people's court to get a verdict of not guilty against both Mitra and her party, because many more of the leaders are implicated in the Saradha chit fund scam and the Narada.com sting videos. The Opposition has very little to do, because Mamata Banerjee has taken the fight to the people and their decision is what will determine the future of Madan Mitra.
As a minister forced to resign because of his prolonged custody while Central Bureau of Investigation carries out its interminable inquiry into what Saradha Chit Fund and its many avataars did with money collected from mostly poor people, Madan Mitra is a controversial candidate. When Mamata Banerjee announced her list of candidates in March, that was the only scam with which Madan Mitra's name was linked. Within days, the Narada.com sting videos surfaced and there he was again, seen reclining and taking the cash in hand offered by Mathew Samuel.
With one CBI investigation and a sting video footage dogging his chances, Madan Mitra as a candidate in absentia is more a symbol than a presence. His family is campaigning on his behalf, since the court has refused to grant him parole to plead his own case with his constituents. As a candidate, he confirms a widely held public perception that there is a nexus between power, politics, money and musclemen.
If the public votes to ensure Madan Mitra wins, it would be the "end of values in politics and the acceptance of the illegal as the legitimate way of surviving." The voter who said this has been a life long critic of the CPI(M), but is now walking in every procession, reaching out to his neighbours and planning his activities over the next week to make sure that other people in his locality "understand what is at stake." He vividly described the choice: "Will the girl next door talk about corruption in high places in admiration or will she react with shock or revulsion?"
The Kamarhatty election is therefore unlike the contest in other constituencies. It is a fight between the idea of the Trinamool Congress and its leader Mamata Banerjee and the perception that the reality is very different. The choice for voters will be between believing Mamata Banerjee and disbelieving her, between deciding that she is telling the truth when she says that her candidate Madan Mitra is not a crook and thinking that she lies.
Once upon a time, Kamarhatty was a blip on the busy industrial landscape of West Bengal. As the state's connection to industry has unravelled, so too has the prospect of people living in the area. Instead of living near their place of work, the working population of this town today has either migrated to other cities and towns across India or commutes to Kolkata to work. It has become a feeder town to Kolkata and other metros.
As a constituency with industries busy producing jute or engineering goods, Kamarhatty was a trade union controlled town where the CPI(M) held sway. De-industrialisation hurt the residents of the constituency and eroded the CPI(M)'s support, as the trade unions were reduced to bargaining over small change rather than battling over working class rights. Economic reforms and globalisation hastened the processes of change and Kamarhatty moved from being a working class dominated constituency to a middle class neighbourhood.
For Kamarhatty and its bhadralok population, that is, the quintessential Bengali Babu, educated, cultured, politically conscious, high-minded and most often progressive, the shift of loyalty in 2011 to the Trinamool Congress was a radical departure. The new party, unlike the old Congress and the CPI(M), was disorganised, disorderly and driven by the indomitable will of the leader, instead of an ideology or a set of values. In 2016, the voter is faced with a different choice – abandoning the characteristics that identified him/her as a bhadralok or seeking an alternative in the CPI(M)'s Manash Mukherjee, who has not been associated with a CBI investigation into fraud, caught on camera taking cash for influence and is not behind bars.
India
Bandyopadhyay, a 1987-batch IAS officer of West Bengal cadre, was scheduled to retire on 31 May after completion of 60 years of age
India
After Nusrat Jahan's case, the government should take a lead and codify the law on subjects like live-in relationships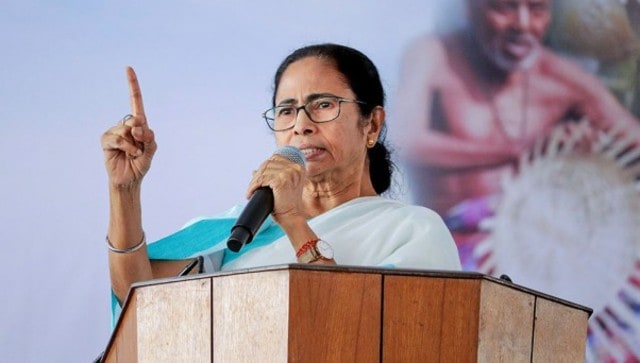 India
The chief minister said that repair works for 305 embankments out of the 329 damaged ones have been started