Indo-US Logistics Support Agreement is anti-national: Congress, Left slam Modi govt for move which 'will hit India's independence'
Attacking the Modi government over its decision to sign the Logistics Support Agreement with the US, Congress on Wednesday said it is 'disastrous.'
New Delhi: Attacking the Modi government over its decision to sign the Logistics Support Agreement with the US, Congress on Wednesday said it is "disastrous" and will hit the independence of India's foreign policy while Left parties termed it as "dangerous and anti-national".
"NDA government's decision to sign Logistics Support Agreement with the US is the beginning of the end of the independence of India's foreign policy and strategic autonomy."
"It is a disastrous decision. Government should retract the decision and should not sign this agreement and other foundation agreements", senior party leader A K Antony, who was Defence Minister in the UPA regime, told PTI.
Left parties also lashed out at the government for its "in principle" agreement for a Logistics Exchange Memorandum of Agreement (LEMOA) with the US, terming it as "dangerous and anti-national" move and demanded that it "immediately retract" from inking the agreement.
Accusing Government of "crossing line" with the move, which the parties said "no other government" had taken since independence, they charged the Narendra Modi dispensation of converting India into a "full-fledged" military ally of Washington and "compromising" country's strategic autonomy.
The communist parties also claimed that there is "no transparency" in what the Union Government does with regard to "such critical policy matters" as Parliament is not taken into confidence and sought to know why the dispensation is "desperate" to "please" US by taking the step "voluntarily".
"Modi government has taken the dangerous step…In doing so, the BJP Government has crossed a line which no other government has done since independence - converting India into a full-fledged military ally of the United States," the CPM noted in a statement.
India and the US had on Tuesday agreed "in principle" to the logistics exchange agreement to enable both militaries to use each other's assets and bases for repair and replenishment of supplies.
Defence Minister Manohar Parrikar and visiting US Defence Secretary Ashton Carter had, however, made it clear that the agreement, which will be signed in "weeks" or "coming months", does not entail deployment of American troops on Indian soil.
Antony insisted that by signing this agreement, India would be gradually becoming part of the American military bloc.
"When UPA was in power, India had all along resisted such proposals. India had traditional relationship with Soviet Union, now Russia from the very beginning. Of late, we are steadily improving our relations with the US also. We always resisted pressure from everybody to be part of a military bloc", he said.
By inking such an agreement, India will allow the US Military, mainly Navy and Air force, to use its facilities for their smooth operations, Antony said.
"They can refuel their warheads, their ships and aircraft etc and if necessary keep their military equipment on Indian soil," he warned.
Contending that India rarely operates beyond its shores, the Congress leader said, "This agreement practically gives very little advantage to it, but gives enormous opportunity to US Military."
This is especially true at a time when the US has announced that in the next three years, 60 per cent of U S Marines will be placed in Asia-Pacific region, he said.
"It means gradually India will become one of their major facilitator. It is a dangerous game. It will become part of military conflicts. It will affect our strategic autonomy. In eyes of the world, India will become part of the U S military bloc," Antony added.
The CPM accused the government of "compromising" national sovereignty and the country's strategic autonomy of the country with the decision and urged all political parties and "patriotic" citizens to oppose Centre's "surrender" to the US.
"The (NDA) Government must be told that these anti-national steps do not have the support of the people. It should immediately retract from signing the Logistics Agreement," the party insisted.
It described LEMOA as "just another name" for the Logistic Support Agreement (LSA) that US enters into with military allies like Philippines, South Korea and Japan.
The party cautioned that "unlike what" Parrikar says, refuelling, maintenance and repair facilities for American ships and airplanes will require stationing of US armed forces personnel on Indian soil on a regular basis.
"Along with this agreement, the Defence Minister has indicated that two other agreements are on the anvil, Communication and Information Security Memorandum of Agreement (CISMOA) and Basic Exchange and Cooperation Agreement (BECA). These will make Indian armed forces command and control structure integrated with the US armed forces," it said.
CPI national secretary D Raja said there is "no transparency" in what the Union Government does on "critical" policy matters and asked it to explain why it is "desperate" to please Washington.
"Earlier, there used to be tremendous pressure on India from the US to have access to our ports for refueling and such things. Now India is voluntarily offering all help to the US. Why is India so desperate to please the US? This Modi Government will have to explain," the Rajya Sabha member said.
Condemning the decision, JD(U) said it "compromises" national security, and appealed to all the opposition parties to come together to oppose the move.
"This is a clever conspiracy of the US to strengthen its military set up in Asian countries and India is not going to be benefited by this. Janta Dal (United) condemns the central government's move to deepen military tie-up with the US.
"This step of the government has not only compromised the national security but also brought India into a military alliance with the US like other military organisations such as SEATO and NATO," the party's spokesperson K C Tyagi said in a statement.
No previous government took such a decision and India has been a non-allied nation since its independence, he said.
JD(U) will also raise this issue in the coming Parliament session, Tyagi said.
World
The mega-herbivores are extremely threatened by poaching -- driven by a high demand for their horns -- and habitat loss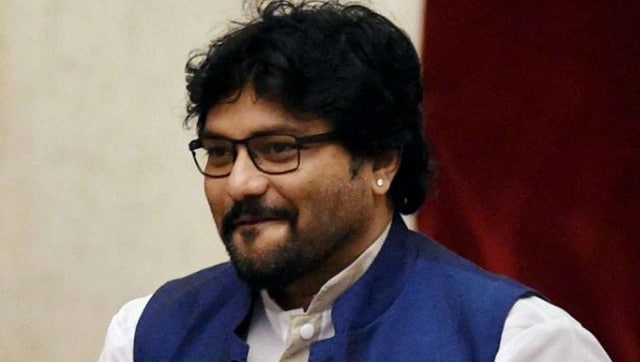 India
Supriyo, who joined the Trinamool Congress last week, said that his view on the matter may not have been liked by the BJP's top brass.
Arts & Culture
In her book Left Behind: Surviving Suicide Loss, Nandini Murali discusses the 4 S's surrounding suicide: stigma, shame, secrecy, and silence.