Indira Gandhi vs Sharad Pawar debate rages in Maharashtra, as parties display their insecurity
Who contributed more to parliamentary life — Indira Gandhi or Sharad Pawar? The Congress and NCP respectively are both adamant that their leaders would top the list, and are both unwilling to cede any ground in this regard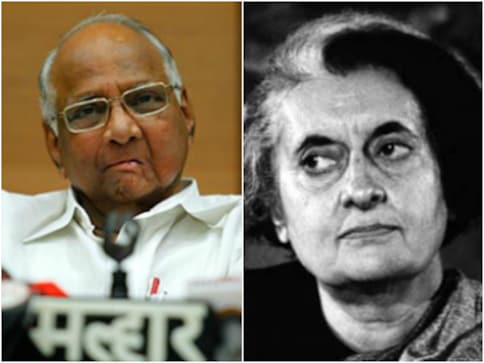 Who contributed more to parliamentary life — Indira Gandhi or Sharad Pawar? The parties they belonged to — Congress and NCP respectively — are both adamant that their leaders would top the list, and are both unwilling to cede any ground in this regard. So much that it has created an our-leader-is-taller-than-yours spat between the two parties.
Certainly, neither party should have involved Maharashtra chief minister Devendra Fadnavis, for asking him to rank their leader higher reeks of pettiness. And a national leader cannot be superseded by a state leader. But considering Congress wrote to Fadnavis and asked him to protect the former prime minister's status shows how unsure the party is.
The unseemly spat was triggered in the Monsoon Session of Maharashtra state legislature, where a motion lauding leaders for their parliamentary contributions will be introduced on 5 August. Congress demanded Indira Gandhi be the first name on the list, since it is her birth centenary this year. Usually whenever such a quarrel takes place, common practice dictates usage of surnames and to go in an alphabetical order.
Even by this method, Indira Gandhi would take precedence over Sharad Pawar, since 'G' and 'I' are ahead of 'P' and 'S'. The matter, one would have thought, was settled.
But the NCP said Sharad Pawar, who has completed half a century of life in politics, should get the nod. Pawar was first elected to the legislature in 1967 — that is, he started out when Indira Gandhi was already 50-years-old. But Pawar has since been an MP and the chief minister of Maharashtra several times over. NCP is perhaps suggesting that Pawar be given preference over Gandhi because he is Maharashtra's homegrown politician.
Pawar is no doubt among the tallest leaders Maharashtra has produced, and has contributed a lot to the country — and though many would suggest he hasn't done enough, that is subjective. He has also retired from politics by not contesting for a Lok Sabha seat, instead going to the Rajya Sabha, and continuing to lead his party from there, without whom it would be in worse shambles.
Pawar could have become prime minister of India. My personal belief is that he was positioning himself as a prime ministerial candidate, and meant to jockey-up in New Delhi's scale of acceptance as a "powerful person", but never actually went for the kill. His former acolyte Suresh Kalmadi, now a disgraced Congressman, even held a press meet in the capital to indicate Pawar's possible bid. But nothing more came of that performance.
When compared to Gandhi, who did become prime minister, Pawar never was, and is unlikely to either. Gandhi was in the higher realm of the Order of Precedence of the Government of India, which dictates the President at the head, Vice-President in second place and the Prime Minister in third place. Pawar, either as a Union minister or chief minister, would come at seventh spot.
Meanwhile, another person who will be honoured by the legislature with a mention in the list for parliamentary contribution is Ganpatrao Deshmukh of the Peasants and Workers Party, a Left-of-Centre body. He has been in politics since 1962, which means longer than Pawar by five years, and has won the Sangola Assembly seat 11 times but was a minister only once. He's lost only twice, and not even his bitterest rivals would complain about him. Perhaps the cleanest politician, Deshmukh is a quiet and soft-spoken leader and his virtue has been his work in Sangola in Solapur. He is not the likes of leaders who would force himself to be ranked above one or the others.
Explainers
Iwao Hakamada was in 1966 accused of robbing and murdering his employer and his wife and children. The 87-year-old, who spent nearly 50 years on death row, was released from prison in 2014 after a court ruled investigators could have planted evidence. Now, the high court has ordered a new trial
Explainers
A native of Zhejiang province, the 63-year-old Li Qiang is an acolyte of Xi Jinping. Qiang is the former party chief of Shanghai and his elevation was earlier in doubt over his handling of the two month-lockdown in the financial hub last year
Explainers
Solidifying his political power, Xi Jinping took oath for a third time as China's president on Friday. His new five-year term will see Xi tackling a number of issues, including a slowing economy, highly strained ties with the US and border tensions with India