Indian Railways goes off track: Suresh Prabhu may pay price for declining standards of safety, punctuality
Especially in the last week or so, ever since a Cabinet reshuffle became imminent, Suresh Prabhu's position in the government started looking untenable. And when another railway accident occurred on Wednesday morning, it was a near certainty
The second major train accident in four days has clearly shaken Narendra Modi's faith in the current leadership structure — both official and ministerial — in the Indian Railway. So hours after the Kaifiyat Express collided with a dumpster in Uttar Pradesh, Railway Board chairman AK Mittal resigned, while railway minister Suresh Prabhu said he "accepted responsibility" for the mishaps. In less than four hours, Ashwini Lohani, who had been serving as Air India CMD, was asked to take over the chairmanship of the Railway Board, another clear indication that Modi is in no mood to allow soft peddling in the railways and wants a focussed, hands-on approach to deal with the age-old problems there. In the coming days and weeks, expect to see further sweeping changes.
Lohani's appointment as chairman of Railway Board came about even as speculation regarding Mittal's future was doing the rounds. Moreover, it appears that Mittal may not have resigned of his own violition, rather asked to step down, a full year ahead of tenure. Mittal, an officer of the Indian Railways Service of Stores (IRSS), was scheduled to demit his post in July 2018.
So, given the circumstances, Suresh Prabhu's offer of resigning as railway minister is open to subjective interpretation. A senior railway official told Firstpost that though Prabhu was an honest and sincere minister, he was in no way a hands-on person. He was averse to travelling by train to conduct inspections, while also lacking an eye for detail. "How could the ministry deliver the prime minister's expectations, if the two persons at the top, the minister and the Railway Board chairman, were both lacking this attitude? That is precisely what has happened," the officer said.
Following his meeting with Modi, Prabhu took to Twitter and send out a series of posts, none of which came as any surprise to anybody in the corridors of power.
Speculations regarding Prabhu's future in the ministry had been doing the rounds for quite some time. Though a very social media savvy minister and one who came across as a person who would provide workable solutions, including arranging baby products and healthcare on trains, his performance on far too many fronts was found wanting.
Especially in the last week or so, ever since a Cabinet reshuffle became imminent, Prabhu's position in the government started looking untenable. And when another railway accident occurred on Wednesday morning, it was a near certainty.
Railways has always been Prime Minister Modi's pet ministry. In the run-up to the 2014 parliamentary elections, Modi had suggested improvements in rail facilities, and used this as a major poll plank. In the three years since becoming prime minister, he was anguished to see things move at such a sluggish pace.
The railway ministry's actual profits and achievements dropping over three years is a matter of larger debate, but the one thing that concerns everybody is punctuality and safety. And on both these fronts, things have regressed. The Indian Railway, Asia's largest rail network and boasts of over 115,000-km of tracks. Across the country, it runs 12,617 trains to ferry over 2.3 million passengers every day. And there can be no bigger public relations disaster for the Modi government than people fearing for their lives while taking the train.
Prabhu's exit from the ministry would also be the story of Modi's misplaced faith and confidence in a person he thought would script the biggest ever modernisation and turnaround history in passenger and freight transport.
In November 2014, in his first Cabinet reshuffle, Modi had made a surprise announcement while naming his defence and railway ministers. While Goa chief minister Manohar Parrikar was called to New Delhi to head the defence ministry, Suresh Prabhu was called in from outside the party to head the railway ministry. Prabhu was from long-time ally Shiv Sena, and his performance in the erstwhile Atal Bihari Vajpayee government was noteworthy. He was considered an honest, sincere, low-ley leader. Compared to his predecessor, the lacklustre Sadananda Gowda, Prabhu was thought to be a welcome change.
A ministry official considered close to Prabhu said the minister had been "deeply disturbed". "Ever since he learnt of the Kaifiyat Express accident, he has been disturbed. After the Cabinet meeting, he met the prime minister and told him about his feelings and his decision," the officer said.
Also, consider this aspect to the story. On Tuesday evening, the Press Information Bureau and the Ministry of Railways issued statements titled 'Is Railways getting unsafe for the citizens? Myth versus reality'.
In this, it said, "Myth No. 1: Number of railways' accidents and fatalities have increased under Suresh Prabhu; reality: Consequential train accidents have continuously declined from 135 in 2014-15 to 107 in 2015-16 and to 104 in 2016-17. To state a comparison, the average annual accidents during UPA I were 207 per year, during UPA II were 135 per year and during the current government are 115 per year. Although every human life is invaluable and is irreparable, the number of casualties have seen a declining trend. Total fatalities in first three years of UPA I were 759, they increased to 938 during UPA II, while the first three years of this government has seen the number decline to 652."
One is not sure how Prabhu would feel about these statistics now.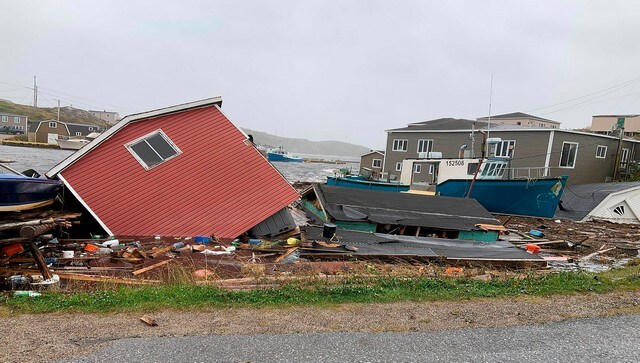 Explainers
Once a storm reaches maximum sustained winds of 119 kmph or higher, it is classified as a hurricane, typhoon, or tropical cyclone. However, the moniker given to it depends on its location
Explainers
Mohan Bhagwat's visit to the Kasturba Gandhi Marg mosque at the heart of the Delhi – his second meeting with Muslim intellectuals over the past month – comes amid an unprecedented outreach to the minority community by the RSS chief and in the backdrop of the Gyanvapi mosque row
Photos
Prime Minister Narendra Modi on Friday flagged off the new Vande Bharat Express. Aboard the train, he was seen chatting with workers, engineers, and other staff