In UP, Modi talks development while RSS talks Hindutva
Modi is taking a pro development plank to woo the Muslim vote, but the party is also not letting go of its Hindutva stance - that is being taken care of by the RSS.
by Ratan Mani Lal
Lucknow: Is the Bharatiya Janata Party approaching the Lok Sabha election sans the Hindutva card?
In all the five rallies that BJP prime ministerial candidate Narendra Modi has addressed in Uttar Pradesh, he has very consciously avoided any mention of either the Ram temple at Ayodhya, or the 'reclamation' of disputed shrines elsewhere. He has also desisted from making any contentious mention of Hindus being allegedly ignored as a result of 'minority appeasement' politics.
During Modi's rallies in Bahraich, Agra and even the latest one in Gorakhpur, people wearing traditional skull caps and waving banners in favour of Modi, were positioned prominently at the venues. They were also frequently touted by state party leaders as being an example of Modi's growing acceptance by Muslims.
For his part, Modi has been courting the Muslim community by promising employment and opportunities "for all" by mentioning the example of Gujarat as a state of entrepreneurship and opportunities. Rather than playing the majority card, he prefers highlighting his humble, backward class origins to get a better response.
And although in both Varanasi and Gorakhpur, he first paid a visit to the Vishwanath and Gorakhnath temples before going to the rally venues, state party president Laxmikant Bajpai described these as a "routine" worship by anyone visiting the temple towns.
While this could be seen by many as a deliberate attempt on Modi's part to position himself as a pro-development leader rather than a pro-Hindu fundamentalist, the BJP itself is not giving up its traditional support base.
In Gorakhpur, the presence of hard-core pro-Hindutva leaders such as Gorakhpur MP Yogi Adityanath, former chief minister Kalyan Singh, Vinay Katiyar, Modi's confidant Amit Shah, and the speeches by Adityanath, Kalyan, Katiyar and even party president Rajnath Singh before Modi spoke were strong-enough indications that the BJP-Hindutva association is not being diluted.
While Katiyar raised slogans of Jai Shri Ram and thundered that a magnificent Ram temple would indeed be built in Ayodhya once the BJP comes to power, Rajnath Singh mentioned the Samajwadi Party government's 'obsession' with launching schemes for Muslims only and the partisan action of the UP government during the Muzaffarnagar riots.
However, the real task of spreading the H-word is being undertaken by Amit Shah and his team, comprising the activists of the Rashtriya Swayamsevak Sangh (RSS). As was reported some weeks ago, Shah had several close conversations with Kalyan Singh, after which he finalized 40 coordinators for 40 Lok Sabha seats in the state where the BJP is believed to almost sure of a win.
The campaign in these areas is being monitored by these coordinators among which Sunil Bansal, a veteran Sangh Pracharak, has been playing a key role. It is learnt that after Modi's Gorakhpur rally, while all other BJP leaders returned to Lucknow or Delhi, Shah and his team moved on to other adjoining districts including Maharajganj, Siddharthanagar, Deoria, Basti and Azamgarh, to resume the people-connect campaign that he had been running there.
At a meeting in Lucknow on Saturday, Bansal was also reported to have given final touches to the Kalash yatra through which the BJP is aiming to connect people with the BJP's campaign and also raise funds.
"We have planned to prepare 68,000 kalash with which the BJP and ABVP workers will travel to all districts to collect whatever money people are willing to give voluntarily for our campaign," said a BJP spokesman. Incidentally, RSS leader and spokesman Ram Madhav was also in Lucknow on Sunday and Monday to supervise preparations for the campaign. He also took stock of the candidate selection process along with Bansal.
On 6 February, a big congregation of ABVP supporters and former office bearers and workers is scheduled to be held in Lucknow and the Kalash yatra is scheduled to begin from 10 February.
Clearly, the reigns of the ground-level campaign are being held firmly in hands of the RSS while the political messaging is being undertaken by Modi. "This two-tier campaign is expected to be highly effective as it combines the coverage of urban and rural areas with methods that suitable for each," said the BJP spokesman, even as he avoided a direct answer to the question whether the RSS could be playing the leading role in conducting the campaign.
Modi is now scheduled to address a rally in Meerut on 2 February for which top state BJP leaders are camping there, while others are monitoring the preparations.
It is believed that here too Modi will not raise any Hindutva-related issue in his speech, especially because of the proximity of Meerut to riot-hit Muzaffarnagar. The fact remains that Modi has not referred to the Muzaffarnagar riots even once in all his rallies in Uttar Pradesh so far.
Find latest and upcoming tech gadgets online on Tech2 Gadgets. Get technology news, gadgets reviews & ratings. Popular gadgets including laptop, tablet and mobile specifications, features, prices, comparison.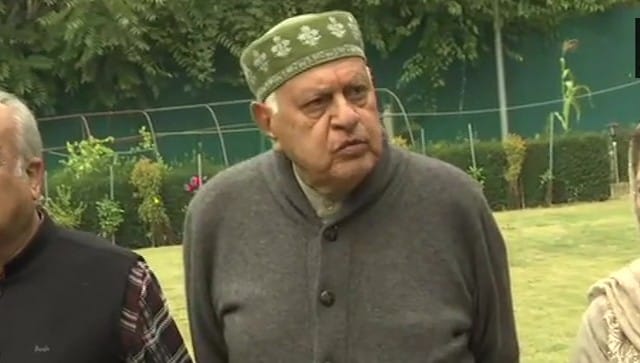 Politics
In a two-page letter to J-K Election Commissioner KK Sharma, Farooq Abdullah said providing security to a select few and literally interning the rest is a gross interference in democracy
India
Taking to Twitter, both leaders slammed the Central Government, claiming that the UT administration is blocking candidates opposed to the BJP from campaigning by using security as an excuse
India
The West Bengal chief minister also claimed that the house was sanitised and given a fresh coat of paint before the home minister undertook the visit