In poll-bound UP, BJP is exploiting Narendra Modi's imagery to maximum effect
In their heart of hearts, the BJP knows that they are armed with just one asset – Narendra Modi. They don't have anything else to show off. They have got to exploit Modi's imagery to maximum effect.
"But like Machiavelli tells us, you must use the assets and resources at your disposal. Use them all, and use them to maximum effect," wrote Austin Scott Collins in Dicing Time for Gladness.
This is precisely what the Bharatiya Janata Party is busy doing in poll-bound Uttar Pradesh. In their heart of hearts, they know that they are armed with just one asset – Narendra Modi. They don't have anything else to show off.
They have got to exploit Modi's imagery to maximum effect. And they have got to keep publicising the Prime Minister's pro-active diplomatic exploits abroad and some of the path-breaking measures that have helped stem the rot within the country. It's not a bad strategy. In fact, it's the only tactic that they can work on assiduously to emerge triumphant in the election.
It's little wonder that 'the powers that be in the party' made sure that the Prime Minister presented himself like a shining knight at the Aishbagh Ramleela function at Lucknow on the Vijayadashami day. And Modi did, on his part, speak very well. Through sheer eloquence, he elevated himself to the position of a statesman. "India prefers Buddha over yuddha", he said but didn't fail to lambast those who harbour terrorists and aid terrorism.
It was hardly surprising if Modi's overall performance at the Aishbagh function was rated as "excellent" by almost all those who comprised the audience. The way and the manner in which the Prime Minister spoke made it clear that the strategists in the Sangh Parivar were aware of the growing criticism over 'defence achievements' being politicised. Modi didn't touch the issue of surgical strikes. Nor did he indulge in rabble-rousing. But he had achieved what he had come for.
In his latest article, Ajay Singh of Firstpost wrote: "Those who assumed that Modi would do chest-thumping to score political points, would have been certainly disappointed by his deft moves of skipping the landmines. Instead, Modi talked about the eradication of poverty and protection of girl child as the sacred duty of citizens."
Ajay Singh further wrote that it would be naive to assume that Modi's presence in Aishbagh was devoid of any political objective. "Through carefully chosen symbolism, he conveyed his political message loud and clear to an audience that is adept in deciphering religious idioms and terminology... It will not be easy to predict if this strategy will really attract votes in the country's most populous state."
The Assembly Elections are about four months away. And the BJP faces innumerable problems at the present juncture: First, it doesn't have any leader of the stature worthy of being projected as a natural chief ministerial candidate in the state. Second, its upper caste vote bank looks divided with the Congress making serious inroads into the Brahmin camp. And third, its pro-Dalit outreach has more or less flopped in the face of a rampaging Mayawati, whose hardcore anti-saffron politics is seen to be uniting Dalits and Muslims for all political purposes.
It is in this backdrop that the Modi factor needs to be assessed. Needless to say that BJP minus Modi equals a losing proposition. And with Modi leading the charge, the BJP can hope to galvanise the floating votes in its favour once again, like it did in 2014. But things are easier said than done.
The counter view is that state assembly elections and Lok Sabha polls are two different things. Modi's performance or, for that matter, even promises wouldn't work as much as it did in 2014. We could all see what happened in Bihar and Delhi elections.
What really weighs against the BJP in UP is the fact that the saffron outfit has never been known for 'development politics'. In 1991, it had come to power on its own strength in Lucknow riding a Hindutva wave in wake of the Ram Janambhoomi movement. And after that, they could never win the majority of UP assembly seats.
Perhaps, that's why the party strategists thought it proper to bring in Modi for the Ramleela show in Lucknow. And Modi did chant the 'Jai Shri Ram' mantra feverishly. The audience responded by chanting the same mantra even more energetically.
Can you see the writing on the wall? To me, the writing looks blurred. Too vague.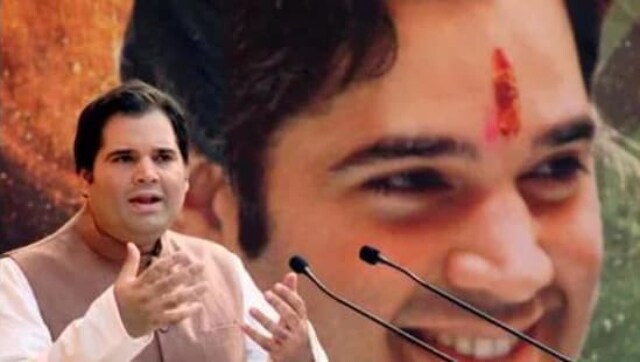 India
Gandhi has been sympathetic to the farmers' cause over their protests against three agricultural laws and often tweeted in their support
Politics
For all her 'connect with the people', Priyanka Gandhi Vadra's 'Hinduism' is even more farcical than Rahul Gandhi's
India
For more than 70 years now, when it comes to Hindu rights and the administration of Hindu institutions, including temples, laws have been lopsided against Hindus and in violation of the Constitution